An incoming logging ship that went through the race course was the only unplanned interruption into what was an otherwise terrific Interislander Optimist Regatta and Port Marlborough Starling championships in Picton last weekend.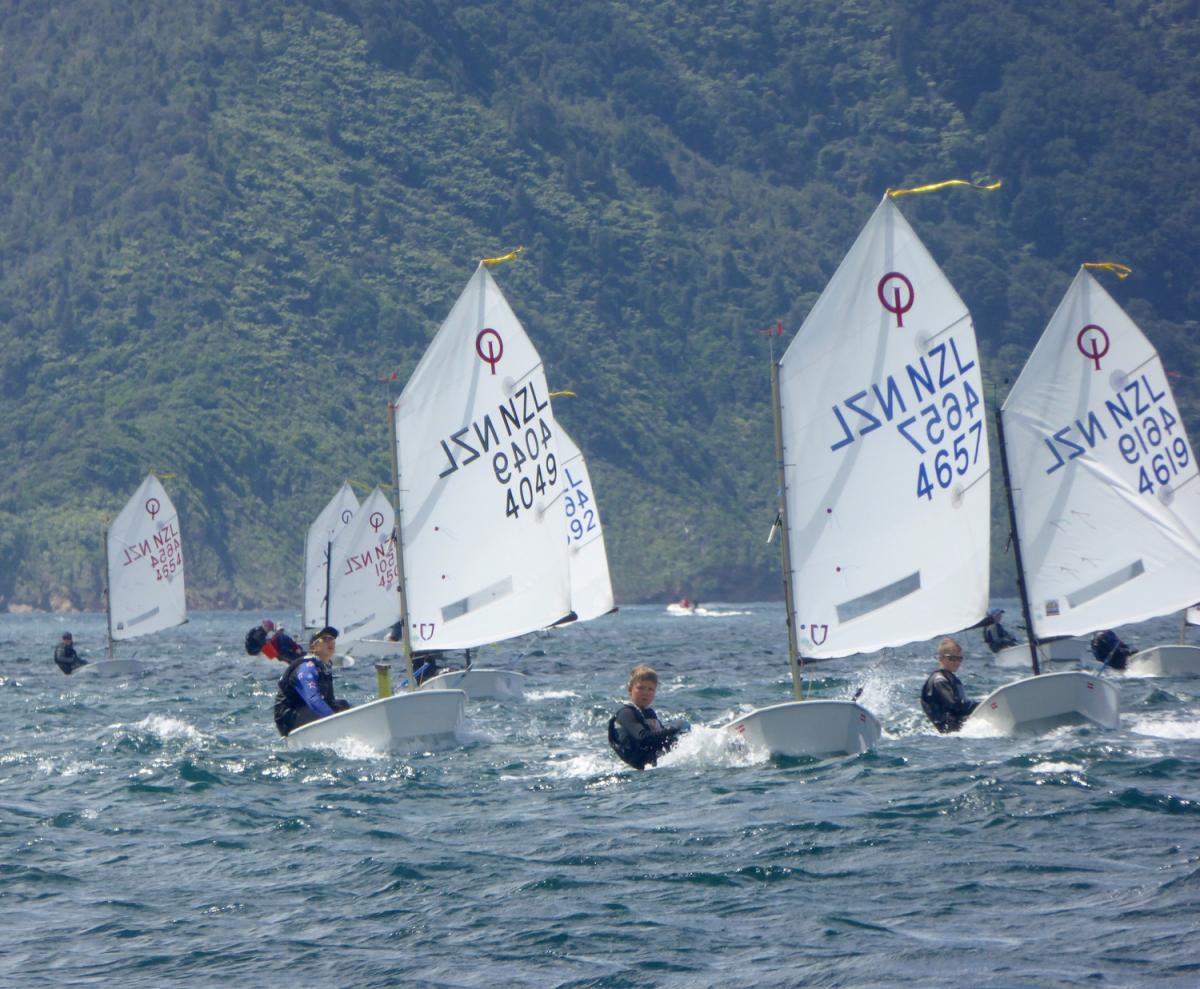 More than 210 young sailors competed in the Starling and all of the Optimist classes and, with perfect weather, all races were completed on schedule.
The Optis managed to avoid an incoming logging ship but the Starlings were interrupted mid-race, with the course having to be pulled up relayed after the tugs boats took control of the logging ship.
The first day of the regatta brought 5-7 knot northerly winds with a few gusts to remind sailors they were sailing in the Marlborough Sounds. Amelia Angus showed her skill in the Opti fleet, placing first after three races and Thomas Mulcahy had a clean sweep in the Starling.
Similar conditions greeted the sailors on day two but the wind strength increased to gusts of more than 20 knots.
Mulcahy again excelled in the Starling, and he recorded three more bullets. Joshua Hyde was on the attack in the Optimist open fleet and shared first place with Angus after six races. Seb Campbell took over the lead in the green fleet and two Queen Charlotte Yacht Club sailors shared first in the rainbow fleet.
The last day of the regatta started out with glassy waters but the northerly wind soon filled in.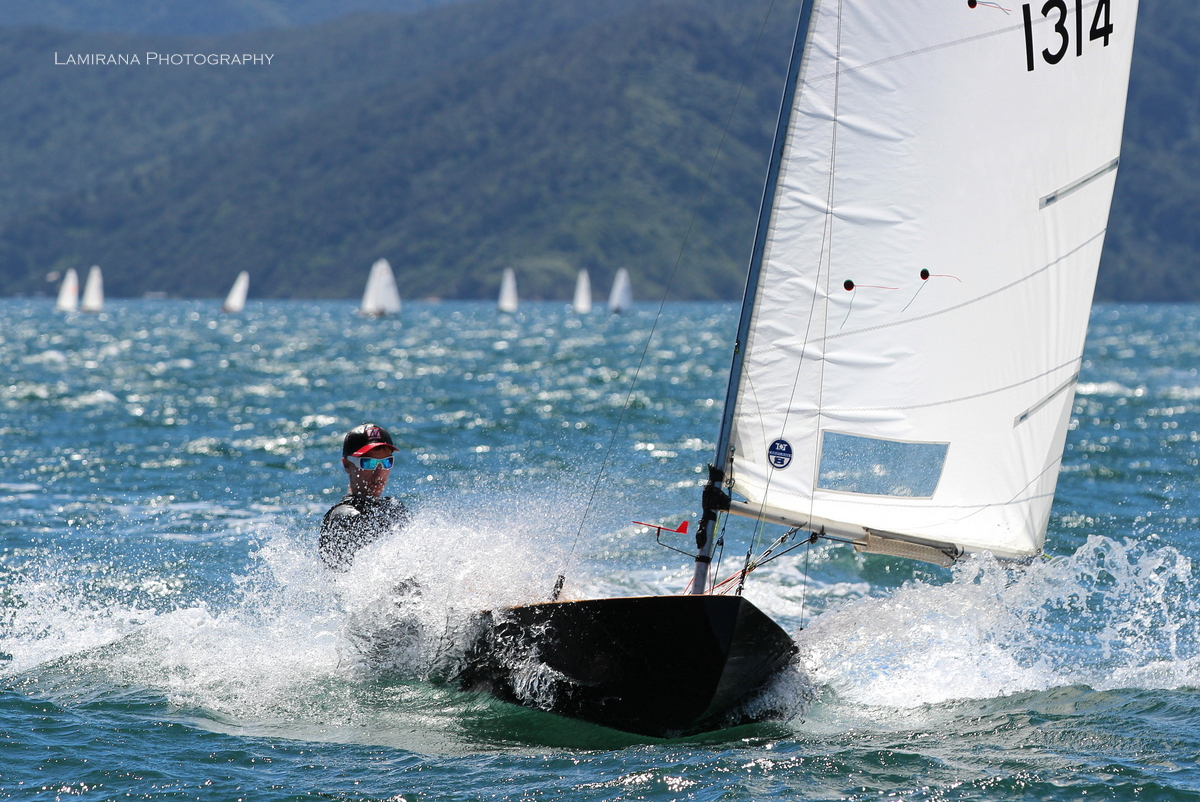 Mulcahy continued his dominance of the Starling fleet with Queen Charlotte sailor Emily Overend second. Mason Mulcahy, the younger brother of Thomas, timed his run in the Optimist open fleet to claim the title after nine races, with Joshua Hyde second and Amelia Angus third.
Enthusiasm in the Green fleet was evident and Will Leech from Charteris Bay placed first and Emilie Read Bousquet kept her momentum going and won the rainbows with a good lead.
Queen Charlotte Yacht Club again delivered an amazing regatta, the 10th, and the event continues grow and consolidate as one of New Zealand's premiere centerboard regattas. Bigger and better seems to be the Motto.
The Interislander Regatta continues show initiative for a total family experience. To name a few:
The boatshed transformer beachside café and bar together with baristia coffee was fantastic and the temporary structure would have withstodd Cyclone Gita
The new lanyard tag sign on/off system worked well
Bright orange crew volunteer T-shirts enhanced the visability of the support crew and made it easy for sailors and parents looking for support and hospitatilaty.
The event's Facebook page ran hot.
The Yachting New Zealand member card was used and with most clubs using it, the card made administration easier for volunteers
The Taste of Marlborough again was a success with a lovely spread of Marlborough's delicacies accompanied by wines of two well know Marlborough Wineries.
The 11th Interislander Regatta has been confirmed for 2019 - February 22-24 - so book your accommodation now.
Results and standings from the Interislander Regatta at Queen Charlotte Yacht Club last weekend:
Optimist Open
1st: Mason Mulcahy (Wakatere BC/Murray Bay SC) 4 1 (5) 2 1 3 1 1 5 - 18 points
2nd: Joshua Hyde (Wakatere BC) 1 6 2 1 4 1 2 3 (8) - 20 pts
3rd: Amelia Angus (Kohimarama YC) 1 2 1 3 5 2 8 (21) 7 - 29 pts
Optimist Green
1st: Will Leech (Charteris Bay YC) (23) 1 3 2 1 5 - 12 pts
2nd: Seb Campbell (Muritai YC) 2 3 2 (12) 4 7 - 18 pts
3rd: Bailee Atkinson (Christchurch YC) 1 6 6 5 (11) 3 - 21 pts
Optimist Rainbow
1st: Emilie Read Bousquet (Queen Charlotte YC) 1 (3) 1 1 - 3 pts
2nd: Oliver Pearse (Queen Charlotte YC) 2 2 2 (8 DNC) - 6 pts
3rd: Harry Taylor (Christchurch YC) 4 1 (6) 2 - 7 pts 
Port Marlborough Starling Championships:
1st: Thomas Mulcahy (Murray Bay SC) 1 1 1 1 1 1 1 (2) 1 - 8 pts
2nd: Emily Overend (Queen Charlotte YC) 4 4 3 4 3 4 3 (8) 7 - 32 pts
3rd: Will Wright (Worser Bay BC) 3 6 5 2 (44 DNF) 3 5 3 9 - 36 pts
Full results can be found here