The medals proved elusive for the New Zealand sailors at the World Cup regatta in Miami but all three crews in action today proved they are in good form early in the year.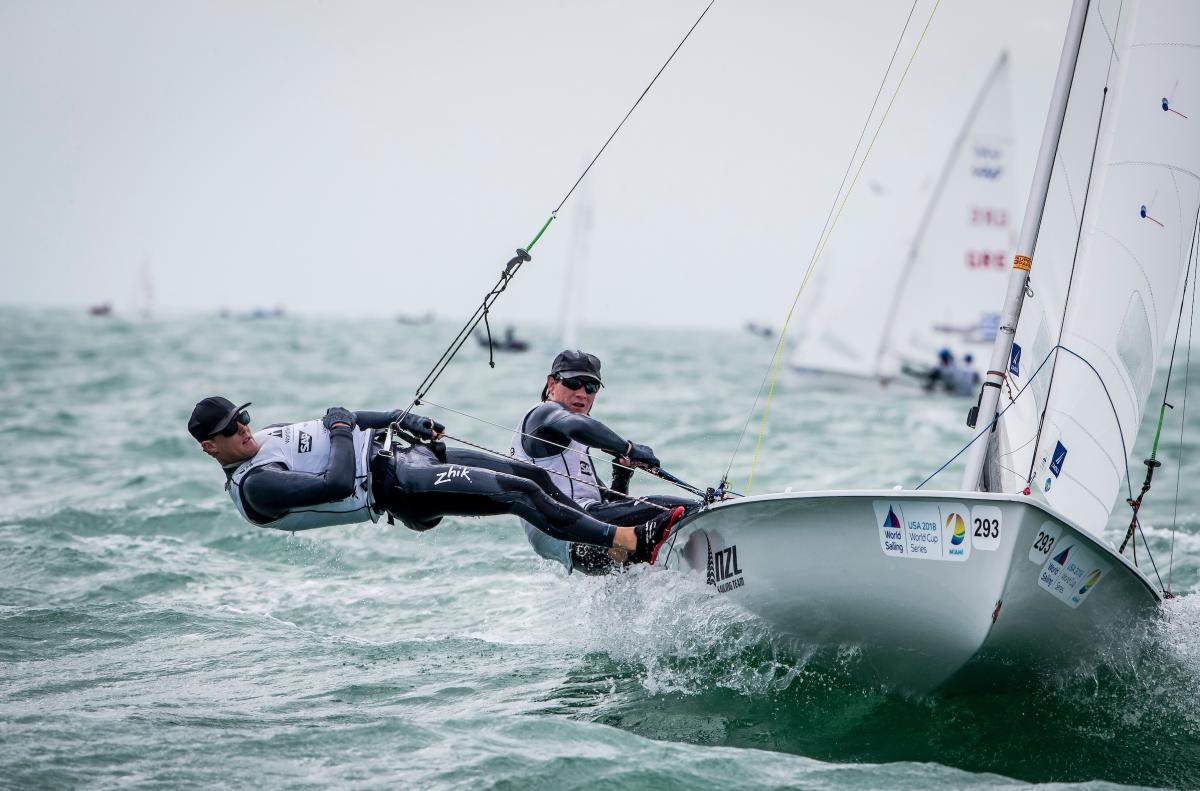 Sam Meech finished fourth overall and Tom Saunders seventh in the Laser and Paul Snow-Hansen and Dan Willcox were fifth overall in the men's 470.
Meech and Snow-Hansen and Willcox went into the double points top-10 medal race in fourth and with good shots at finishing on the podium, but both crews just couldn't quite execute on the final day. Meech was fifth in his medal race and Snow-Hansen and Willcox 10th.
Olympic champion Tom Burton (Australia) had already secured the gold in the Laser fleet heading into the medal race meaning the real interest was in the minor medals, with Philipp Buhl (Germany) pipping Nick Thompson (Great Britain) for silver by one point.
"I didn't really get the best start but got into a reasonable position around the bottom mark but I just didn't really make the right choices on the second beat," Meech said. "It was close the whole way around so I had opportunities but I just couldn't convert.
"I guess that sums up how my whole week has gone - I have been in OK positions but haven't really been banking the gains. But I'm happy with the week for the start of the year. The big regattas I really want to do well at are at the end of the year so it has been a good start."
Snow-Hansen and Willcox will reflect in a similar fashion but were disappointed to miss out on a medal today. They got off to a terrific start and showed good speed upwind but lost a few places on the downwind runs in the 18-knot winds. It allowed the Greek pair to jump ahead of them and into fourth in the overall standings.
"The medal race didn't go the way we wanted, unfortunately," Willcox said. "But the regatta showed up some positives in our sailing which we have been working on, which is great.
"We're happy to place in the top five at our first World Cup regatta of 2018 and feel we can build on this throughout the rest of the year. The regatta also exposed some key learnings to take home and work on back in New Zealand."
Great Britain's Luke Patience and Chris Grube deservedly claimed gold with Kevin Peponnet and Jeremie Mion (France) earning silver and Sweden's Anton Dahlberg and Fredrik Bergström the bronze.
It was a week of what could have been for Saunders. He sailed consistently well throughout the regatta with six top-10 results but two races proved costly - one when he received a yellow flag and finished 57th in the 70-boat fleet (his discard) and the other when he got trapped behind a competitor who capsized in front of him and finished 48th.
"It was a good week of racing," said Saunders, who led at the top mark in the medal race but had to settle for fourth. "Just one mistake and a bit of bad fortune cost me in the end. I'm looking forward to the European season now."
The next stop, though, is next weekend's Oceanbridge NZL Sailing Regatta at Murrays Bay when this country's best sailors as well as a host of top internationals will race at New Zealand's premier regatta for Olympic classes.
Results and standings after the final day of the World Cup regatta in Miami:
Laser (70 boats)
1st: Tom Burton (AUS) 4 (34) 2 7 6 6 1 6 1 18 - 51 points
2nd: Philipp Buhl (GER) 6 3 18 (25) 1 7 13 4 12 4 - 68 pts
3rd: Nick Thompson (GBR) 11 15 6 1 (18) 5 4 13 8 6 - 69 pts
4th: Sam Meech (NZL) 12 16 1 10 2 (20) 5 10 11 10 - 77 pts
7th: Tom Saunders (NZL) 14 (57) 5 3 9 49 2 19 6 8 - 114 pts
Men's 470 (37 boats)
1st: Luke Patience / Chris Grube (GBR) 2 8 (28) 3 1 2 1 2 1 2 - 24 pts
2nd: Kevin Peponnet / Jeremie Mion (FRA) 7 3 (11) 7 4 1 7 5 3 14 - 51 pts
3rd: Anton Dahlberg / Fredrik Bergström (SWE) (15) 2 5 5 8 6 4 11 4 12 - 57 pts
5th: Paul Snow-Hansen / Dan Willcox (NZL) 12 (19) 2 12 2 4 3 3 10 20 - 68 pts
Men's RS:X (48 boards)
1st: Louis Giard (FRA) (18) 7 1 1 3 3 6 - 21 pts
2nd: Kiran Badloe (NED) 10 (17) 14 2 2 2 4 - 34 pts
3rd: Pierre Le Coq (FRA) 4 6 (12) 7 6 4 12 - 39 pts
34th: Antonio Cozzolino (NZL) (42) 25 22 32 23 32 - 134 pts
Full results can be found here.