Two Kiwi crews will be on the medal hunt tomorrow at the final day of the World Cup regatta in Miami.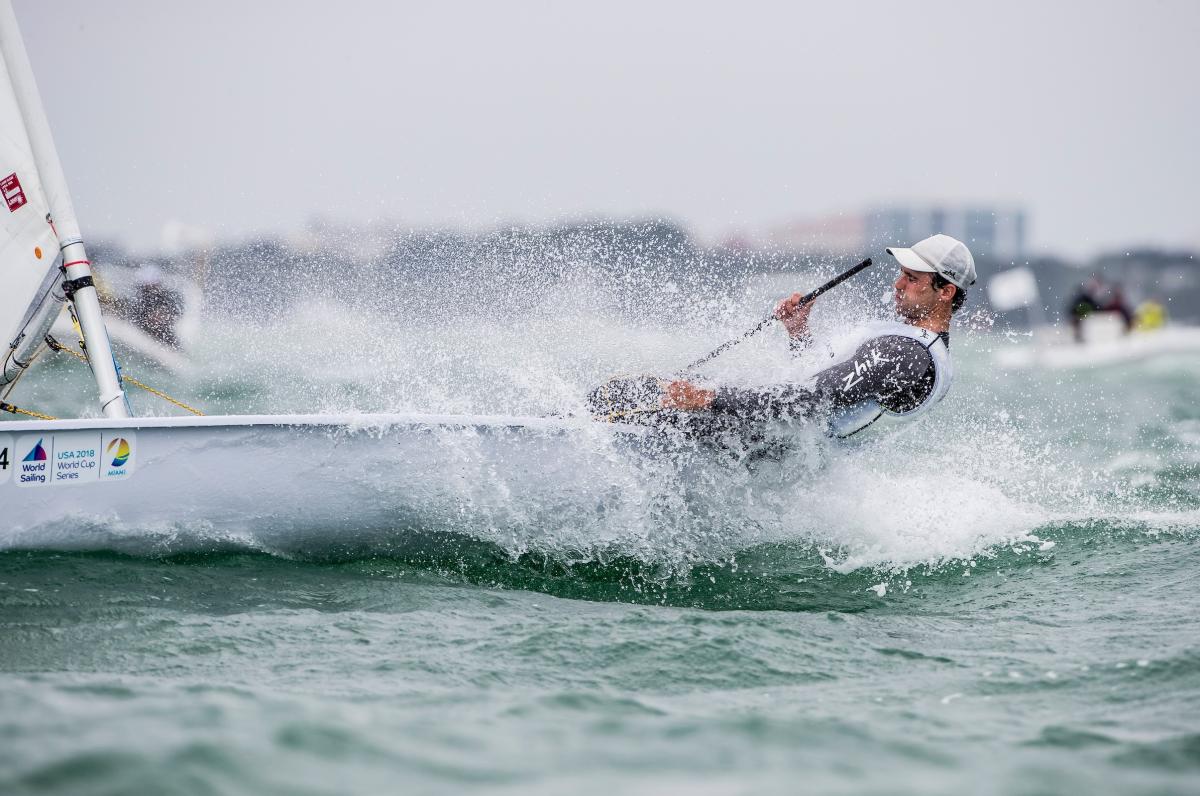 Sam Meech remained in fourth in the Laser but is only four points off second, and Paul Snow-Hansen and Dan Willcox are also fourth in the men's 470 with a realistic shot at bronze.
Tom Saunders is seventh in the Laser, which qualifies him for the top-10 medal race, but he's too far behind to push for the podium. Men's RS:X boardsailor Antonio Cozzolino missed out on the medal race and finished 34th overall.
The strong winds that scuppered any chance of sailing yesterday abated enough for racing in all 10 classes today but they were still on the upper limit as they neared 25 knots. That combined with a nasty chop made for testing conditions.
Meech was fifth, 10th and 11th in today's three races and was disappointed with how he sailed. But not too much damage was done as his rivals also struggled to post good scores and he will be in a dogfight with Nick Thompson (Great Britain) and Philipp Buhl (Germany) tomorrow for silver and bronze.
No one can touch Olympic champion Tom Burton who has an unassailable 30-point lead after posting two wins today. 
"It wasn't the best day for me," Meech said. "I was in some reasonable positions but I just couldn't convert them. I still have a chance to move up to second if everything goes well tomorrow. 
"The forecast is for similar conditions tomorrow so I will have to take the learnings from today and try to do better tomorrow."
Snow-Hansen and Willcox will also be gunning for a medal tomorrow, given they are only three points behind the Swedish pair of Anton Dahlberg and Fredrik Bergström in third and they also have an outside shot at silver. They posted two thirds and a 10th today to highlight their abilities in the breeze and they have now put together five top-four results in their last seven races.
"We had two good races today and one OK," Willcox said. "All in all, we are in with a good chance of a medal going into the medal race. We are sitting in a great position to move up in the results."
Saunders won't be able to improve on seventh but did well to qualify for the top-10 medal race given he has a 57th (his discard) and a 48th on his scorecard. He was as high as third after the second day but slipped down the field when an Italian competitor capsized in front of him near the top mark and he struggled to find clear water.
Saunders has otherwise had a good regatta with five top-10 results in difficult conditions in Miami.
"I'm pretty happy to sneak into the medal race still carrying a 48th," he said. "I'm doing the best I can with that big score. It will be good to get some more experience under my belt [in the medal race] but it would have been nice to be further up and in contention. That's the way it goes sometimes.
"I will try to go out there and win the medal race tomorrow and try to finish on a high."
Cozzolino has recently decided to take a two-year break from being a lawyer in an attempt to qualify for the 2020 Tokyo Olympics in the men's RS:X.
Results and standings after the fifth day of the World Cup regatta in Miami:
Laser (70 boats)
1st: Tom Burton (AUS) 4 (34) 2 7 6 6 1 6 1 - 33 points
2nd: Nick Thompson (GBR) 11 15 6 1 (18) 5 4 13 8 - 63 pts
3rd: Philipp Buhl (GER) 6 3 18 (25) 1 7 13 4 12 - 64 pts
4th: Sam Meech (NZL) 12 16 1 10 2 (20) 5 10 11 - 67 pts
7th: Tom Saunders (NZL) 14 (57) 5 3 9 49 2 19 6 - 106 pts
Men's 470 (37 boats)
1st: Luke Patience / Chris Grube (GBR) 2 8 (28) 3 1 2 1 2 1 - 20 pts
2nd: Kevin Peponnet / Jeremie Mion (FRA) 7 3 (11) 7 4 1 7 5 3 - 37 pts
3rd: Anton Dahlberg / Fredrik Bergström (SWE) (15) 2 5 5 8 6 4 11 4 - 45 pts
4th: Paul Snow-Hansen / Dan Willcox (NZL) 12 (19) 2 12 2 4 3 3 10 - 48 pts
Men's RS:X (48 boards)
1st: Louis Giard (FRA) (18) 7 1 1 3 3 6 - 21 pts
2nd: Kiran Badloe (NED) 10 (17) 14 2 2 2 4 - 34 pts
3rd: Pierre Le Coq (FRA) 4 6 (12) 7 6 4 12 - 39 pts
34th: Antonio Cozzolino (NZL) (42) 25 22 32 23 32 - 134 pts
Full results can be found here.