The majority of one of the most successful sailing teams in New Zealand Olympic history have been named in the 2017 NZL Sailing Team.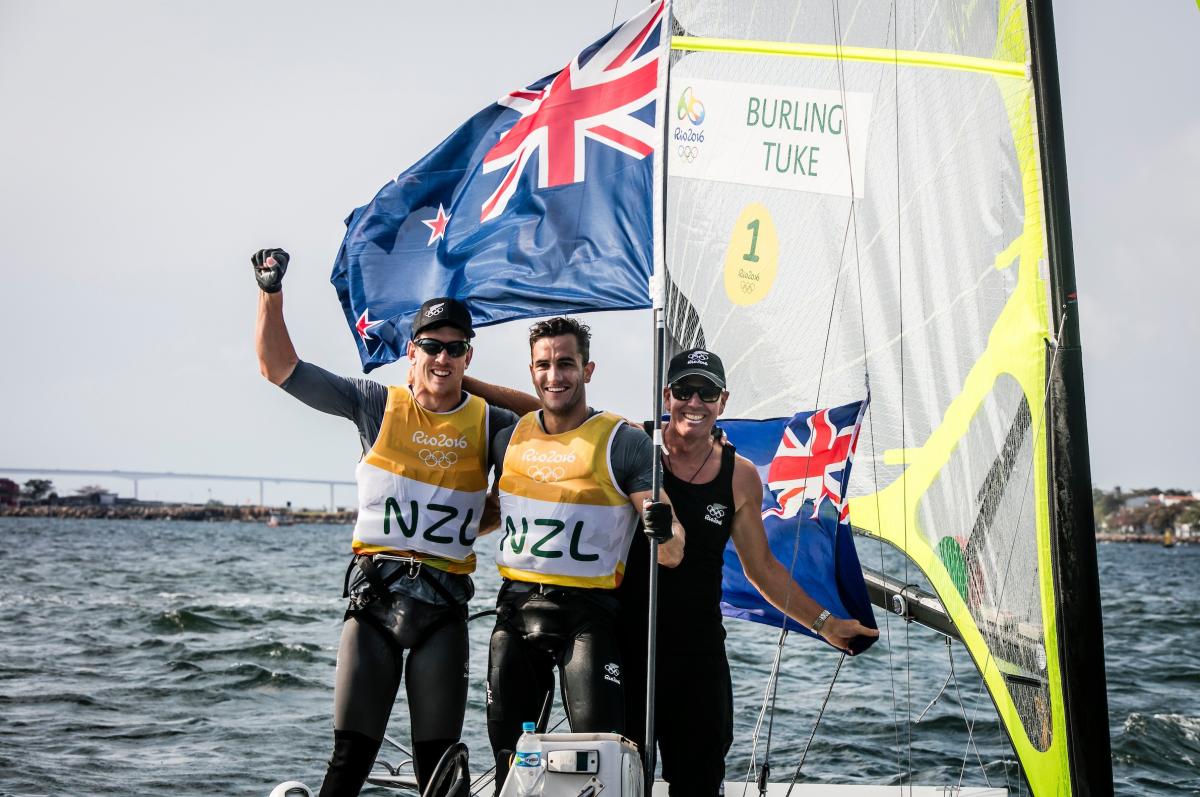 (Peter Burling and Blair Tuke celebrate with their coach Hamis Willcox after winning gold in Rio. Photo: Sailing Energy / World Sailing)
Eleven of the 12 who competed last year in Rio have been named in the high performance squad, including Olympic 49er champions Peter Burling and Blair Tuke, who will be key members of Emirates Team New Zealand's quest to win the upcoming America's Cup, as well as Finn sailor Josh Junior, who is also with Team New Zealand.
Burling and Tuke will take time after their America's Cup commitments to decide whether campaigning for the Tokyo Olympics is an option.
"Pete and I have the Tokyo Olympics on our radar but our main focus is on winning the America's Cup with Emirates Team New Zealand this year," Tuke said. "We will have a better idea whether the 2020 Olympics is a realistic goal for us once we've taken some time off following the America's Cup."
The only name missing from the 12 who competed in Rio is Polly Powrie who, together with Jo Aleh, won Olympic gold (London) and silver (Rio) in the women's 470. Powrie announced her retirement from Olympic sailing at the end of 2016.
Aleh is taking a year out from the 470 and is hopeful of sailing in the Volvo Ocean Race which starts in October before trying to find a new crew member and campaigning for a third Olympic medal in Tokyo.
"It's really significant that so many of our 2016 Olympians are returning to put another campaign together and something we're delighted about," said Yachting New Zealand acting high performance director Ian Neely. "We have fantastic people and fantastic sailors who produced some great results in Rio and who are determined to perform even better in Tokyo."
Sailing was one of New Zealand's success stories at the Rio Olympics, collecting four medals to equal the tally won in 1992 in Barcelona: gold to Burling and Tuke, silver medals for Aleh and Powrie and the 49erFX pair of Alex Maloney and Molly Meech and bronze for Sam Meech in the Laser.
The Nacra 17 combination of Gemma Jones and Jason Saunders finished fourth and all seven crews finished in the top 10 in Rio.
It resulted in an increase in funding from High Performance Sport New Zealand and Neely said that, together with the high number of returning athletes, puts them in a good place to achieve more success in Tokyo in 2020.
"We have got passionate and driven sailors at the Olympic level and another layer of exceptional talent coming through," Neely said. "The programme is well placed to support these sailors achieve their targets."
2017 NZL Sailing Team
49er: Peter Burling and Blair Tuke
49erFX: Alex Maloney and Molly Meech
Women's 470: Jo Aleh
Men's 470: Paul Snow-Hansen and Daniel Willcox
Laser: Sam Meech
Finn: Josh Junior
Nacra: Gemma Jones and Jason Saunders