The NZL Sailing Team has made a strong start at 2016 Sailing World Cup Hyeres Regatta holding the early lead in three of the ten Olympic class events being contested in France including the Finn, 49er and women's 470.
Peter Burling and Blair Tuke, Jo Aleh and Polly Powrie, and Josh Junior all out-performed their rivals today and sit atop their respective leader boards after day one of the five day regatta.
Racing opened today in France, coinciding with the 100 days-to-go milestone on the road to Rio 2016, and hundreds of the world's best Olympic class campaigners are gathered to duke it out. It's a chance to measure up against their rivals, and for some of the New Zealanders attending, a final chance to impress Olympic selectors.
It was blustery and challenging, and the 49erFX fleet didn't race as a result, while there was damage and broken masts on the Nacra course with just one counting race for those that survived. Elsewhere a full schedule of races was completed.
Jo Aleh and Polly Powrie lead the women's 470 posting a 2nd and a win today and they're out in front by five points.
Aleh says,"Very fun day out there today! Two races in 15-30 knots, we sailed a solid day, not too many mistakes, got the boat up and humming, and actually set the kite on the final downwind of the last race as opposed to most of our fleet who seemed to think it was kites optional."
"Ready for a different day tomorrow with not much wind forecast! Should be interesting."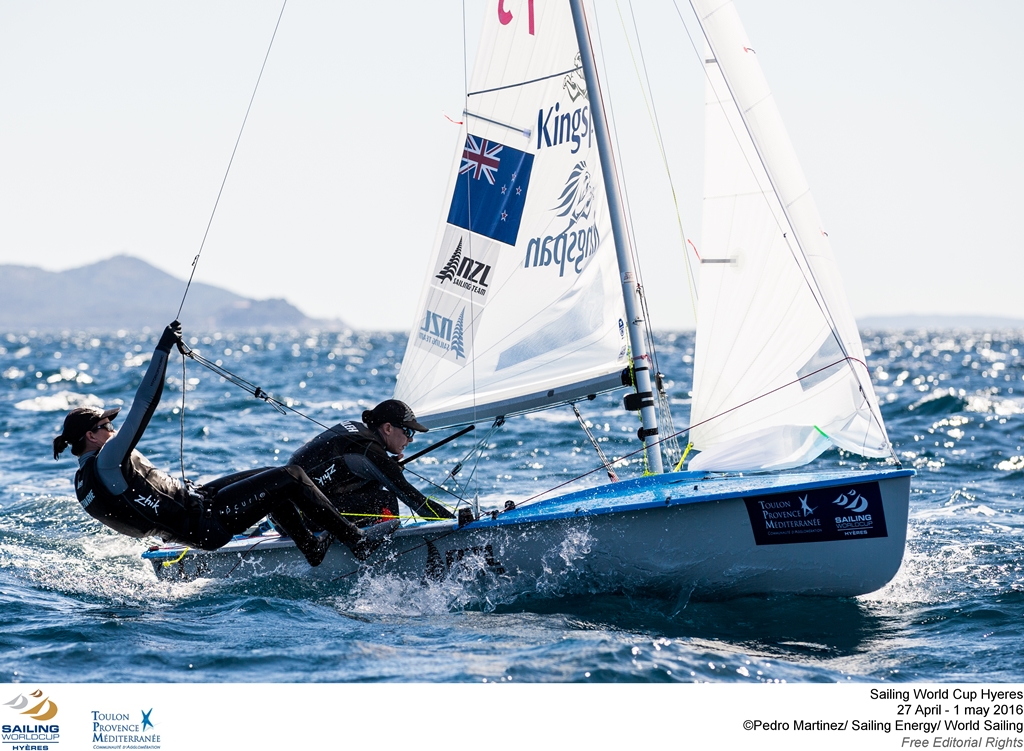 Peter Burling and Blair Tuke took a race win to begin their Hyeres title defence, followed that with a 3rd and a 9th in race three to hold a one point lead from Australia's Phillips brothers.
Tuke explains the day, "We sailed the first two races well and 99% of the third race, but we capsized right at the finish which is a bit of a pain. All in all, not a bad start."
"It is exciting, 100 days to go. It's a good little landmark but for us, it's business as usual and what we've been preparing for, for the last four years. We're here at the World Cup event to win but Rio in 100 days' time is fully on our mind and we're just looking to get better."
Tuke commented; "There's still a lot of things that we can do better and we're just going to look at those things, at the big picture in Rio and concentrate on getting better. Since we've been focusing on improving, the results have spoken for themselves."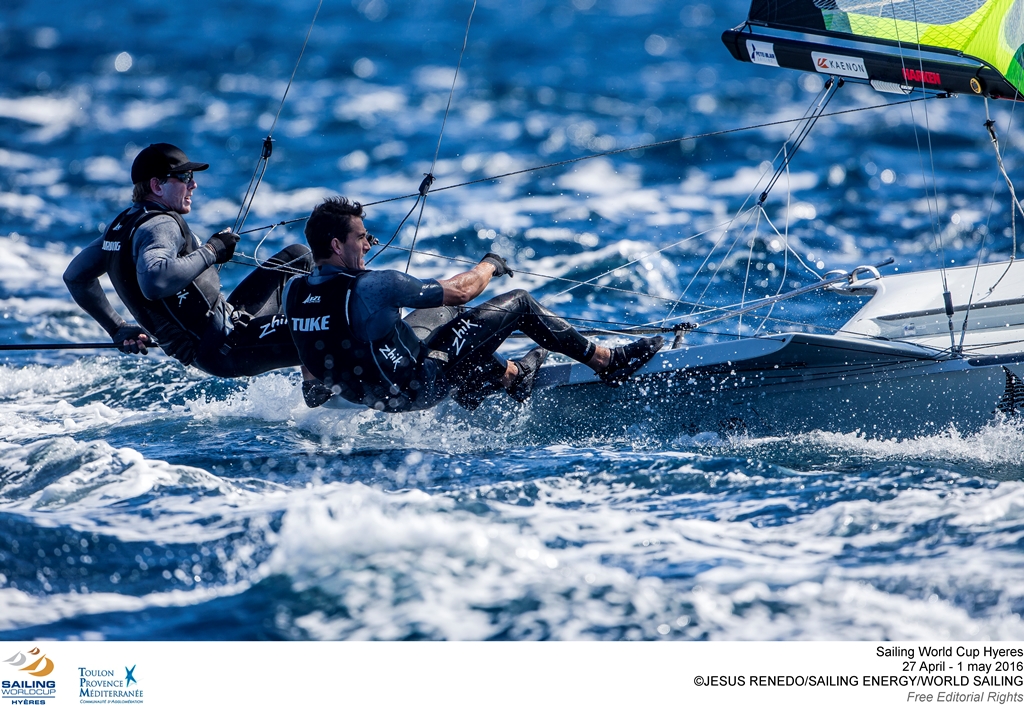 Josh Junior leads the Finn class after two races on day one. He was 4th, then 1st and heads into day two with a two point lead over Caleb Paine from the USA. Andrew Murdoch is lying 8th.
On the Nacra course more than half the 34 boat fleet didn't finish the race, but kiwis Gemma Jones and Jason Saunders were one of those that did, and they hold 3rd place overall having crossed the line 3rd.
Paul Snow-Hansen and Daniel Willcox are in 4th place overall in the Men's 470 with a couple of keeper races, a 5th and a 6th, on the water today.
Sam Meech is the best placed of the New Zealanders in the Laser class, lying 9th after day one of the regatta. Andy Maloney isn't far adrift in 13th.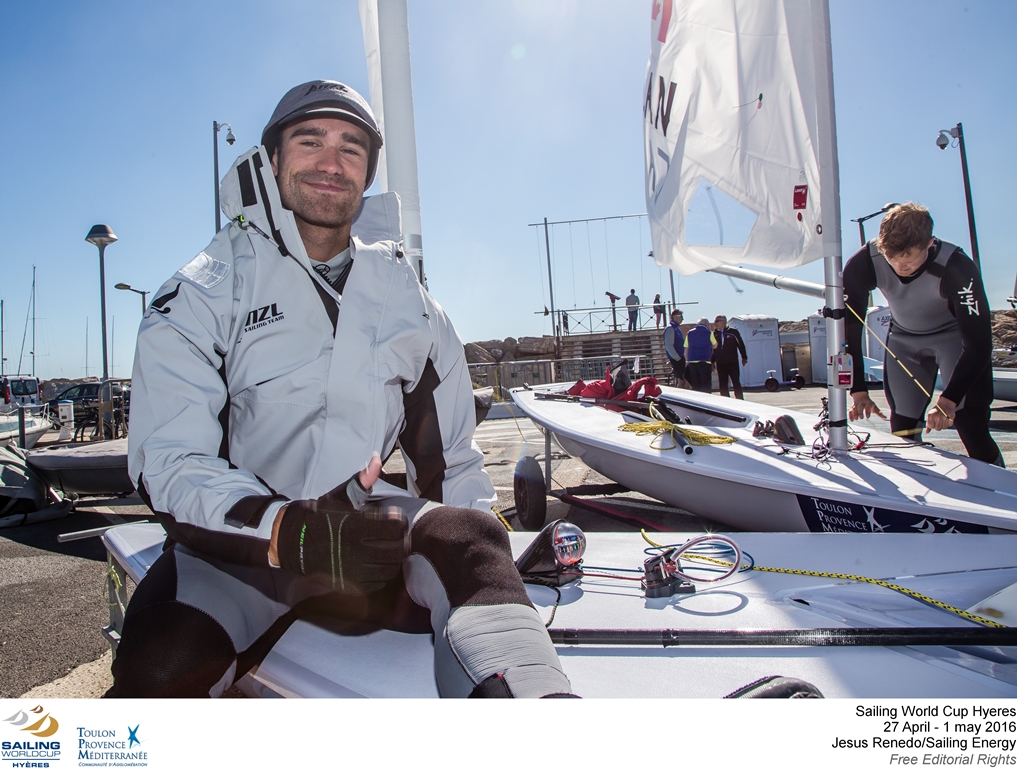 Sara Winther is in 17th in the Laser Radial and in the women's windsurfing Natalia Kosinska is lying 33rd.
2016 Sailing World Cup Hyeres runs over five days with plenty more fleet racing to come over the coming three days ahead of Sunday's medal races. After today's blustery start predictions are that tomorrow will bring more moderate winds. 
2016 World Sailing Cup Hyeres
New Zealand Team current standings
Full results here
1st Peter Burling and Blair Tuke – 49er (1, 3, 9)
24th Logan Dunning-Beck and Jack Simpson – 49er (18, 32, 19)
1st Jo Aleh and Polly Powrie – Women's 470 (2, 1)
4th Paul Snow-Hansen and Daniel Willcox – Men's 470 (5, 6)
1st Josh Junior – Finn (4, 1)
8th Andrew Murdoch – Finn (13, 5)
3rd Gemma Jones and Jason Saunders – Nacra 17 (3)
15th= Olivia Mackay and Micah Wilkinson – Nacra 17 (34DNF)
9th Sam Meech – Laser (9, 11)
13th Andy Maloney – Laser (11, 15)
33rd Andrew McKenzie – Laser (23, 41DNF)
17th Sara Winther – Laser Radial (17, 20)
33rd Natalia Kosinska – Women's RS:X (37, 38, 17)
Alexandra Maloney and Molly Meech – 49erFX – no racing on day one due to strong winds
Erica Dawson and Ellie Copeland – 49erFX – no racing on day one due to strong winds.
For more information contact:
Jodie Bakewell-White
Communications Manager, Yachting New Zealand
Tel. 021 709 065
Email. Jodie@yachtingnz.org.nz
Here are this year's key dates on the Road to Rio...
May
2016 Finn World Championships (Finn Gold Cup), Gaeta, Italy
Racing dates: 6 – 11 May
2016 Laser World Championships, Nuevo Vallarta, Mexico
Racing dates: 12-18 May
June
ISAF Sailing World Cup Weymouth, United Kingdom
Racing dates: 10-14 June
August
2016 Rio Olympic Games, Rio de Janeiro, Brazil
Racing dates: 8-19 August
2016 Rio Paralympic Games, Rio de Janeiro, Brazil
Racing dates: 7–18 September