It's often said success at the Olympic venue leads to success at the Games themselves and there were some encouraging results in Enoshima today with New Zealand sailors picking up two silver medals.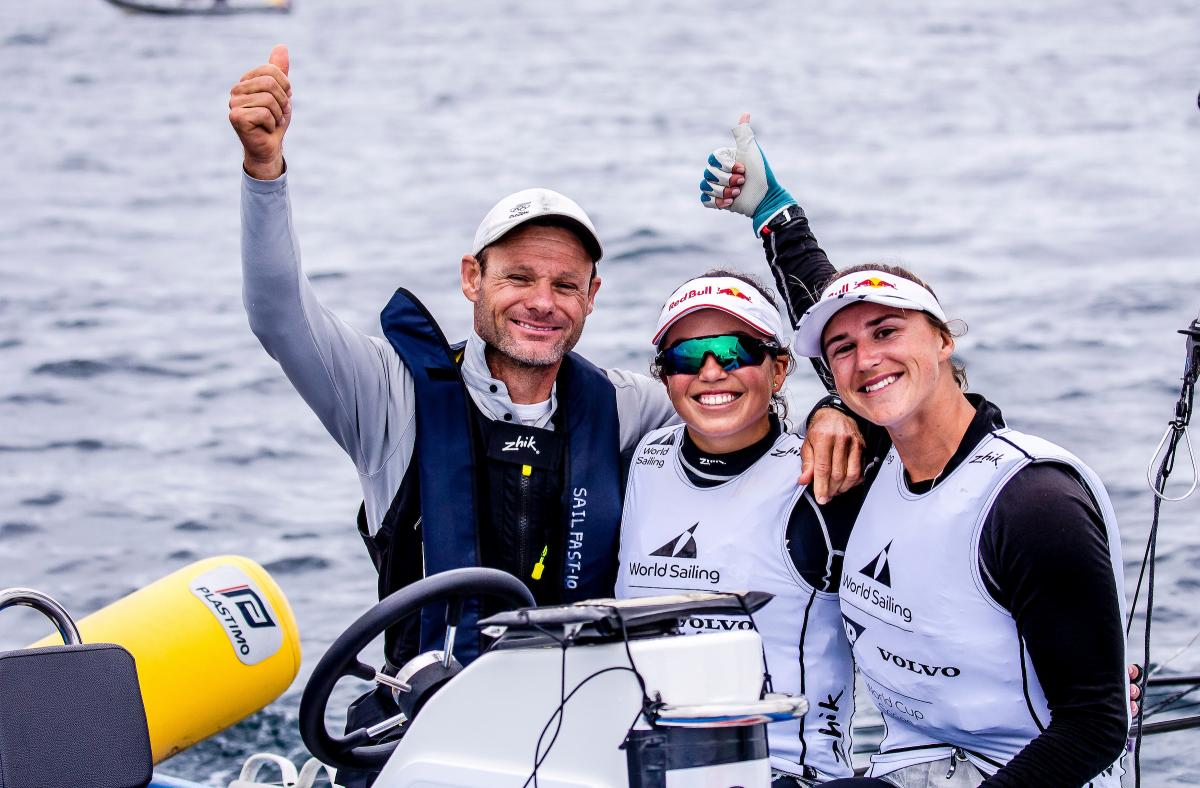 Logan Dunning Beck and Oscar Gunn were second in the 49er, improving one place in the final stages of a dramatic race that was the difference between second and fourth overall, and Alex Maloney and Molly Meech found their form in the 49erFX top 10 medal race to finish second on the day and second overall.
There's an outside chance of another couple of medals tomorrow in both the Finn and Laser classes but results would need to go the way of the New Zealand sailors.
As many as 17 medallists from the London test event in 2011 went on to win an Olympic medal in 2012 and 16 medallists from the Rio test event clinched a medal at the 2016 Olympics. The main test event for the 2020 Tokyo Olympics will be held next year but it's a good sign that New Zealand crews are already performing at Enoshima.
Dunning Beck and Gunn were third there last year and backed it up with second this week, and Maloney and Meech won the test event last year.
Great Britain's James Peters and Fynn Sterritt easily won the 49er medal race today to collect gold but the real drama was further back in the fleet as three boats battled for the minor medals. Dunning Beck and Gunn rolled over the Austrian combination on the finish line to finish eighth, which was enough to snatch silver on countback over the Polish crew who were 10th.
"I think the race summed up the regatta," Dunning Beck said. "We thought we had set up for a glamour start and at the last minute the wind did a u-turn and whacked us on the back of the head. We tried to play catchup from there which has been a feature of the week. It was a luck-beats-skill kind of day for us.
"This regatta we feel like we have learned a lot about what we can improve on, which is more important than any result. It was a tough week because we didn't feel we were performing to a standard that we hold ourselves to. It was a good week in the end, though, to come away with silver."
Maloney and Meech went into their medal race in fourth with silver the best possible outcome, given Olympic champions Martine Soffiatti Grael and Kahena Kunze had already wrapped up gold. The New Zealand pair didn't have the best of starts but played the shifts well to be among the leaders up the first beat and controlled their position from there to finish second in the race.
"It went really well for us," Maloney said. "It was still a tricky race. One of our goals was to get off the start line well and we didn't do that but, after that, we managed to connect a few pressure lines. We sailed a pretty solid medal race but it was a close finish and there was a lot to play for."
Gemma Jones and Jason Saunders were 10th in the Nacra 17 medal race and sixth overall, with Australian's Jason Waterhouse and Lisa Darmanin breaking the dominance of Itay's Ruggero Tita and Caterina Marianna Banti who had won every major regatta this year.
Andy Maloney had the best day of any of the other New Zealand sailors, picking up his second race win of the week and backing it up with a sixth to jump into fifth overall in the Finn class. He has an outside chance of a medal but would need all the cards to fall his way. Josh Junior slipped one place and is now sixth overall.
Sam Meech had a difficult day in the Laser, finishing 18th and 25th to slip to ninth overall. Tom Saunders is now the best of the Kiwis in seventh and, like Maloney, would need results to fall his way to claim a medal.
Results and standings after the fifth day of the World Cup regatta in Enoshima, Japan, today:
Laser (59 boats)
1st: Elliot Hanson (GBR) 11 6 (14) 1 3 6 5 1 - 33 points
2nd: Lorenzo Brando Chiavarni (GBR) (40) 26 9 25 1 1 11 2 - 75 pts
3rd: Michael Beckett (GBR) 8 2 18 9 (27) 15 8 15 - 75 pts
7th: Tom Saunders (NZL) 15 18 8 3 8 22 15 (28) - 89 pts
9th: Sam Meech (NZL) 4 (35) 17 2 6 19 18 25 - 91 pts
14th: George Gautrey (NZL) 5 36 11 (60 BFD) 16 9 10 32 - 119 pts
Laser Radial (53 boats)
1st: Marit Bouwmeester (NED) 2 (23) 4 5 9 6 2 - 28 pts
2nd: Josefin Olsson (SWE) 15 1 10 2 16 2 (28) - 46 pts
3rd: Emma Plasschaert (BEL) 5 3 14 (15) 8 5 14 - 49 pts
31st: Olivia Christie (NZL) 25 4 21 (45) 44 35 31 - 160 pts
Nacra 17 (25 boats)
1st: Jason Waterhouse / Lisa Darmanin (AUS) 6 5 3 5 3 2 (8) 1 7 2 - 34 pts
2nd: Ruggero Tita / Caterina Marianna Banti (ITA) 1 1 1 1 1 (12) 4 6 12 9 - 35 pts
3rd: Vittorio Bissaro / Maelle Frascari (ITA) (11) 2 2 2 7 3 9 5 8 4 - 42pts
6th: Gemma Jones / Jason Saunders (NZL) 2 3 10 3 (26 DSQ) 10 12 3 5 20 - 68 pts
Finn (21 boats)
1st: Giles Scott (GBR) 6 1 2 6 (10) 2 - 17 pts
2nd: Nicholas Heiner (NED) 5.4 DPI 6.4 DPI 1 (8) 4 4 - 20.8 pts
3rd: Jorge Zarif (BRA) 5 9 3 1 5 (12) - 23 pts
5th: Josh Junior (NZL) 2 6 8 3 6 (10) - 25 pts
7th: Andy Maloney (NZL) (14) 8 12 7 9 1 - 37 pts
49er (27 boats)
1st: James Peters / Fynn Sterritt (GBR) 4 3 5 1 7 8 (17) 9 15 2 - 54 pts
2nd: Logan Dunning Beck / Oscar Gunn (NZL) 3 5 8 6 9 17 5 (22) 3 16 - 72 pts
3rd: Lukasz Przybytek / Pawel Kolodzinski (POL) 2 8 3 17 5 (23) 4 5 8 20 - 72 pts
13th: Josh Porebski / Trent Rippey (NZL) 19 22 2 10 13 5 9 (25) 14 - 94 pts
18th: Isaac McHardie / William McKenzie (NZL) 21 6 20 14 (24) 9 10 8 13 - 101 pts
49erFX (24 boats)
1st: Martine Soffiatti Grael / Kahena Kunze (BRA) 1 5 2 1 1 (13) 1 8 - 19 pts
2nd: Alex Maloney / Molly Meech (NZL) 19 3 1 2 4 12 (24) 4 - 45 pts
3rd: Klara Wester / Rebecca Netzletr (SWE) 5 (25 UFD) 12 6 8 8 3 6 - 48 pts
Men's 470 (32 boats)
1st: Keiju Okada / Jumpei Hokazono (JPN) 5 2 1 2 12 2 (16) 8 - 32 pts
2nd: Mathew Belcher / William Ryan (AUS) 3 (15) 5 1 11 5 5 10 - 40 pts
3rd: Daichi Takayama / Kimihiko Imamura (JPN) 7 9 6 5 2 (13) 10 4 - 43 pts
28th: Paul Snow-Hansen / Daniel Willcox (NZL) 19 32 14 18 26 19 (33 RET) 14 - 142 pts
Women's 470 (23 boats)
1st: Afrodite Kyranakou / Anneloes van Veen (NED) 2 5 6 2 6 (8) 3 5 - 29 pts
2nd: Ai Kondo Yoshida / Miho Yoshioka (JPN) 11 1 2 11 (12) 4 2 2 - 33 pts
3rd: Benedetta di Salle / Alessandra Dubbini (ITA) 5 2 7 (13) 5 2 10 3 - 34 pts
22nd: Courtney Reynolds-Smith / Brianna Reynolds-Smith (NZL) 21 20 20 (23) 19 20 - 141 pts
Men's RS:X (40 boards)
1st: Kiran Badloe (NED) 3 2 8 2 4 11 (17) 4 4 - 37 pts
2nd: Mateo Sanz Lanz (SUI) 9 (20) 12 1 7 4 1 9 8 - 51 pts
3rd: Pierre le Coq (FRA) 10 3 4 3 9 (41 UFD) 8 7 10 - 54 pts
Women's RS:X (30 boards)
1st: Peina Chen (CHN) 1 3 10 3 8 4 1 (13) 4 - 34 pts
2nd: Lilian de Geus (NED) (21) 1 1 10 15 1 8 3 6 - 45 pts
3rd: Yunxiu Lu (CHN) 2 5 4 (17) 1 2 17 14 2 - 47 pts
Full results here