Sam Meech illustrated in exemplary fashion why he's one of the favourites in the Laser fleet at the sailing world championships with two race wins on his opening day of action.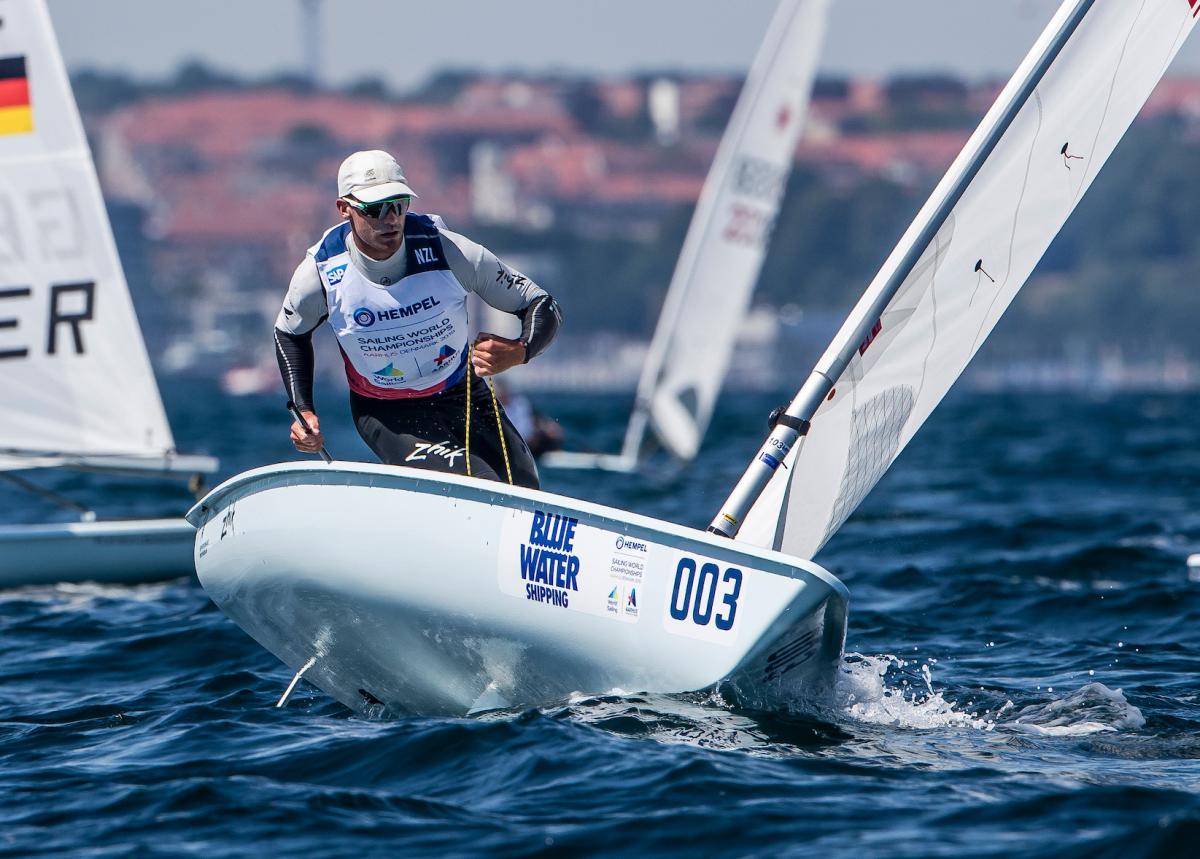 The Rio Olympics bronze medallist revelled in the 10-12 knot sea breeze off the coast of Aarhus to take an early lead but most of the contenders also punched out low scores to sit close behind after two races. 
It was a profitable day for a number of other New Zealanders, with Andrew McKenzie (seventh) and Tom Saunders (21st) also in the mix in the Laser, Josh Junior (ninth) and Andy Maloney (11th) both well placed in the Finn and Paul Snow-Hansen and Dan Willcox jumping up to 11th in the men's 470.
But it was Meech who stole the show. As one of his training partners put it, he made it look easy out on the Bay of Aarhus.
"I don't know about that," he said modestly. "There were some dangerous moments but I managed to make a couple of good decisions which led to two good races and my speed was reasonably good as well.
"It's a perfect start for me. I couldn't really ask for much more from a first day but it's still really early in the regatta and I'm going to have to take it day by day, but looking forward to the rest of the week."
The Laser is by far the biggest fleet at the world championships, with 165 sailors divided into three fleets. They are due to sail two more days of qualifying races before the top third are put into gold fleet to decide the medals.
McKenzie was sixth and fourth in the same fleet as Meech and, although Saunders was a little disappointed, little damage was done to his scoreboard.
Junior brushed aside his poor first-up race yesterday, banking a third, eighth and fourth to jump into ninth overall now the discard for the worst score has come into play. He's one point ahead of fellow Kiwi Andy Maloney who was 13th, fifth and fifth in his races.
"It was much better than yesterday," Junior said. "I managed to get three top 10s and they are all keepers.
"Yesterday I didn't do anything right but I made a conscious effort today to try to get some good starts and I did that and I think that's what got me some good results. But it's a long regatta and you just have to keep chipping away and keep learning. I've had some good starts, now I need to start racing well. It's going to be a whole week of trying to get better and better and hopefully by the end I am firing."
Maloney is usually a model of consistency and always found himself near the front of the race but he wasn't entirely satisfied with his day.
"There were a few points I maybe left out there," he said. "I maybe could have finished it off a bit sooner in the races but I had three consistent results so it's still good for this stage of the regatta."
Snow-Hansen and Willcox were feeling much better about their chances after three results in the top seven today which lifted them to 11th overall, only six points off the lead. The pair unsuccessfully protested the fairness of yesterday's only race when the wind oscillated 70 degrees at times and they found themselves tacking on what was supposed to be a downwind leg.
More Kiwis join the action tonight (NZ time), with three crews battling it out in the 49er and Alex Maloney and Molly Meech starting their tilt for a second world title in the 49erFX.
Results and standings after the second day of the sailing world championships in Aarhus, Denmark, overnight (NZ time):
Finn (90 boats)
1st: Pieter-Jan Postma (NED) (14) 1 3 3 - 7 points
2nd: Tom Ramshaw (CAN) (9) 1 9 2 - 12 pts
3rd: Josip Olujic (CRO) 1 (15) 2 9 - 12 pts
9th: Josh Junior (NZL) (25) 3 8 4 - 16 pts 
11th: Andy Maloney (NZL) 6 (13) 5 5 - 16 pts
Men's 470 (64 boats)
1st: Kazuto Doi / Naoya Kimura (JPN) (15) 1 5 3 - 9 pts
2nd: Anton Dahlberg / Fredrik Bergstrom (SWE) 1 3 (6) 5 - 9 pts
3rd: Jordi Xammar Hernandez / Nicolás Rodriguez Garcia-Paz (ESP) 2 4 3 (18) - 11 pts
11th: Paul Snow-Hansen / Dan Willcox (NZL) (25) 5 7 3 - 15 pts
Women's 470 (47 boats)
1st: Ai Kondo Yoshida / Miho Yoshioka (JPN) (12) 1 3 6 - 10 pts
2nd: Hannah Mills / Eilidh McIntyre (BGR) 9 (14) 1 1 - 9 pts
3rd: Camille Lecointre / Aloise Retornaz (FRA) 2 6 4 (7) - 12 pts
41st: Courtney Reynolds-Smith / Brianna Reynolds Smith (NZL) (40) 39 34 26 - 99 pts
Laser (165 boats)
1st: Sam Meech (NZL) 1 1 - 2 pts
2nd: Kaarle Tapper (FIN) 2 2 - 4 pts
3rd: Nick Thompson (GBR) 3 2 - 5 pts
7th: Andrew McKenzie (NZL) 6 4 - 10 pts 
21st: Tom Saunders (NZL) 6 11 - 17 pts
45th: George Gautrey (NZL) 18 14 - 32 pts
73rd: Matthew Kempkers (NZL) 40 12 - 52 pts
Laser Radial (119 boats)
1st=: Vasileia Karahaliou (GRE) 2 1 - 3 pts
1st=: Paige Railey (USA) 2 1 - 3 pts
3rd=: Line Flem Host (NOR) 3 2 - 5 pts
3rd=: Marit Bouwmeester (NED) 3 2 - 5 pts
46th: Susannah Pyatt (NZL) 31 18 - 49 pts
77th: Olivia Christie (NZL) 28 48 - 76 pts
118th: Annabelle Rennie-Younger (NZL) 58 57 - 115 pts
Full results here. 
Audio of Sam Meech, Josh Junior and Andy Maloney is available on request. Please contact Yachting New Zealand communications manager Michael Brown on michaelb@yachtingnz.org.nz or +45 5021 9047.