The New Zealand sailors got a sense of how tricky Aarhus is going to be as a venue for the sailing world championships with wild swings in wind direction and strength on the first day of racing.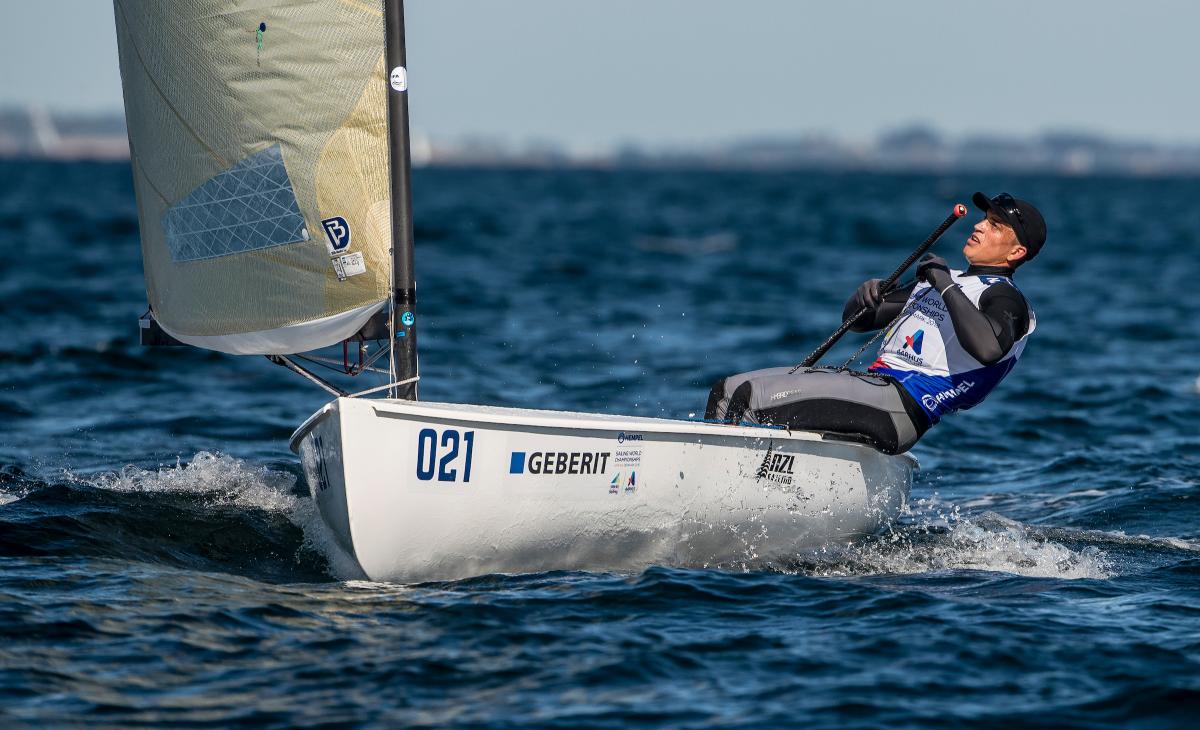 Andy Maloney made the best start of the Kiwis, finishing sixth in the yellow fleet of the Finn class, but the other New Zealanders in action struggled.
Josh Junior (Finn) was 25th in his race and Courtney and Brianna Reynolds-Smith (women's 470) banked a 40th and a 39th in their first taste of action at a world championships.
Paul Snow-Hansen and Dan Willcox were 25th in their race in the men's 470 but joined a handful of other countries afterwards to protest the fairness of the race considering there were 70-degree oscillations in the direction of the wind.
It meant boats could go from first to 21st in the blink of an eye and there were occasions when the fleet was virtually stalled on the race track.
"The race didn't go so well for us," Willcox said. "It was probably the first race in a while where we were tacking on a downwind leg, but it's early days.
"For us, it's a case of clicking the reset button and refocusing going into tomorrow."
Maloney was able to switch on when he needed to, considering he spent about five hours getting ready for starts that never eventuated or waiting on the water until the sea breeze finally kicked in.
He's made considerable progress since switching to the Finn towards the end of last year – he campaigned in a Laser in the last Olympic cycle before helping Emirates Team New Zealand win the America's Cup - and went into the world championships on the back of a bronze medal at the recent World Cup Series finals in France.
Maloney has worked closely with Junior and coach Andrew Murdoch over recent months and comes into the world championships full of confidence.
"Over the last month I have really jumped up a level in speed," Maloney said. "I know I can sail consistently well and not have to do everything perfectly throughout a race to come away with keepers and that's a good feeling.
"It's a really tricky venue so it's going to be a high scoring regatta, I'm sure, so a six is a really good keeper. I'm happy with that."
The Laser and Laser Radial fleets start their racing tonight (NZ time), when eight more New Zealanders will join the action.
Sam Meech goes in as one of the favourites in the Laser after a terrific run of results, having started his European campaign with silver at the Princess Sofia regatta in Palma and then silvers at both the World Cup in Hyeres and Laser European championships. Those results came on top of his first World Cup title in Gamagori late last year.
"Training has been going really well so I feel like I'm in a pretty good position going into the regatta," Meech said. "I feel like I can definitely be one of the guys pushing for the title.
"But we've seen today how tricky the venue can be so, hopefully, a few thing go my way. There will be moments when you'll need a bit of luck on your side and I'll be doing everything I can to take advantage."
Results and standings after the first day of the sailing world championships in Aarhus, Denmark, overnight (NZ time):
Finn (90 boats)
1st=: Jorge Zarif (BRA) 1 - 1 points
1st=: Josip Olujic (CRO) 1 - 1 pt
3rd=: Guillaume Boisard (FRA) 2 - 2 pts
3rd=: Joan Cardona Mendez (ESP) 2 - 2 pts
11th=: Andy Maloney (NZL) 6 - 6 pts
49th=: Josh Junior (NZL) 25 - 25 pts
Men's 470 (64 boats)
1st=: Panagiotis Mantis / Pavlos Kagialis (GRE) 1 - 1 pt
1st=: Anton Dahlberg / Fredrik Bergstrom (SWE) 1 - 1 pt
3rd=: Giacomo Ferrari / Giulio Calabro (ITA) 2 - 2 pts
3rd=: Jordi Xammar Hernandez / Nicolás Rodriguez Garcia-Paz (ESP) 2 - 2 pts
49th= Paul Snow-Hansen / Dan Willcox (NZL) 25 - 25 pts
Women's 470 (47 boats)
1st: Camille Lecointre / Aloise Retornaz (FRA) 2 6 - 8 pts
2nd: Ai Kondo Yoshida / Miho Yoshioka (JPN) 12 1 - 13 pts
3rd: Linda Fahrni / Maja Siegenthaler (SUI) 1 13 - 14 pts
43rd: Courtney Reynolds-Smith / Brianna Reynolds Smith (NZL) 40 39 - 79 pts
Audio of Andy Maloney is available on request. Please contact Yachting New Zealand communications manager Michael Brown on michaelb@yachtingnz.org.nz or +45 5021 9047.