Many of the rules around antifouling paints changed in 2017, with many now illegal to import or manufacture in New Zealand.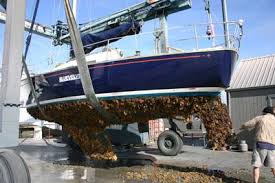 Antifouling paints are used for painting boats and other underwater surfaces, so don't apply to other paints, such as those you would use for your home or for other buildings.
The Environmental Protection Authority looked into the rule for all antifouling paints in 2013, including which paints should be sold and used in New Zealand. After consulting a wide range of people, including the paint and marine industries, commercial and recreational boat users, and other government agencies, they decided to phase out some paints over four years.
That meant, from June 2017 onwards, antifouling paints containing diuron, octhilinone or ziram could not be imported or manufactured in New Zealand.
While these paints were important for New Zealand biosecurity, to prevent unwanted organisms being introduced and spread by fouled vessels, these paints are slow-release toxic coatings. When numbers of boats are moored together in marinas and harbours, these toxic substances can build up to concentrations that could affect people and the environment.
The ban is on importing and manufacturing, meaning suppliers and retailers can continue to sell paints containing diuron, octhilinone or ziram.
Boat owners or painters are permitted to continue to buy and use these paints but must not bring any paints containing diuron, octhilinone or ziram from overseas into New Zealand.
Disposal of these paints must be managed carefully, due to the ecotoxic and other hazardous properties of this type of paint. Antifouling paints must never be dumped in general landfill or sewerage sites, or in the environment on land or in the water.
Check whether your marina has a waste treatment facility on site, or contact your regional council for information about hazardous waste landfills. You could also contact a hazardous waste treatment company to collect and dispose of your waste paints. 
For more information, see the EPA website, or call EPA on 0800 429 7827 (0800 HAZSUBS).