The New Zealand open teams racing national championships is back after a 10-year absence from the New Zealand yachting calendar.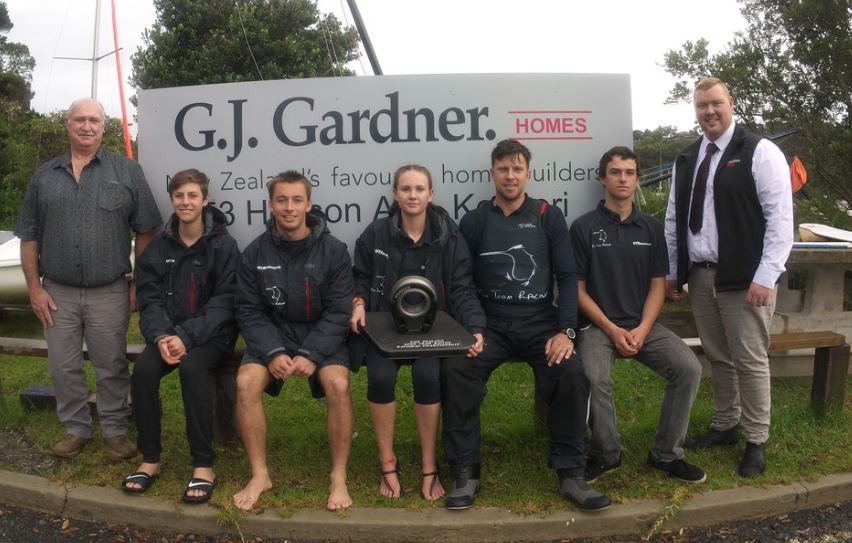 Teams racing is popular among high school students and there's now a hope open teams racing will grow after 10 teams from as far afield as Christchurch and Nelson gathered at the Kerikeri Cruising Club last weekend.
The winning Kiwi Racing Team of Reuben Corbett, Ethan Manning-Harris, Frankie Dair, Maeve White, Shae Donahoe and Josh Berry took out the regatta after a series of impressive results. They achieved eight wins from nine races in round robin, three from three in the semifinals and then won three of four in the final against Thievery. Team Elephants were third overall.
Kiwi Racing Team went in as favourites after competing recently at the British open team racing championships sailed out of the West Kirby Sailing Club and Corbett was previously ranked inside the top 10 on the world match racing circuit and has also coached Kerikeri High School to multiple national teams racing championships.
For the uninitiated, teams racing is when teams work together using the rules to their advantage, using a combination of boat speed, handling and strategies to get their team into a winning combination.
A team consists of six sailors and three 420 boats racing against one other team at a time. To win, a team needs 10 or less points in any combination - first, second and third or first, third and fourth are winning combinations. Each race lasts about seven minutes and can be likened to on-water chess.
The contests were deferred on Saturday due to the strong winds buffeting the area and the organisers did well to complete 45 races by nightfall on Sunday, even after starting at midday. Round robin 2 and the finals were also completed by early Monday afternoon as stormy weather threatened to interrupt proceedings. 
A feature of the event was the spread in the age of those competing, from 12 to thirtysomething, and a healthy dose of female sailors that ensured at least one female in all but one of the 10 teams.
"It is so good to have this competition up and running again," Eric Thomas and Kayla Butler enthused. "Everyone is enjoying being on the water and going hard out."
A magnificent new trophy made out of the cap shroud sheave of USA 17 which won the 2010 America's Cup was donated by Core Builders Composites general manager Mark Turner. Thanks also to GJ Gardner Homes, New World Kerikeri and 88 Below for their support. 
Final standings from the New Zealand open teams racing national championships at the Kerikeri Cruising Club last weekend:
1st: Kiwi Team Racing
2nd: Thievery
3rd: Team Elephants
4th: Reach Arounds
5th: MBSC B
6th: Mongoose Racing
7th: MBSC B
8th: Bow Downs
9th: Roofless Roundups
10th: Nelson