Kiel Week is the biggest sailing regatta in the world and for most of the New Zealand contingent in Germany it represents their final shakedown before their biggest event of the year.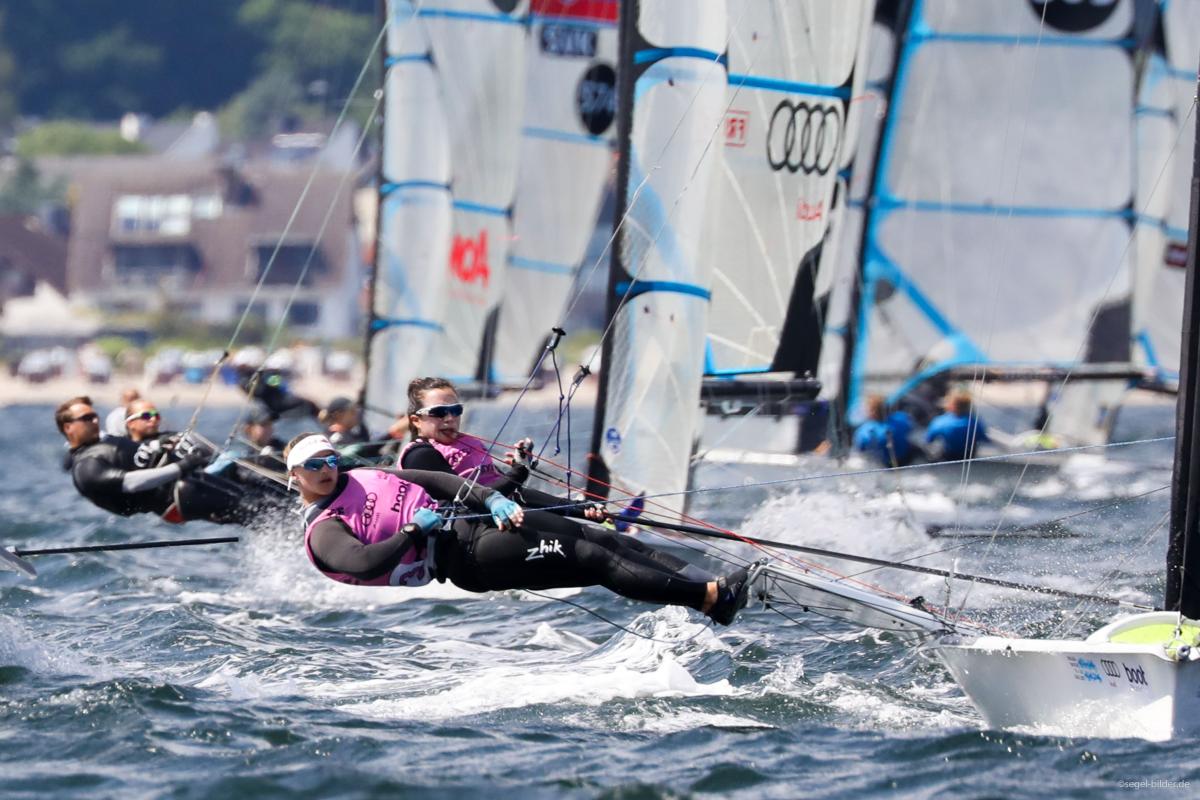 More than 4000 sailors from 60 nations will this week compete across 42 classes and on 10 race courses off the coast of Kiel, a port city on Germany's northern coast on the Baltic Sea. Its proximity to and similarity weather-wise to Aarhus makes it the perfect venue ahead of the upcoming sailing world championships in Denmark.
As many as 19 of New Zealand's best Olympic class sailors will compete at Kiel Week, which for them kicks off on Wednesday night (NZ time). There are also a handful of others in youth classes (29er and boy's Laser Radial) and other centreboard classes. 
New Zealand's top Laser sailors, including Sam Meech and Tom Saunders, have opted to skip the regatta after a busy start to 2018.
"It's the perfect warmup for the world championships, which is our pinnacle event of the year, and a chance for them to make sure all of their processes are refined," Yachting New Zealand high performance director Ian Stewart said. "It's also a last chance to sail in quality fleets at an event with a bit of pressure."
Most of the world's top sailors have converged on Kiel, with some countries using it as a qualification regatta for the sailing world championships which get under way in Aarhus in six weeks. The combined sailing world championships, where all Olympic classes compete at the same time and venue, are held every four years and will be the first chance for countries to qualify boats for the 2020 Tokyo Olympics.
Josh Junior and Andy Maloney will go into Kiel Week in good form after finishing second and third respectively in the Finn class at last week's World Cup Series finals in Marseille and Maloney also secured bronze at April's Princess Sofia regatta in Palma. 
Olympic silver medallists Alex Maloney and Molly Meech have also enjoyed some good results in 2018, collecting silver in Palma and backing it up with gold at the World Cup regatta in Hyeres three weeks later. New Zealand sailors won five medals in Hyeres and four in Palma.
"A number of our sailors have been getting some good results this year, with many of them finishing on the podium, but the focus has all been on Aarhus," Stewart said. "They will still want to do well this week in Kiel and get all their processes right and, if they can do that, results should follow."
Moderate breezes of between 12 and 24 knots are forecast for the next few days in Kiel and there will be the additional challenge of some big fleets in some classes. There will be close to 90 in both the 49er and women's Laser Radial and 79 in the Finn.
New Zealand sailors competing at Kiel Week:
Men's 470 (54 boats)
Paul Snow-Hansen and Dan Willcox
Women's 470 (29 boats)
Courtney Reynolds-Smith and Brianna Reynolds-Smith
49er (90 boats) 
Josh Porebski and Trent Rippey
Logan Dunning Beck and Oscar Gunn
Isaac McHardie and William McKenzie
49erFX (64 boats)
Alex Maloney and Molly Meech
Finn (79 boats)
Josh Junior
Andy Maloney
Laser Radial - women (86 boats)
Susannah Pyatt
Nacra 17 (46 boats)
Gemma Jones and Jason Saunders
Liv Mackay and Micah Wilkinson
29er - Euro Cup (128 boats)
Seb Lardies and Scott McKenzie
Sophia Fyfe and Alice Haslett
Men's Laser Radial world championships (93 boats)
Josh Armit
Caleb Armit
OK Dinghy (69 boats)
Greg Wilcox