Erica Dawson contemplated giving up sailing altogether after another setback but now realises she has a big future in the sport.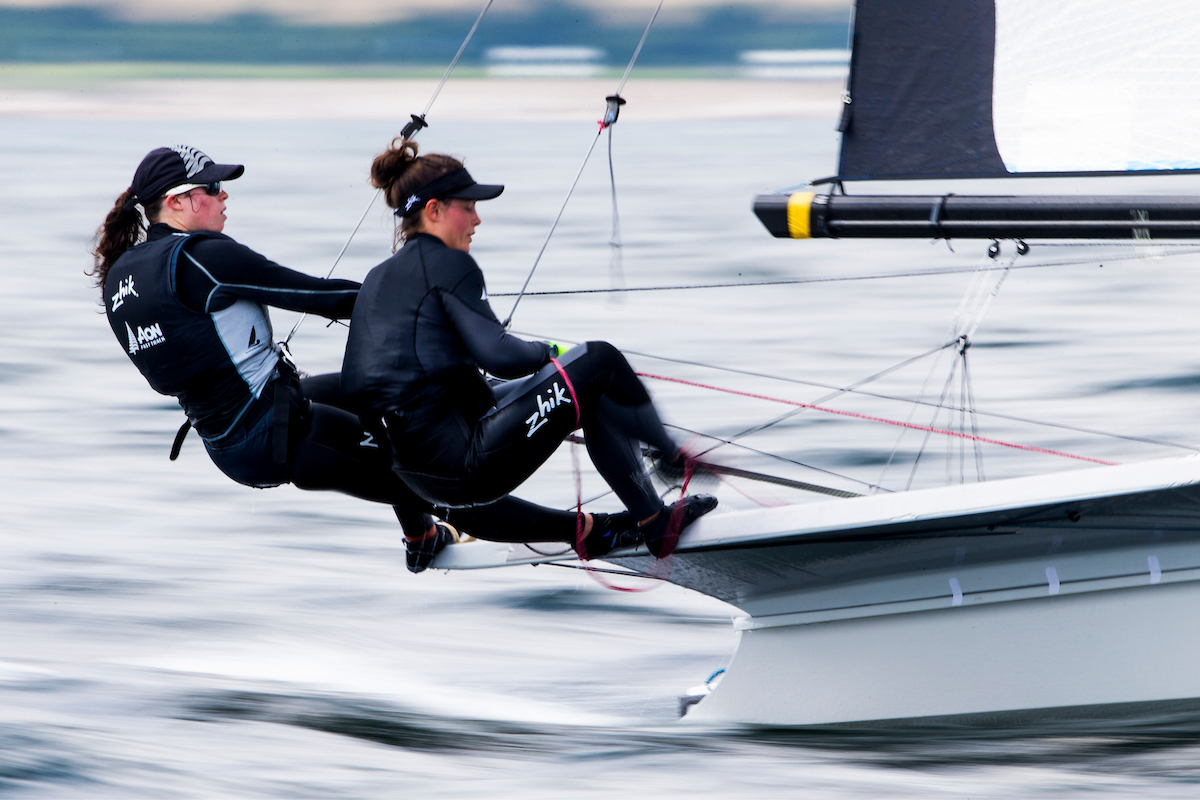 Everything seemed to be progressing well for the 23-year-old. She had teamed up with Kate Stewart for the 2017 season and the pair were a promising 13th at their first 49erFX world championships together and backed it up with third at Enoshima Olympic Week.
The Tokyo Olympics might have been a stretch, especially with 49erFX Rio silver medallists Alex Maloney and Molly Meech still at the top of their game, but 2024 in Paris looked a distinct possibility for the pair.
It still could be but those plans hit a major road block for Dawson when Stewart took the opportunity to go to medical school. It was the second time Dawson had lost a partner - she previously sailed with Ellie Copeland - and the stocks of alternatives weren't exactly flush.
"Initially it was pretty tough because I felt Kate and I were going really well," said Dawson, who is a member of the Aon Fast Track squad. "It hasn't been easy finding another crew in the FX and there were times when I felt like I should stop sailing."
Fortunately, she didn't. 
She briefly dabbled with the idea of switching to the Laser Radial, even competing in the single-handed dinghy at the Oceanbridge NZL Sailing Regatta, before teaming up with Tom Saunders to finish ahead of Maloney and Meech at an abbreviated 49erFX New Zealand championships.
Dawson then joined the team on Anarchy, a 37-foot racing keelboat, and things turned around. Not only have other opportunities sprouted, like helming an 18-foot skiff team to third at the Anzac championships and being invited to join the New Zealand women's match racing team to compete in the opening round of the international women's match racing series in Finland, but she also met Charlotte Porter.
Porter sailed dinghies in her younger years before spending three years immersed in the Royal New Zealand Yacht Squadron's youth training programme.
"I met Charlotte through sailing on Anarchy and thought she looked really good on a boat so I asked her if she wanted to go FX sailing and she's doing really well," Dawson said. "At the moment, we haven't really got any specific regattas in place but we are really keen to give it a shot and see how well we can do. 
"We are learning so much each time we go out. We're not ready to race; we just need to get some hours on the water and improve our boat handling."
Dawson's sailing education takes another twist this weekend when she joins a New Zealand team at the Etchell Australasian winter championships in Mooloolaba in Queensland. As many as 45 boats will hit the start line for the first race on Friday, with former Amercia's Cup-winning skipper John Bertrand and former Etchells world champion and America's Cup notoriety Iain Murray among the contenders.
Dawson will be calling tactics this weekend for the team on Dangerzone which also includes Yachting New Zealand talent development manager Geoff Woolley, skipper Lincoln Fraser and Sam Melville.
"I'm learning some totally new skills," Dawson said. "I have taken this time to try out some different kinds of sailing and it's opened my eyes a lot. There's a whole other world out there other than dinghies you can get into at varying levels of competitiveness. 
"It's made me realise that I have a future somewhere else in sailing if the Olympics doesn't work out. Olympic sailing is awesome and is still my goal, 100 percent. I want to go to the Olympics and win a medal. But if, for whatever reason, I decided not to go down that track, I can still be a super-competitive sailor in a different area.
"I love sailing and I love the competition. Having that break from the intense Olympic campaigning has made me want it more. I'm feeling like I'm in a good place right now, which is pretty cool."