Sam Meech will be looking to continue his impressive form of 2018 as he chases his first Laser European title in La Rochelle tonight (NZ time).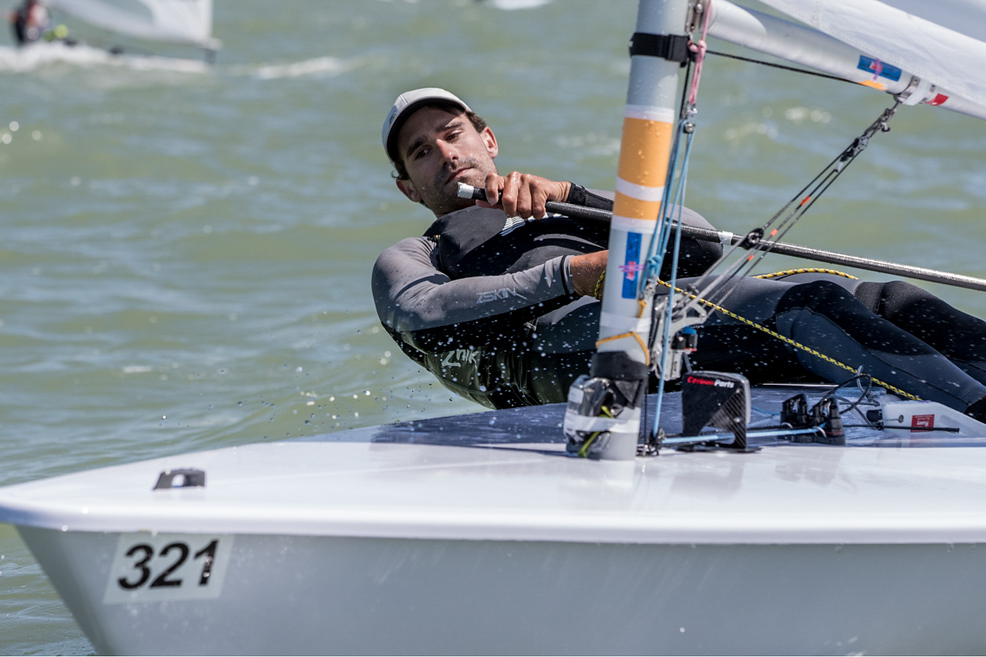 The 27-year-old has won medals in his last three regattas, including silver at last month's World Cup in Hyeres, and goes into the final day of the Europeans championships in third, seven points behind Australia's Matt Wearn in the lead. World Champion Pavlos Kontides (Cyprus) is sandwiched in between in second, four points behind Wearn.
Meech struggled on the penultimate day but his impressive results earlier in the regatta means he's still in with a good chance of claiming the title. He staged a big comeback in the first race, coming back from the tail of the 54-boat gold fleet to finish 17th - currently his second discard - and then backed it up with an eighth in the second race. 
Andrew McKenzie also had his issues on day five, particularly after he was badly impeded in the second race by a fellow sailor who was eventually disqualified, and is now in 10th overall.
Unlike many top regattas, the Laser European championships doesn't have a double points top 10 medal race. Instead, two races will be sailed tonight to decide the title, meaning a lot can still change with plenty of points on the table.
"I had a tough day today," Meech admitted. "Race one was rough as I missed a big opportunity and had to make a big comeback from there. I rounded the first mark in the 50s so it was still an OK comeback. The problem is some guys had two top-10 results.
"It wasn't all bad. I was up there in race two with a good start and sailed OK. I imagine I will need at least one if not two good races tomorrow because I would rather not count the 17 from today if possible. It's still all to play for."
There are plenty of others still in the mix including Germany's Philipp Buhl, Michael Beckett from Great Britain and Olympic champion Tom Burton (Australia).
McKenzie will need everything to go his way if he is to force his way onto the podium. He's 23 points adrift of Meech after a ninth and a 26th overnight, and there was little consolation from the fact he won a protest.
"It was a pretty frustrating day," he said. "Someone infringed me pretty badly at the bottom gate in race two which really screwed my rounding and threw me off my rhythm. I got pushed out the wrong side and it all sort of went backwards from there. There were still plenty of opportunities to convert that race but, unfortunately, I missed them all. 
"I'll have to be aggressive tomorrow if I want a shot at the podium. I need things to go my way but I'll be trying my best to win both races and move up overall."
Marit Bouwmeester (Netherlands) took charge of the Laser Radial competition and heads into the final day with an 11-point lead over American Paige Railey. Susannah Pyatt is 37th overall after finishing 33rd and 27th in the two races overnight and Olivia Christie is 45th.
Results and standings after the fifth day of the Laser European Championships at La Rochelle, France, overnight:
Laser (160 boats)
1st: Matthew Wearn (AUS) (2) 1 1 1 1 1 (12) 3 8 7 - 23 points
2nd: Pavlos Kontides (CYP) 3 1 (55 BFD) 5 3 2 3 7 (19) 3 - 27 pts
3rd: Sam Meech (NZL) 1 1 1 1 2 (4) 15 1 (17) 8 - 30 pts
10th: Andrew McKenzie (NZL) 2 2 (8) 1 3 3 25 8 9 (26) - 53 pts
47th: George Gautrey (NZL) 22 (55 BFD) 13 8 20 3 30 39 (51) 37 - 173 pts
Silver fleet
94th: Matthew Kempkers (NZL) (41) 16 24 40 31 26 38 35 (45) 21 - 231 pts
Laser Radial (93 boats)
1st: Marit Bouwmeester (NED) 3 (9) 1 3 1 2 5 (7) 1 2 - 18 pts
2nd: Paige Railey (USA) 1 7 (11) 4 2 1 (13) 1 8 5 - 29 pts
3rd: Maxime Jonker (NED) 1 1 1 (8) 1 1 (14) 11 13 1 - 30 pts
37th: Susannah Pyatt (NZL) 14 12 4 10 11 16 (44) 42 33 27 - 153 pts
45th: Olivia Christie (NZL) 23 20 (25) 17 20 8 39 (46) 44 29 - 200 pts
Siver fleet
89th: Annabelle Rennie-Younger (NZL) 27 37 36 37 28 37 40 (47 BFD) 47 BFD 47 DNF - 300 pts
Full results here.