Sam Meech and Paul Snow-Hansen and Dan Willcox added two more medals overnight (NZ time) from the World Cup regatta in Hyeres to round out a very successful event for New Zealand's sailors.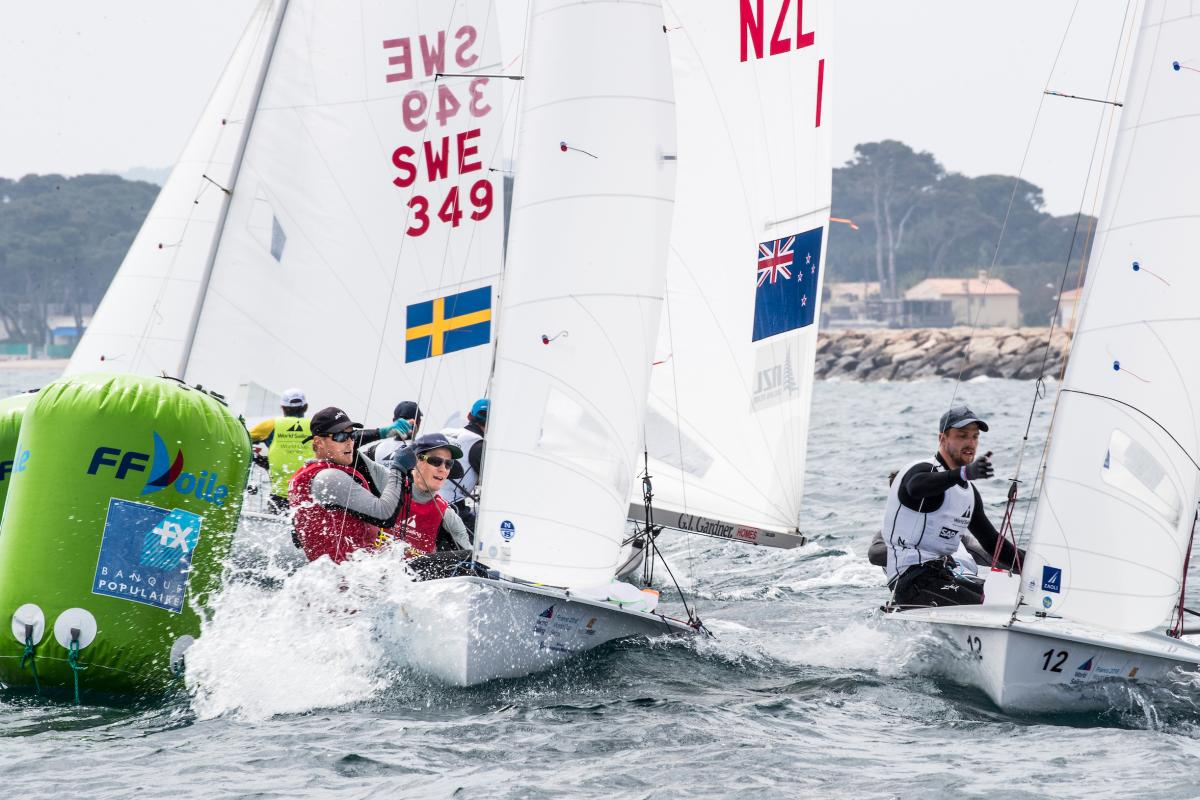 Meech's silver in the Laser and Snow-Hansen and Willcox's bronze in the men's 470 followed on from the gold won by Alex Maloney and Molly Meech (49erFX), silver by Logan Dunning Beck and Oscar Gunn (49er) and bronze collected by Josh Porebski and Trent Rippey (49er) the previous day.
The five medals was bettered by only host nation France, who amassed seven medals, four of them gold.
Meech went into the top 10 medal race with an outside chance of gold and tried to engage with Jean Baptiste Bernaz in the pre-start.
But Bernaz, who recently won the French match racing championships, got a lift off the start line and put a tight cover on Meech on the first upwind leg. It meant Meech rounded the top mark last, but the Olympic bronze medallist showed good speed on the downwinds to finish seventh and secure silver.
Snow-Hansen and Willcox started the day with a chance of claiming silver but the Australian pair of Mathew Belcher and Will Ryan sailed away with the medal race to finish second overall behind Sweden's Anton Dahlberg and Fredrik Bergström who had already sewn up gold before the final race.
"We were hoping to get off the start line cleanly and win the medal race but pretty soon into the race the Aussies were in control so we just managed the fleet and sailed a conservative race to make sure we got bronze," Snow-Hansen said. 
"We were looking at Hyeres as our second peak event for the season and getting the correct weight, putting on our best gear and we actually had a new boat here so it panned out pretty nicely for us.
"We sailed a pretty clean regatta. We had one OCS [start line disqualification] which was the only setback. In the World Cup standings, which include Gamagori, Miami and Hyeres, we are probably out in front which is pretty cool."
Meech has also been a model of consistency, winning his first World Cup event in Gamagori in October, finishing fourth in Miami and then winning silver in Hyeres. He was also second at the Princess Sofia regatta in Palma a fortnight ago.
"I'm really happy with how I sailed during the week," Meech said. "There were just a couple of moments that I let quite a few places slip but, then again, I had races where I caught up quite a few places too. I just need to iron out a couple of things and should be pretty close to getting it all right.
"In terms of the season, I'm really happy so far. I'm trying to get on the podium in every event. I missed out in Miami but I had a chance going into the last race so I'm really pleased with how the season is going as a whole and hopefully I can keep that going."
Meech will line up at next month's Laser European championships, but his main focus for the year, like that of the rest of New Zealand's top Olympic class sailors, is August's sailing world championships in Aarhus.
Andy Maloney was the only other New Zealander in action overnight, finishing fifth in the Finn medal race to confirm his 10th placing overall. The gold was won by Brazil's Jorge Zarif ahead of Nicholas Heiner of the Netherlands. 
Results after the final day of the World Cup regatta in Hyeres, France, overnight (NZ time):
Men's 470 (40 boats)
1st: Anton Dahlberg / Fredrik Bergström (SWE) 3 4 1 (5) 2 2 2 4 2 8 - 28 points
2nd: Mathew Belcher / William Ryan (AUS) 8 5 6 10 (24) 1 1 15 1 2 - 49 pts
3rd: Paul Snow-Hansen / Daniel Willcox (NZL) 1 11 5 3 6 11 11 2 (41 UFD) 12 - 62 pts
Women's 470 (36 boats)
1st: Camille Lecointre / Aloise Retornaz (FRA) 1 11 13 1 4 (18) 2 5 5 20 - 62 pts
2nd: Hannah Mills / Eilidh McIntyre (GBR) 5 4 (14) 5 11 4 10 1 11 16 - 67 pts
3rd: Ai Kondo Yoshida / Miho Yoshioka (JPN) 17 (36) 5 6 12 2 4 27 1 4 - 78 pts
27th: Courtney Reynolds-Smith / Brianna Reynolds-Smith (NZL) 24 14 6 9 24 34 30 (36) 34 - 175 pts
Finn (40 boats)
1st: Jorge Zarif (BRA) 5 1 6 10 2 (22) 3 9 2 - 38 pts
2nd: Nicholas Heiner (NED) 1 11 1 9 (13) 1 1 8 14 - 46 pts
3rd: Alican Kaynar (TUR) (41 UFD) 10 11 1 3 3 7 3 12 - 50 pts
10th: Andy Maloney (NZL) 8 14 14 12 (15) 14 14 11 10 - 97 pts
12th: Josh Junior (NZL) 16 9 9 21 (41 UFD) 15 15 6 - 91 pts
Laser (69 boats)
1st: Jean Baptiste Bernaz (FRA) 18 2 9 3 (29) 8 11 12 2 9 10 - 84 pts
2nd: Sam Meech (NZL) 7 (20) 1 9 9 18 17 5 8 13 14 - 101 pts
3rd: Tom Burton (AUS) 3 26 (41) 15 1 1 12 31 13 1 6 - 109 pts
11th: Tom Saunders (NZL) 12 4 14 8 33 47 9 19 4 (69 BFD) - 150 pts
20th: Andrew McKenzie (NZL) 22 7 12 24 (58) 43 25 10 57 14 - 214 pts
Laser Radial (64 boats)
1st: Marit Bouwmeester (NED) 4 2 (19) 2 1 10 1 2 10 6 2 - 40 pts
2nd: Monika Mikkola (FIN) 16 5 18 3 4 (24) 13 16 12 8 14 - 109 pts
3rd: Paige Railey (USA) 1 1 7 32 12 27 4 (34) 1 19 16 - 120 pts
21st: Susannah Pyatt (NZL) 24 33 15 27 8 7 38 37 18 (65 BFD) - 207 pts
53rd: Olivia Christie (NZL) 64 45 35 31 53 25 (65 BFD) 56  38 43- 390 pts
Full results can be found here