Alex Maloney and Molly Meech will be racing for gold tonight (NZ time) in the medal race of the 49erFX at the World Cup regatta in Hyeres.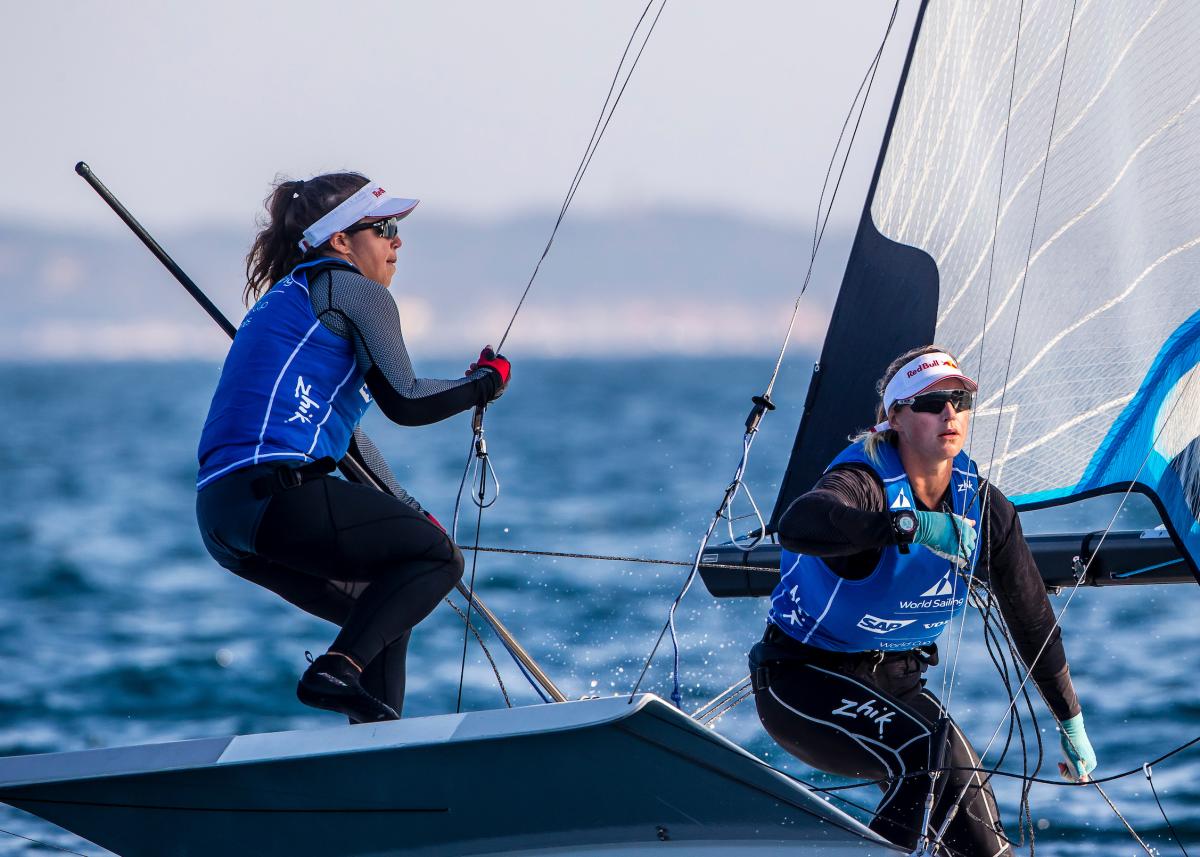 The Olympic silver medallists are second heading into the top 10 double points race, five points behind leaders Ida Marie Baad Nielsen and Marie Thusgaard Olsen of Denmark.
They're not the only New Zealand crew battling for medals tonight with both Logan Dunning Beck and Oscar Gunn and Josh Porbski and Trent Rippey fifth and sixth respectively in the 49er and only eight points off third.
The 49er, 49erFX and Nacra 17 will all have their medal races tonight, along with the men's and women's RS:X and 2.4 Norlin OD. The Laser, Laser Radial, Finn and men's and women's 470s all have one more day of fleet racing before their medal race on Sunday night.
Sam Meech is third in the Laser but he could have been in a very strong position if he hadn't had a mishap in today's first race. 
"I was having a really, really good start to the first race but coming up to the top mark I dropped my mainsheet and capsized to windward which meant I dropped from about second or third to about 30th or 40th, which wasn't fun," Meech said. "I spent the rest of the first race trying to catch up and I didn't get back to anywhere never where I was. 
"It's all to play for tomorrow but I think I will be regretting dropping my mainsheet in this regatta because it was quite a few points lost."
Meech was 17th in the first race and fifth in the second and is now three points behind leader Jean Baptiste Bernaz of France and one behind Croatia's Filip Jurisic. 
Tom Saunders is ninth in the Laser after a ninth and 19th overnight but is not out of medal contention with every sailor in the top 10 having some big numbers on their scorecard in the 69-boat fleet. 
"Hopefully I can string some good scores together tomorrow and see where I sit," he said. "Anything can happen in the Laser fleet."
It's not quite as tight at the top of the 49erFX fleet but there are still a handful of crews in with a chance of winning a medal. Maloney and Meech had two decent results overnight (third and sixth) but were left frustrated in the other two races when they were 14th and 13th.
"We felt really good going into today and our first and last races were decent but everyone was pushing the start line really hard so there were a few general recalls," Maloney said. "It meant we didn't always get the best of starts and it often felt like we were playing catchup.
"The plan tomorrow is to sail our own race. There are quite a few crews nipping at our heels so we can't really worry about just one crew. We'll try to win the race and then see who comes out on top."
New Zealand's two 49er boats have an outside chance of a medal but it has been a frustrating regatta for the fleet, with only seven races sailed across four days. A number of fleets enjoyed the best conditions of the week on day four but the wind died soon after the 49ers hit the water and only one race was possible. 
Porebski and Rippey were sixth in that race, taking advantage of a big left-hand wind shift, and they are now level on points with Dunning Beck and Gunn. Gold and silver are out of reach but bronze is still a possibility.
"The points are pretty close to third so we will try to have a good race, pin the ears back and go for the win," Porebski said.
Paul Snow-Hansen and Dan Willcox are still in the hunt in the men's 470, despite dropping from second to fourth overnight on the back of two 11th-placed finishes. The Swedish pair of Anton Dahlberg and Fredrik Bergström hold a commanding 17-point lead but only six points separate second and fourth.
The men's 470 have two races scheduled tonight before Sunday night's medal race. It is the same in the Finn and Andy Maloney (10th) and Josh Junior (12th) will be aiming to qualify for the top 10.
Gemma Jones and Jason Saunders just missed out on the medal race in the Nacra 17 after copping two start-line disqualifications overnight, seeing them drop from fifth to 11th.
Results after the fourth day of the World Cup regatta in Hyeres, France, overnight (NZ time):
Men's 470 (40 boats)
1st: Anton Dahlberg / Fredrik Bergström (SWE) 3 4 1 (5) 2 2 2 - 14 points
2nd: Mathew Belcher / William Ryan (AUS) 8 5 6 10 (24) 1 1 - 31 pts
3rd: Tetsuya Isozaki / Akira Takayanagi (JPN) (13) 1 2 8 12 7 3 - 33 pts
4th: Paul Snow-Hansen / Daniel Willcox (NZL) 1 (11) 5 3 6 11 11 - 37 pts
Women's 470 (36 boats)
1st: Camille Lecointre / Aloise Retornaz (FRA) 1 11 13 1 4 (18) 2 - 32 pts
2nd: Hannah Mills / Eilidh McIntyre (GBR) 5 4 (14) 5 11 4 10 - 39 pts
3rd: Silvia Mas Depares / Patricia Cantero Reina (ESP) 7 9 2 10 5 11 (24) - 44 pts
21st: Courtney Reynolds-Smith / Brianna Reynolds-Smith (NZL) 24 14 6 9 24 (34) 30 - 107 pts
49er (40 boats)
1st: Dominik Buksak / Szymon Wierzbicki (POL) 3 5 1 19 8 (31) 3 - 39 pts
2nd: David Gilmour / Joel Turner (AUS) 2 2 (27) 1 13 2 20 - 40 pts
3rd: Yannick Lefèbvre / Tom Pelsmaekers (BEL) 7 12 4 3 17 (32) 7 - 50 pts
5th: Logan Dunning Beck / Oscar Gunn (NZL) 4 3 6 (32) 22 11 12 - 58 pts
6th: Josh Porebski / Trent Rippey (NZL) 19 (34) 5 18 5 6 6 - 58 pts
49erFX (39 boats)
1st: Ida Marie Baad Nielsen / Marie Thusgaard Olsen (DEN) 1 1 16 (24) 7 7 10 8 1 3 15 - 69 pts
2nd: Alex Maloney / Molly Meech (NZL) 8 (31) 1 14 1 9 5 3 14 13 6 - 74 pts
3rd: Helene Naess / Marie Rønningen (NOR) 4 3 3 5 13 21 1 9 16 10 (26) - 85 pts
Finn (40 boats)
1st: Nicholas Heiner (NED) 1 11 1 9 (13) 1 1 8 - 32 pts
2nd: Jorge Zarif (BRA) 5 1 6 10 2 (22) 3 9 - 36 pts
3rd: Alican Kaynar (TUR) (41 UFD) 10 11 1 3 3 7 3 - 38 pts
10th: Andy Maloney (NZL) 8 14 14 12 (15) 14 14 11 - 87 pts
12th: Josh Junior (NZL) 16 9 9 21 (41 UFD) 15 15 6 - 91 pts
Laser (69 boats)
1st: Jean Baptiste Bernaz (FRA) 18 2 9 3 (29) 8 11 12 - 63 pts
2nd: Filip Jurisic (CRO) 8 12 3 21 6 13 2 (41) - 65 pts
3rd: Sam Meech (NZL) 7 (20) 1 9 9 18 17 5 - 66 pts
9th: Tom Saunders (NZL) 12 4 14 8 33 (47) 9 19 - 99 pts
18th: Andrew McKenzie (NZL) 22 7 12 24 (58) 43 25 10 - 143 pts
Laser Radial (64 boats)
1st: Marit Bouwmeester (NED) 4 2 (19) 2 1 10 1 2 - 22 pts
2nd: Maité Carlier (BEL) 34.0 6 16 4 6 15 3 14 (43) - 64 pts
3rd: Anne-Marie Rindom (DEN) 2 18 (41) 13 6 17 7 12 - 75 pts
22nd: Susannah Pyatt (NZL) 24 33 15 27 8 7 (38) 37 - 151 pts
53rd: Olivia Christie (NZL) 64 45 35 31 53 25 (65 BFD) 56 - 309 pts
Nacra 17 (30 boats)
1st: Ruggero Tita / Caterina Marianna Banti (ITA) 2 1 (16) 4 1 9 1 2 5 1 1 - 27 pts
2nd: Ben Saxton / Nicola Boniface (GBR) 1 6 3 3 13 1 14 (31 BFD) 15 4 7 - 67 pts
3rd: Vittorio Bissaro / Maelle Frascari (ITA) 11 (31 BFD) 18 24 9 3 2 1 3 9 2 - 82 pts
11h: Gemma Jones / Jason Saunders (NZL) 10 (31 BFD) 3 8 14 4 11 (31 BFD) 7 3 (31 UFD) - 123 pts
21st: Liv Mackay / Micah Wilkinson (NZL) (31 UFD) 19 2 10 6 18 24 (31 BFD) 26 24 12 - 172 pts
Full results can be found here