New Zealand sailors collected a full set of medals with a gold, silver and bronze at the World Cup regatta in Hyeres overnight (NZ time) and the prospect of more tonight.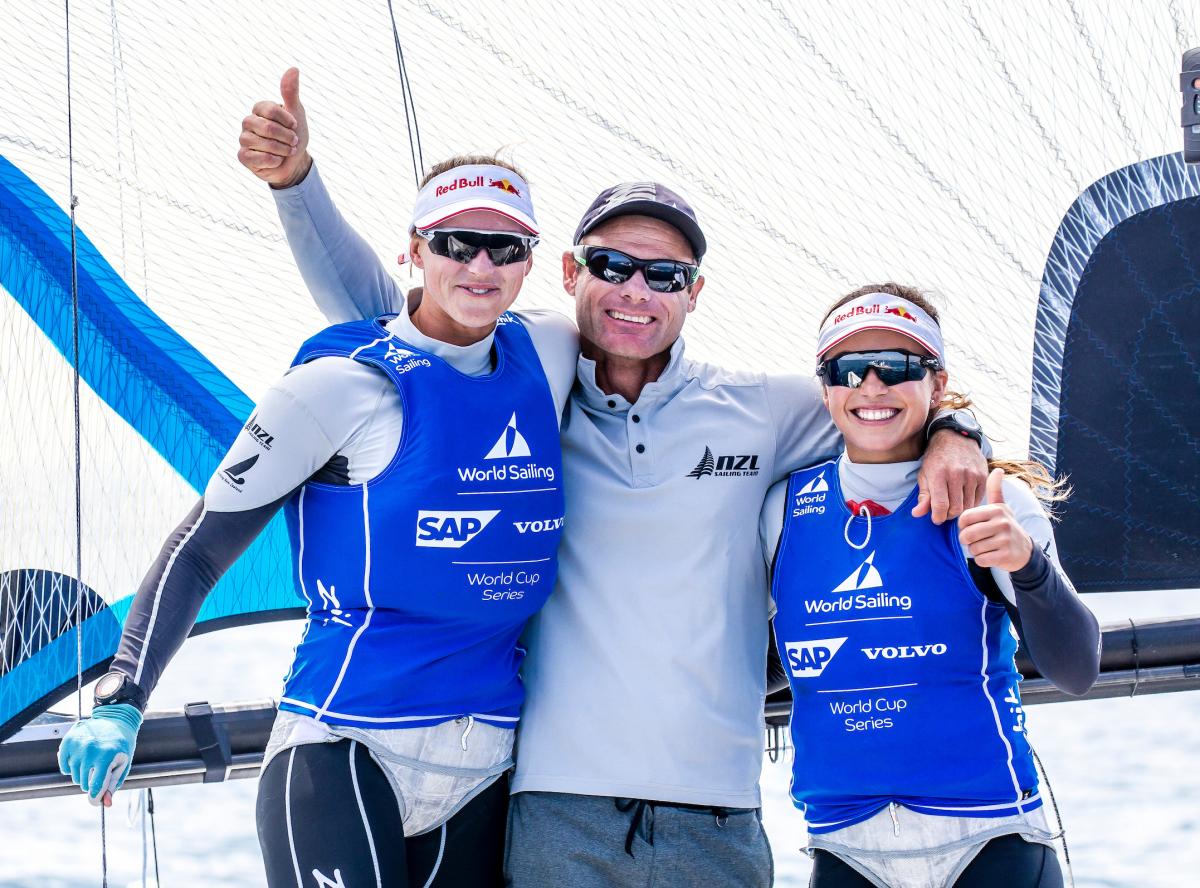 Alex Maloney and Molly Meech won gold in the 49erFX and Logan Dunning Beck and Oscar Gunn claimed silver and Josh Porebski and Trent Rippey bronze in the 49er.
Sam Meech is second heading into his medal race in the Laser fleet tonight and Paul Snow-Hansen and Dan Willcox are third in the men's 470.
The first day of medal racing couldn't have worked out much better for the New Zealand sailors. Maloney and Meech won their race having gone into the day second and then watched as the overnight leaders, Ida Marie Baad Nielsen and Marie Thusgaard Olsen from Denmark, were fourth to hand the title to the Olympic silver medallists by one point.
Earlier, Dunning Beck and Gunn won the 49er medal race with Porebski and Rippey close behind in second. It helped immeasurably that four crews were black flagged after being over the start line, opening an opportunity for both New Zealand crew to leapfrog into the medals.
The gold for Maloney and Meech follows on from their silver at the Princess Sofia regatta in Palma a fortnight ago and the pair are building nicely ahead of August's sailing world championships in Aarhus. 
"We went into today trying to win the race and letting everything play out behind us," Maloney said. "We played the fleet fairly well and managed to win, which was a great feeling. 
"We did all we could today and that was enough so we're stoked. It's also good to be able to go into a pressure situation and perform at a reasonable level."
There was plenty of drama in the 49er race which was an off-shoot of the fact so many crews were fighting for medals. 
The two New Zealand crews went into the race in fifth (Dunning Beck and Gunn) and sixth (Porebski and Rippey) and thought their only realistic chance was bronze but that all changed when both the Australians and Belgians were disqualified.
"The medal race was a pretty eventful one," Porebski said. "We had a general recall and went straight into a black flag [scenario] and four boats happened to be over the line so they got kicked out at the top mark and that opened it up for us to have a good race. 
"We finished second and were third overall. We're pretty proud of that after a pretty tricky week with only seven races and a medal race so it wasn't a very long regatta. It felt like we made the most of the opportunities we had and we are happy with where we are at and how we are sailing at the moment. We had a bit of bad luck at the start of the week which cost us quite a bit in the end."
Porebski and Rippey were 34th in the second race after a rival lost control and became entangled in the New Zealander's wing.
Dunning Beck and Gunn also had their challenges in the middle of the regatta but kept plugging away and were rewarded with silver.
"It's a great feeling after a tough regatta at Palma [when we missed out on gold fleet] and feels pretty rewarding after the hard yards we've been doing on the Waitemata," Dunning Beck said. "And it was great to put up a Kiwi one-two at the finish as well."
Sam Meech is assured of a medal heading into his top 10 double points medal race tonight. The Olympic bronze medallist is second, 13 points behind Jean Baptiste Bernaz of France and he then has a 16-point buffer on Olympic champion Tom Burton of Australia.
Meech was eighth and 13th in his two races overnight as many of his rivals slipped out of contention and his consistency has been critical this week. Tom Saunders just missed out on qualifying for the medal race after he was disqualified from the last race for being over the start line and finished 11th overall. Andrew McKenzie was 20th.
Snow-Hansen and Willcox are third heading into the men's 470 medal race but are only three points off Australians Mathew Belcher and Will Ryan in second. Sweden's Anton Dahlberg and Fredrik Bergström have already assured themselves of gold after dominating the week so the real interest will be in the battle for the minor medals.
Snow-Hansen and Willcox were second in the first race overnight but were disqualified from the second race for being over the start line. It didn't hurt them too much given their worst result prior to that was an 11th and they have some breathing space behind them with the Japanese combination 10 points adrift.
No racing was possible in the Finn because of the light winds, but Andy Maloney will go through to the medal race in 10th. Josh Junior just missed out, finishing the regatta in 12th.
Results after the fifth day of the World Cup regatta in Hyeres, France, overnight (NZ time):
Men's 470 (40 boats)
1st: Anton Dahlberg / Fredrik Bergström (SWE) 3 4 1 (5) 2 2 2 4 2 - 20 points
2nd: Mathew Belcher / William Ryan (AUS) 8 5 6 10 (24) 1 1 15 1 - 47 pts
3rd: Paul Snow-Hansen / Daniel Willcox (NZL) 1 11 5 3 6 11 11 2 (41 UFD) - 50 pts
Women's 470 (36 boats)
1st: Camille Lecointre / Aloise Retornaz (FRA) 1 11 13 1 4 (18) 2 5 5 - 42 pts
2nd: Hannah Mills / Eilidh McIntyre (GBR) 5 4 (14) 5 11 4 10 1 11 - 51 pts
3rd: Ai Kondo Yoshida / Miho Yoshioka (JPN) 17 (36) 5 6 12 2 4 27 1 - 74 pts
27th: Courtney Reynolds-Smith / Brianna Reynolds-Smith (NZL) 24 14 6 9 24 34 30 (36) 34 - 175 pts
49er (40 boats)
1st: Dominik Buksak / Szymon Wierzbicki (POL) 3 5 1 19 8 (31) 3 10 - 49 pts
2nd: Logan Dunning Beck / Oscar Gunn (NZL) 4 3 6 (32) 22 11 12 2 - 60 pts
3rd: Josh Porebski / Trent Rippey (NZL) 19 (34) 5 18 5 6 6 4 - 62 pts
49erFX (39 boats)
1st: Alex Maloney / Molly Meech (NZL) 8 (31) 1 14 1 9 5 3 14 13 6 2 - 76 pts
2nd: Ida Marie Baad Nielsen / Marie Thusgaard Olsen (DEN) 1 1 16 (24) 7 7 10 8 1 3 15 8 - 77 pts
3rd: Victoria Travascio / Maria Branz (ARG) 5 23 11 3 (28) 19 2 7 13 2 5 6 - 96 pts
Finn (40 boats)
1st: Nicholas Heiner (NED) 1 11 1 9 (13) 1 1 8 - 32 pts
2nd: Jorge Zarif (BRA) 5 1 6 10 2 (22) 3 9 - 36 pts
3rd: Alican Kaynar (TUR) (41 UFD) 10 11 1 3 3 7 3 - 38 pts
10th: Andy Maloney (NZL) 8 14 14 12 (15) 14 14 11 - 87 pts
12th: Josh Junior (NZL) 16 9 9 21 (41 UFD) 15 15 6 - 91 pts
Laser (69 boats)
1st: Jean Baptiste Bernaz (FRA) 18 2 9 3 (29) 8 11 12 2 9 - 74 pts
2nd: Sam Meech (NZL) 7 (20) 1 9 9 18 17 5 8 13 - 87 pts
3rd: Tom Burton (AUS) 3 26 (41) 15 1 1 12 31 13 1 - 103 pts
11th: Tom Saunders (NZL) 12 4 14 8 33 47 9 19 4 (69 BFD) - 150 pts
20th: Andrew McKenzie (NZL) 22 7 12 24 (58) 43 25 10 57 14 - 214 pts
Laser Radial (64 boats)
1st: Marit Bouwmeester (NED) 4 2 (19) 2 1 10 1 2 10 6 - 38 pts
2nd: Monika Mikkola (FIN) 16 5 18 3 4 (24) 13 16 12 9 - 96 pts
3rd: Paige Railey (USA) 1 1 7 32 12 27 4 (34) 1 20 - 105 pts
21st: Susannah Pyatt (NZL) 24 33 15 27 8 7 38 37 18 (65 BFD) - 207 pts
53rd: Olivia Christie (NZL) 64 45 35 31 53 25 (65 BFD) 56  38 43- 390 pts
Nacra 17 (30 boats)
1st: Ruggero Tita / Caterina Marianna Banti (ITA) 2 1 (16) 4 1 9 1 2 5 1 1 20 - 47 pts
2nd: Ben Saxton / Nicola Boniface (GBR) 1 6 3 3 13 1 14 (31 BFD) 15 4 7 12 - 79 pts
3rd: Iker Martinez de Lizarduy / Olga Maslivets (ESP) 3 10 9 1 8 26 9 (31 BFD) 1 17 3 2 - 89 pts
11h: Gemma Jones / Jason Saunders (NZL) 10 (31 BFD) 3 8 14 4 11 (31 BFD) 7 3 (31 UFD) - 123 pts
21st: Liv Mackay / Micah Wilkinson (NZL) (31 UFD) 19 2 10 6 18 24 (31 BFD) 26 24 12 - 172 pts
Full results can be found here