Leonard Takahashi and his RNZYS Performance Programme Pacific Racing Team crew have taken out the 2018 Nespresso Youth International Match Racing Cup at the Royal New Zealand Yacht Squadron but it wasn't without some drama.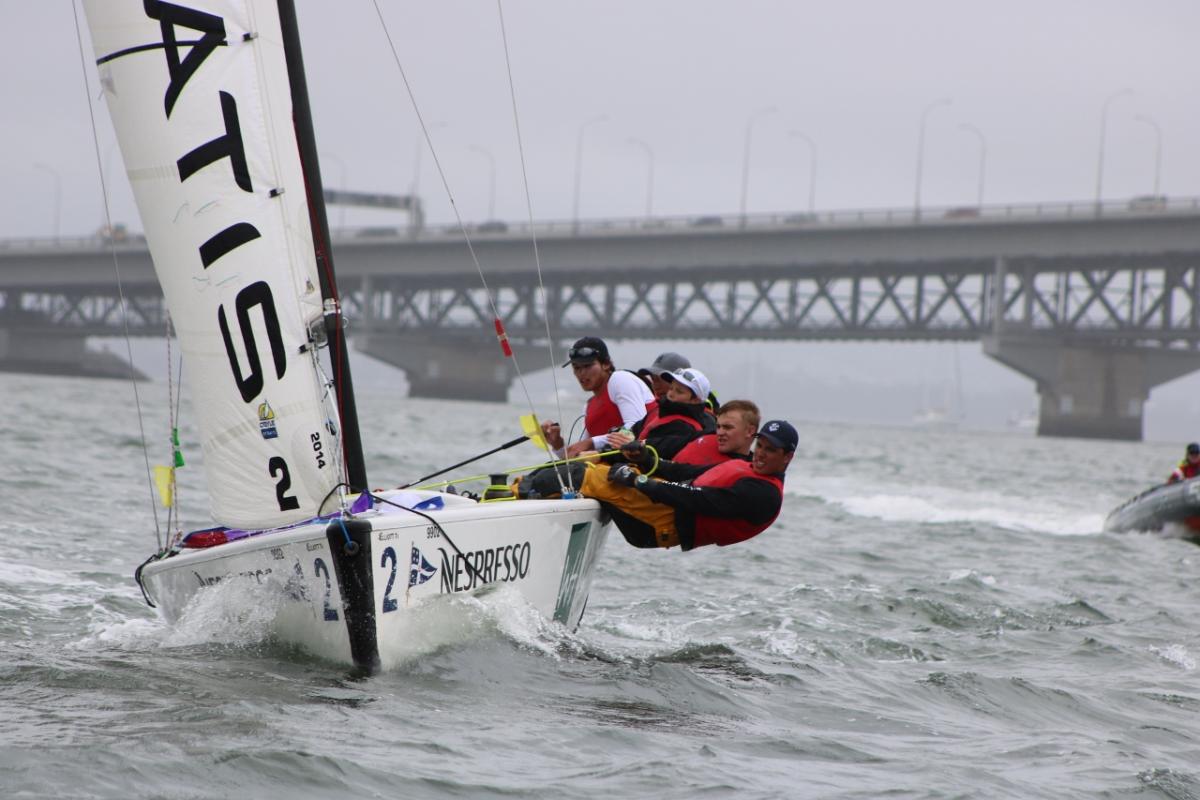 The semifinals were punctuated by an incident when Jordan Stevenson (RNZYS YTP) ended up on the rocks off the Westhaven sea wall during the pre-start against Takahashi. The top seed was already leading the semifinals 2-1 and the black flag against Stevenson saw Takahashi progress to the final against James Wilson, also a member of the Royal New Zealand Yacht Squadron's youth training programme.
Takahashi quickly went 2-0 in the final, benefitting from excellent boat speed. It meant that even when they got penalties they were able to get rid of them without losing their lead.
This was no better illustrated than in the third match, when Takahashi picked up a penalty in the pre-start but raced out to a decent lead, got rid of his penalty and charged down the final leg to win the Nespresso Youth International Match Racing Cup final 3-0.
"Despite the score it was really tight racing," he said. "We gave ourselves a few penalties in the starts but good crew work and boat speed from the guys allowed us claw back and get a good enough lead to wipe them out.
"I've been sailing these boats for about six years now so it feels good to get the win. I'm really happy at how we were able to take this one out. It's a big one for us and we're looking forward to Centerport in Wellington this weekend."
This is another big win for Takahashi who is on a rich vein of form after winning his last four match racing regattas, including the youth nationals in Wellington, the Musto and Harken Youth Internationals in Sydney, and now the Nespresso Youth International Match Racing Cup.
Asked whether the team can make it five in a row in the capital, Takahashi was coy not to get too excited: "Yeah, hopefully. I mean, that's not the end goal but we're all here to improve and we just want to go out there and have good racing."
Wilson went into the semfinals as the top qualifier and opted to race Finn Tapper from the Cruising Yacht Club of Australia, which left Takahashi taking on Stevenson in the other semifinal.
Wilson, who came back from a 2-0 deficit in the quarterfinals, was taken to a final match by Tapper but Wilson kept his composure to win.
"I was pretty worried," admitted. "It was almost a repeat of our quarterfinal. We were doing well in the pre-starts but we kept making mistakes up the course. In the fourth match we could have really finished it off but we didn't, then the fifth race was really close. There were heaps of penalties and flags flying up and down but we were stoked to get over the line and make the final."
Takahaski and his crew of Josh Wijohn, Taylor Balogh, Ibuki Koizumi and George Lee Rush were also pleased to get there, although in different circumstances.
With both boats pushing hard in the fourth match and with the boats in the shallows and very close to the rocks, Stevenson had nowhere to go, ending up on the rocks off the Westhaven sea wall. Stevenson was black flagged and had to be towed off, therefore ending his semifinal campaign.
"We got a bit unlucky and washed up onto the rocks but, you know, these things happen," Stevenson said. "It's always a tough match going up against someone like Leonard but we went in with heads high and hoping for the best. It was pretty tight, to be honest. All the races were close and we managed to nick one off him. He was really quick around the course so I think he deserved to go through to the final."
Takahashi offered his thoughts on the incident that sent him to the final. "Yeah, it was a marginal one. We dialled up and decided to go bow on starboard and he decided to go bow on port which was really close to the wall and he just ended up sliding into it and kind of gave it away to us. It was really good to race Jordan, though. He's a good upcoming skipper so we were really happy to come out on top in that one."
Tapper, who showed a lot of class in Auckland this week, won the petite final 2-0 to finish third. The racing was close but a mistake by Stevenson in the second match when he went around the wrong mark handed third to the Australian. 
"It was a bit interesting," Tapper said. "We sailed the first race well and Jordan had us in a good position in the second but, unfortunately, he went around the wrong mark so it was a bit anti-climactic. We were a bit lucky there.
"We were disappointed not the make the finals but that's sailing and we hope to do better next week in Wellington."
As many as 15 teams from the US, Australia, New Caledonia and New Zealand competed in the 2018 Nespresso Youth International Match Racing Cup. They dealt with some challenging conditions, with plenty of wind and rain, but race management ensured all the racing was completed on schedule.
Final standings after the 2018 Nespresso Youth International Match Racing Cup at the Royal New Zealand Yacht Squadron:
1. [JPN] Leo Takahashi, Joshua Wijohn, Ibuki Koizumi, Taylor Balogh, George Rush – RNZYS
2. [NZL] James Wilson, Marco Hull, Max South, Harry Milne – RNZYS
3. [AUS] Finn Tapper, Tom Grimes, Jess Grimes, Eric Sparkes, India Howard – CYCA
4. [NZL] Jordan Stevenson, Bradley McLaughlin, James Jennings, Niall Malone – RNZYS
5. [NZL] Nick Egnot-Johnson, Sam Barnett, Zak Merton, Logan McAllister – RNZYS
6. [USA] Frankie Dair, Mitch Jackson, Jake Erson, Celia Willison, Maeve White – KKCC
7. [AUS] James Farquharson, Niall Powers, Ruby Scholten, Harley Spreadbury Key, Cam Whiteside – RPAYC
8. [AUS] Clare Costanzo, Hannah Lanz, Jess Angus, Juliet Costanzo, Emma Rankin – RPAYC
9. [AUS] John Lynch, Pierre Harrison, Jed Cruiskshank, Finn Niemier, Ash Edwards – DSC
10. [FRA] Tom Picot, Owen Nicaise, Valentin Alakiletoa, Robin Chantrelle, Eliott Quintin – CNC
11. [USA] Trent Turigliatto, Sidney Gathrid, Kyle Collins, Cameron Feves, Hunter Gardyne – LBYC
12. [AUS] Charlotte Griffin, Madi Kornman, Charlotte Alexander, Charlotte Porter, Marlena Berzins – RSYS
13. [NZL] Lachlan Grimwade, Angus Adamson, Marina Comesky, Cameron Wright, Thomas Durkin – RPNYC
14. [AUS] Nicholas Rozenauers, Henry Rochford, Angus Olding, Mitchell Evans, Sam Cornfoot – RSYS
15. [NZL] Alastair Gifford, Iolo Adams, Toby Gregory, George Gautrey – QCYC