Honda Marine took out the 2018 18' Skiff NZL Championships after six incredibly tough races at the Royal Akarana Yacht Club last weekend.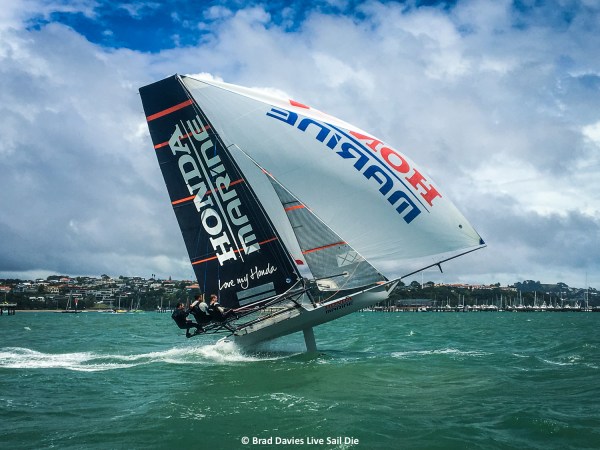 The Honda Marine team of Dave McDiarmaid, Matt Steven and Brad Collins showed their class by winning five races but were exhausted after the two days of sailing.
"It was great to come away with the win, but we definitely faced challenging conditions," McDiarmid said.
The fleet encountered gusts of up to 30 knots and big waves on the first day and the second day kicked off two hours later than the original plan due to the hectic day on Saturday.
Sunday's forecast was for a 15-knot north-easterly. Four boats had made their way to the starting area, however, Knight Frank went back to shore to make some configuration changes and missed the start.
Honda Marine led from start to finish and the short windward/leeward race was over within 30 minutes with C-Tech second and ASCC third. 
For the first time in the regatta there were four boats on the start line for the beginning of race five. Knight Frank took an early lead and rounded the top mark first but Honda Marine gybed off to the other side of the course providing them with flat water and away from the tidal influence of the channel. It allowed them to scoot past Knight Frank to take the lead and they extended to cross in first. Knight Frank were second, C-Tech third and ASCC fourth.
The conditions had increased to around 20 knots with the sea state worsening for race six. The course was extended in upwind length, however, only two laps of the windward leeward were required.
Knight Frank won the start but a decision on the upwind leg to continue to race towards North Head cost them as Honda Marine lifted towards the top mark. Honda Marine rounded the mark first, a position they maintained throughout, although they had a nervous moment when they almost lost their centreboard and nosedived.
C-Tech almost tangled with ASCC as they crossed paths on alternate legs, but C-Tech maintained their composure to finish the race second.
The teams now have less than a week left of training before packing the container and heading to Sydney for the JJ Giltinan International Trophy on March 3-11, which is considered the world's premier 18-foot skiff open championship. The Kiwi team for the regatta is:
Honda Marine - David McDiarmid, Matt Steven and Brad Collins
C-Tech - Alex Vallings, Sam Trethewey and Matt Coutts
Knight Frank - Riley Dean, Luke Stevenson and Time Snedden
Maersk Line (new team for this boat) - Josh Porekski, Jack Simpson and Dave Hazard
Results and standings after the 2018 18' Skiff NZL Championships at the Royal Akarana Yacht Club last weekend:
1st: Honda Marine (David McDiarmid, Matt Steven, Brad Collins) (3) 1 1 1 1 1 - 5 points 
2nd: C-Tech (Alex Vallings, Matt Coutts, Sam Trethewey) 1 2 (5) 2 3 2 - 10 pts
3rd: Knight Frank (Riley Dean, Luke Stevenson, Dave Hazard/Tim Snedden) 2 (5) 5 5 2 3 - 17 pts
4th: ASCC (Murray England, Andy Robertson/Geoff England, Rowan Swanson) (5) 5 5 3 4 4 - 21 pts