32 of New Zealand's most talented youth sailors will be competing in the first stop of the 2018 Red Bull Foiling Generation World Series, to be held at Auckland's Royal New Zealand Yacht Squadron on February 24-25.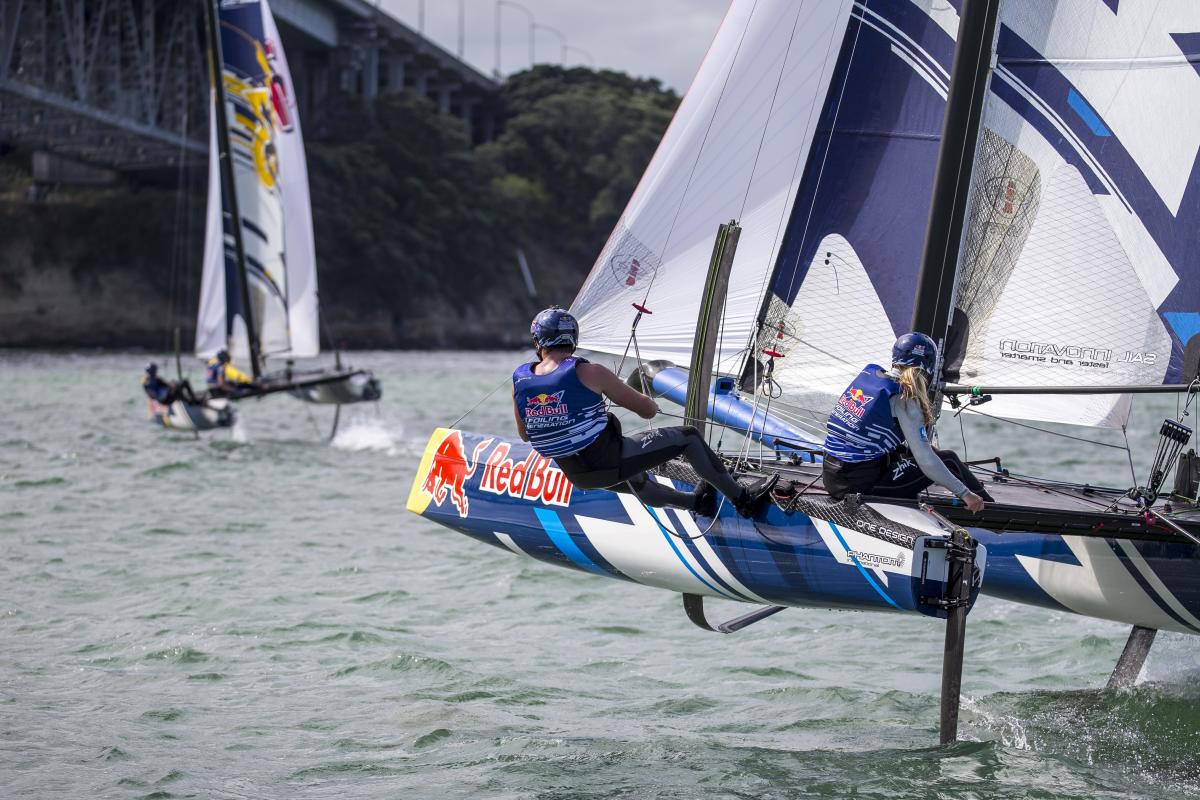 The seven-stop series acts as a talent scout for the world's best sailors aged 16–20, providing them the opportunity to advance their careers through elite hydrofoil racing, and culminating with a world final in November 2018.
"We're thrilled to be hosting the Red Bull Foiling Generation for the second time at RNZYS," RNZYS general manager Hayden Porter said. "This event is a fantastic opportunity for our young Kiwi sailors and we can't wait to see them all competing in February."
A large number of entries were received for the New Zealand event, which proved challenging for the selectors to whittle it down to 16 teams. Each team of two will battle it out in the hope of advancing to international waters and become new world champions.
"It's hard to pick a winner because the level of quality in the fleet is high and there are a number of sailors who have now built up a good level of foiling experience," Yachting New Zealand youth co-ordinator Stu Thomas said.
Some promising Kiwi talent selected include Nick Egnot-Johnson (third in 2016), Josh Wijohn, George Angus, James Wilson, Celia Willison and Charlotte Porter – all of whom are part of the RNZYS YTP or the RNZYS performance programme. 
RNZYS performance programme sailors Nick Egnot-Johnson and Josh Wijohn may have a slight edge over some of their counterparts, after spending their summer training on the Squadrons' foiling Nacra 20s. Many competitors are also returning for their second chance at the world championships, making no shortage of experience when the 17ft Flying Phantoms take to the Waitamata Harbour. 
One to look out for in the fleet is 17-year-old Jackson Keon, who last week won the 29er world championships in Hong Kong. Crystal Sun and Olivia Hobbs won the female division in Hong Kong and are also competing in the Red Bull Foiling Generation.
Isaac McHardie is another to keep a keen eye on, finishing runner up at the 2016 edition, as well as racing at last year's Red Bull Youth America's Cup in Bermuda. McHardie has also collected some good results on the world 49er scene and will team up with regular crew member in William McKenzie.
Fresh on the foiling scene are 18-year-olds Louis Eruera Schofield and George Angus (RNZYS YTP), who have been training at the recent RNZYS International Foiling Camp. This team will be sailing with nothing to lose, and could be the dark horse of the competition.
Liv Mackay and Micah Wilkinson won the event in 2016 and went on to win the Foiling Generation world championship in Newport, USA. 
"Red Bull Foiling Generation provides the opportunity to showcase your skills and ability to hold your nerve," said Wilkinson, who also competed in last year's Red Bull Youth America's Cup. "It's a once-in-a-lifetime opportunity to put your hand up and show the world you are up for the challenge of racing the best." 
Mackay and Wilkinson are too old to compete in this year's event, leaving the doors open for a new pair of 2018 New Zealand champions. 
Racing promises to be spectaculr and it also coincides with the arrival of the Volvo Ocean Race fleet.
For more information, visit the event page on redbull.co.nz.
2018 Red Bull Foiling Generation NZ Teams
Skippers / Crew
1. Isaac McHardie / William McKenzie
2. Nick Egnot Johnson / Josh WiJohn
3. Oscar Gunn / Taylor Balogh
4. Kate Stewart / George Gautrey
5. Greta Stewart / Henry Haslett
6. Jackson Keon / Tom Fyfe
7. Seb Lardies / Josh Armit
8. George Angus / Louis Eruera Schofield
9. James Wilson / Jordan Stevenson
10. Lewis Anderson / Pat Morgan
11. Josh Berry / Mitch Jackson
12. Ben Paterson / Sean Paterson
13. Alastair Gifford / Blake Woodfield
14. Crystal Sun / Olivia Hobbs
15. Annabelle Rennie-Younger / Jack Honey
16. Celia Willison / Charlotte Porter