There's only a small contingent of New Zealand sailors at the World Cup regatta in Miami but they are making themselves known with all three inside the top eight after two days of racing.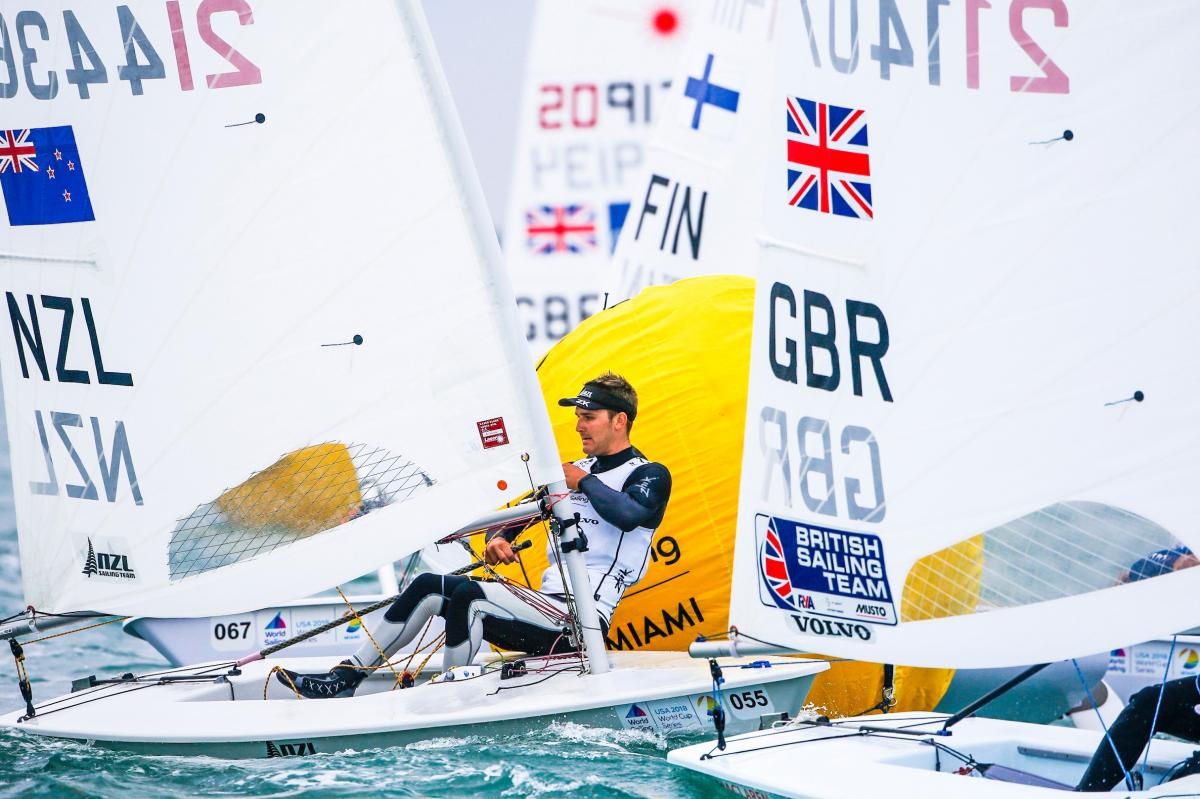 Saunders was the big mover of the day in the 70-boat Laser fleet, jumping from 35th at the start of the day to third. He benefitted from the discard coming into play for the worst result of the regatta so far, meaning his 57th in yesterday's second race isn't counting, but with such a big score on his card already he can't afford to make too many mistakes.
Sam Meech is only one point behind in fourth and picked up a bullet in the first race of the day to prove he's in good form.
Paul Snow-Hansen and Dan Willcox are the only other New Zealanders at the first Word Cup regatta of the year and improved four places to eighth overall in the men's 470. They are in good shape, with a series of decent scores including a second in the second race of the day, and it's tight at the top with the first three separated by only two points.
Saunders had a breakthrough year in 2017 and now expects to be challenging for podium finishes at every regatta. He improved markedly on the back of a fifth and third today to ensure he's right in the mix.
"It was a tough start to the regatta for me," he said. "A few things just weren't going my way [on the first day], including a yellow flag in the second race, which put me on the back foot, but I had a much better day today. It was nice to put a few counters on the board.
"The first two days have been very tricky, very patchy, with some big scores out there for everyone. It's about risk versus reward. I'm still in a tough spot because I have a bad race [on the board] so I need to keep banging out some good ones and hope a few other people have some bad races."
Olympic champion Tom Burton will have a similar philosophy. The Australian now leads the Laser fleet by five points but also has a 34th on his scorecard so can't afford to slip up, either.
Meech has been one of the most consistent so far, with a 16th his worst result so far, and he's been getting off to some good starts.
"I managed to win the first race which was really nice," he said. "It's obviously much easier when you are out front rather than like yesterday when I was in the middle of the pack in a 70-boat fleet because there's just no wind going around the top mark [if you're behind some other boats], especially in a windward-leeward course like we're racing.
"It looks like we will get more wind tomorrow so we might even get out hiking. There's still lots of racing to come so we will see how it goes."
Results and standings after the second day of the World Cup regatta in Miami:
Laser (70 boats)
1st: Tom Burton (AUS) 4 (34) 2 7 - 13 points
2nd: Nick Thompson (GBR) 11 (15) 6 1 - 18 pts
3rd: Tom Saunders (NZL) 14 (57) 5 3 - 22 pts
4th: Sam Meech (NZL) 12 (16) 1 10 - 23 pts
Men's 470 (37 boats)
1st: Naoki Ichino / Hasegawa Takashi (JPN) 1 7 3 (14) - 11 pts
2nd: Anton Dahlberg / Fredrik Bergström (SWE) (15) 2 5 5 - 12 pts
3rd: Luke Patience / Chris Grube (GBR) 2 8 (28) 3 - 13 pts
8th: Paul Snow-Hansen / Dan Willcox (NZL) 12 (19) 2 12 - 26 pts
Full results can be found here.