What strikes first is the speed – upwards of 27 knots – but then the noise hits. It's a constant, almost eerie, whistle as the wind passes through the boat.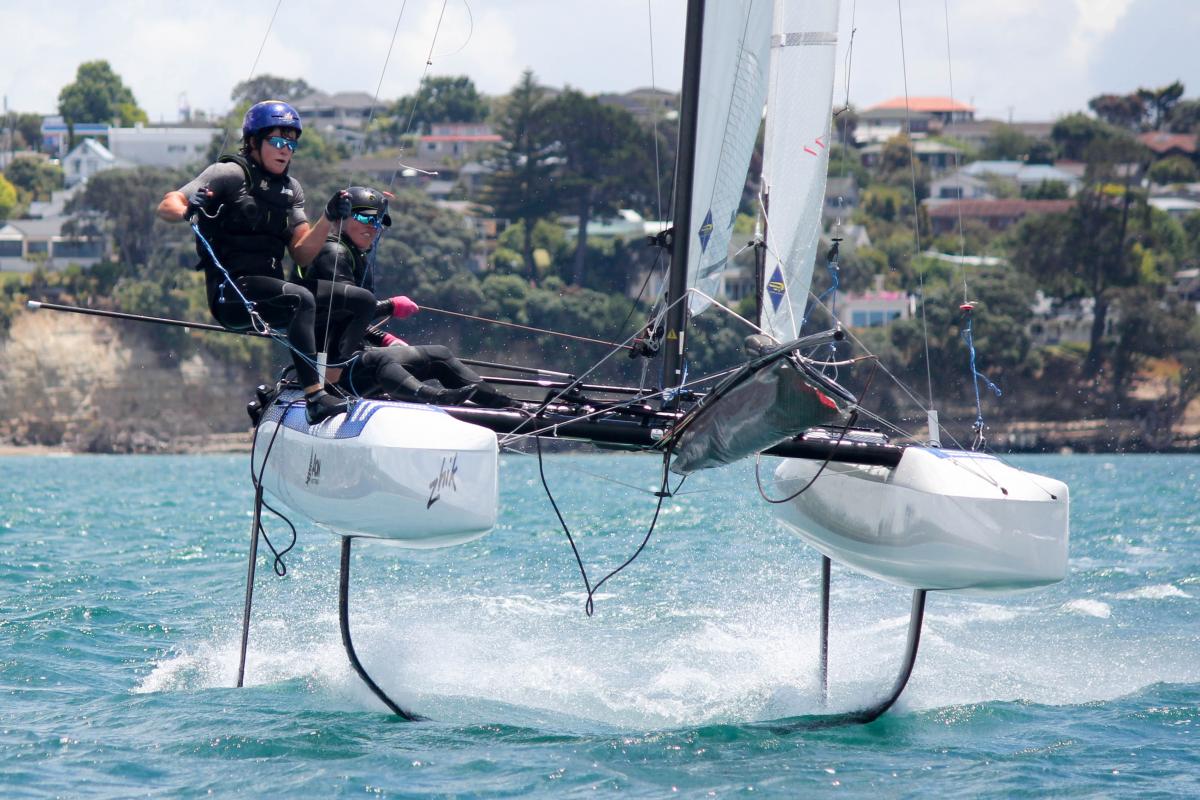 Olympic sailing has embraced the world of foiling with spectacular results with the conversion of the Nacra 17 into a foiling catamaran for the 2020 Tokyo Games.
It has turned the boats into a fast, edgy and sometimes temperamental beast and the key is finding out who can tame the cat the fastest.
"Everyone is learning massively and the level is going up and up so it's a bit of an arms race at the moment as to who can develop the fastest," Jason Saunders says. "We're trying to push the limits as much as we can, which is exciting."
Saunders and Gemma Jones were fourth at the Rio Olympics in the non-foiling Nacra. The new design doesn't look too dissimilar but it's effectively a new type of sailing, which means everyone is starting from scratch.
Some like Jones and Saunders got a head-start, given they were among a handful to receive one of the first batch of boats released, but they won't really know how they truly stack up until the start of the next European sailing season.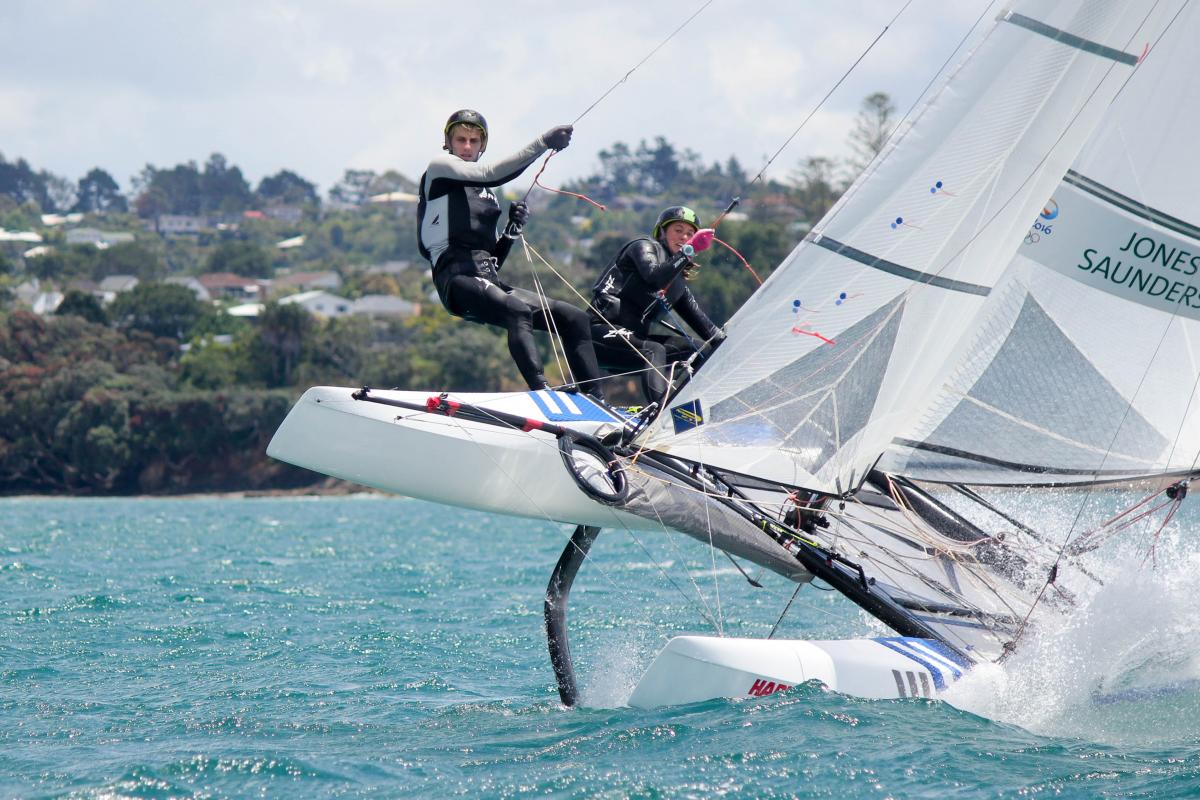 "They are awesome to sail," Saunders said. "Straight away, when we got the first chance to sail them, Gemma and I really loved them. We think it's more our style of sailing and it's the way sailing is going as well.
"We have some good personnel in New Zealand to help us hopefully improve faster than the others."
It hasn't always been easy.
Micah Wilkinson, who sails with Liv Mackay, was bucked off his trapeze wire and thrown onto the rudder at 40kmh and Jason Saunders also had a tangle with a rudder.
Both came off relatively unscathed. Others have not been so lucky.
American Bora Gulari has been the most high-profile casualty, losing parts of three fingers on his right hand when his Nacra 17 capsized during training for the world championships, but there have been plenty of other injuries.
"Luckily I was wearing a thick wetsuit so there wasn't too much damage," Wilkinson said of his brush with his boat. "There's the potential to get injured. We are hanging off the side of the boat on a thin trapeze wire and there have been a few incidents now of people getting shredded by foils so we are trying to minimise that risk as much as possible."
World Sailing also took steps to minimise it by cutting short this year's world championships test event and recalling the boats to replace the bearings for the dagger boards.
Mackay and Wilkinson have emerged on the scene with perfect timing. The 21-year-olds won the 2016 Red Bull foiling generation world title and have both sailed in the Extreme Sailing Series – Wilkinson was also a member of the NZL Sailing Team at his year's Youth America's Cup.
It means they haven't had to make up as much ground on their rivals, who are all learning the intricacies of the new Nacra 17, and they proved their potential when they finished 10th at this year's Nacra world championships even though they took possession of their foiling catamaran only three days before the regatta.
"We have a good history with foiling and we were really excited when it was announced they were going that way," Mackay said. "It has been pretty ideal, really."
It has also helped that the pair, along with Jones and Saunders, are training with three of the world's best Nacra combinations in Auckland over the summer after two French and a Danish crew ventured south.
They are all working together and their progression has been impressive.
Naturally, they will all want to make some noise when they take on the rest of the Nacra fleet next year.