Liv Mackay and Micah Wilkinson did what any product of generation Y would do and went onto YouTube when they heard the Red Bull Foiling Generation was coming to New Zealand in 2016.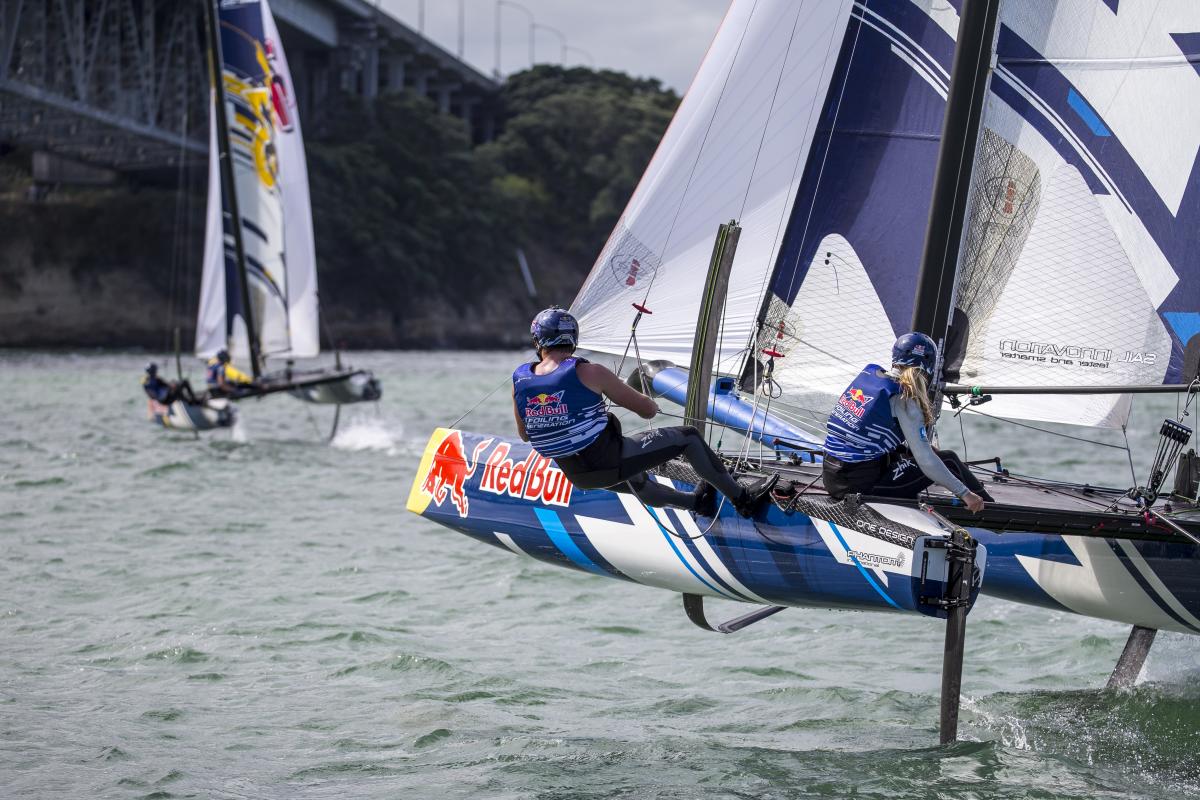 What they saw was eye-popping – double-handed foiling catamarans capable of doing 35 knots in the hands of teenagers. To Mackay and Wilkinson, it felt like they were being given the keys to a Ferrari.
"We didn't expect kids to be using those boats," Mackay recalled. "It looked epic. Who wouldn't want to apply?"
Applications are now open for the next instalment of the Red Bull Foiling Generation, with the New Zealand leg being hosted by the Royal New Zealand Yacht Squadron on February 22-25. It's open to young sailors aged 16-20, with 16 teams invited to compete.
The winners will then take on the world's best at the Red Bull Foiling Generation world finals.
Mackay and Wilkinson won the world title in Newport in 2016, something that earned them both recognition as well as rides.
"It's done a lot for my sailing career, especially being a female," Mackay said. "The Magenta Project took a huge interest in me and that's how I got into the GC tour. It opened up a lot of helming roles and I've met so many cool people.
"Not coming from a sailing background, it put my name out there. I got contacted by lots of random people asking me to speak or asking me what their daughters should do."
Mackay, who together with Wilkinson finished 10th at this year's Nacra world championships on the new foiling catamarans to be used at the 2020 Tokyo Olympics, would encourage anyone to apply for the Red Bull Foiling Generation.
The concept was created by double Olympic champions Roman Hagara and Hans Peter Steinacher, who also established the Red Bull Youth America's Cup, as a way to kick-start the development of the world's best young sailors and provide a pathway to the America's Cup.
Mackay and Wilkinson won the New Zealand leg, edging 49er sailors Trent Rippey and Isaac McHardie in the final and earning a spot at the world finals – not that they knew about that carrot when the regatta started.
"We didn't know about the world event until just before the last race," Mackay said. "It was really cool, but it also changed things and we started thinking about what if we actually won this thing.
"When we did we trained in Bermuda for two weeks and met some of the America's Cup people. We were living the dream.
"We then went to the world finals in America and it was just crazy. Everyone we sailed against in the Olympic classes was there. It was really close racing and lots of spectators cheering, which was a whole new thing. It was epic."
If you don't believe Mackay, check out YouTube.
What is it?
The Red Bull Foiling Generation is open to teams of two and the sailors must be aged 16-20. The New Zealand leg will be hosted by the Royal New Zealand Yacht Squadron on February 22-25, which will be soon after the Volvo Ocean Race fleet arrive in town.
Applications can be made here and the final selection will be made by January 15, with 16 teams then invited to compete. The winners will earn a spot at the world finals.
The fleet use one-design Flying Phantoms, 5.5m-long foiling catamarans capable of reaching speeds of 35 knots. Here are highlights from the Auckland leg in 2016.