Mark Orams thinks Sir Peter Blake would have had a huge smile on his face at the weekend looking down on an event in his own name that is potentially the largest multi-class centre board regatta in the world.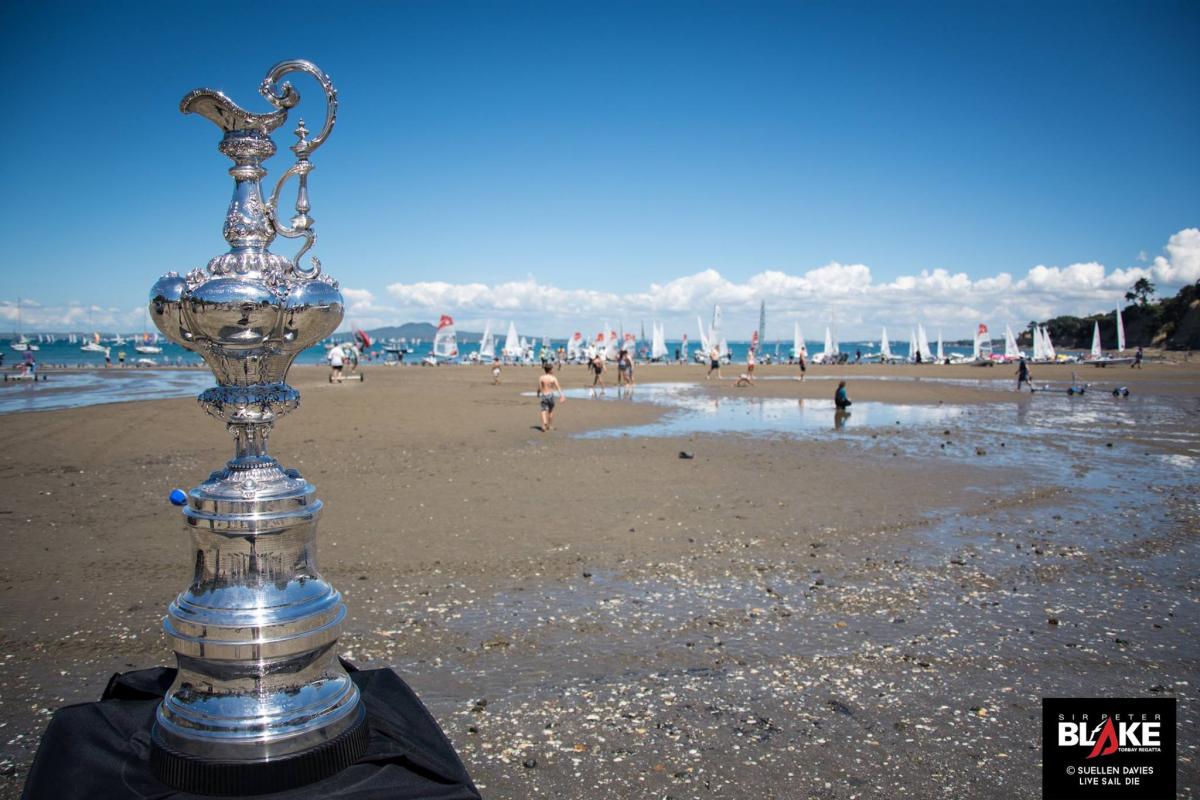 The Sir Peter Blake Regatta, which started in 2002 with about 70 entrants, drew record numbers over the weekend with 492 competitors in 460 boats. The conditions were almost perfect, with warm, sunny weather, sea breezes and helpful tides at the Torbay Sailing Club, and another feature was the visit of the America's Cup on the Sunday afternoon.
"It was very special and very Kiwi," said Orams, who is vice-patron at the Torbay Sailing Club and was close to Blake before he was killed in 2001. "I can't remember the America's Cup ever being on an ordinary beach front surrounded by kids and not being under guard. It even sat in the workshop for a while when the guys were working on a few of the kids' boats. The America's Cup had done a tour of New Zealand but it's also visited the grassroots of yachting in New Zealand.
"I felt a sense of Blakey watching over us and having a huge smile and chuckle about the weekend. I felt really proud that something we started to honour a great New Zealand sailor has grown to this point."
A handful of New Zealand's sailors competed, including Gemma Jones and Jason Saunders in the Nacra 17, as well as a couple of crews from overseas, but the real focus of the regatta is at the junior and youth level. There were some really big fleets, including 113 in the Optimist green fleet and for many it was their first regatta.
It reminded Jones of some of her first regattas when she was an aspiring youngster.
"I remember doing Sail Auckland and I used to look at Jo [Aleh] and Polly [Powrie] and watch how they ran their programme," said Jones, who finished second with Saunders in the Nacra 17 behind training partners Liv Mackay and Micah Wilkinson. "My dad would say things like, 'look, they are always on time'.
"It's really cool to integrate the Olympic classes with the junior and youth classes and it's great for the kids to see where their sailing can take them and what options are available to them if they want to go down the Olympic route. A few of the kids took the chance to chat to us. Some Opti girls came up and told me about how their season has been going. It's always a fun event and it's great to have a really well-run event at home."
The highly-coveted Sir Peter Blake memorial trophy, which goes to the best overall sailor, was for the first time awarded to two individuals with Caleb Armit (Starling) and Josh Hyde (Optimist open) recognised. Both were in very competitive fleets and just edged Fran Kayrouz and Jackson Keon (29er), Mattias Coutts (O'pen Bic) and Josh Armit (Laser Radial).
Oram said the club now want to develop the environmental sustainability message that Blake worked so hard to spread towards the end of his life. They started that with their 'war on straws' message last weekend and want to develop that next year with a concerted push against single-use plastics.
"For us as a club and a regatta, we want to develop that sustainability and responsibility angle and provide some leadership for other clubs in New Zealand," Orams said. "We want to actually be living the values that Peter lived by."