Alex Maloney and Molly Meech continued their dominance in the 49erFX at Sail Sydney, with seemingly their biggest worry keeping out of the way of ferries chugging up and down Sydney harbour.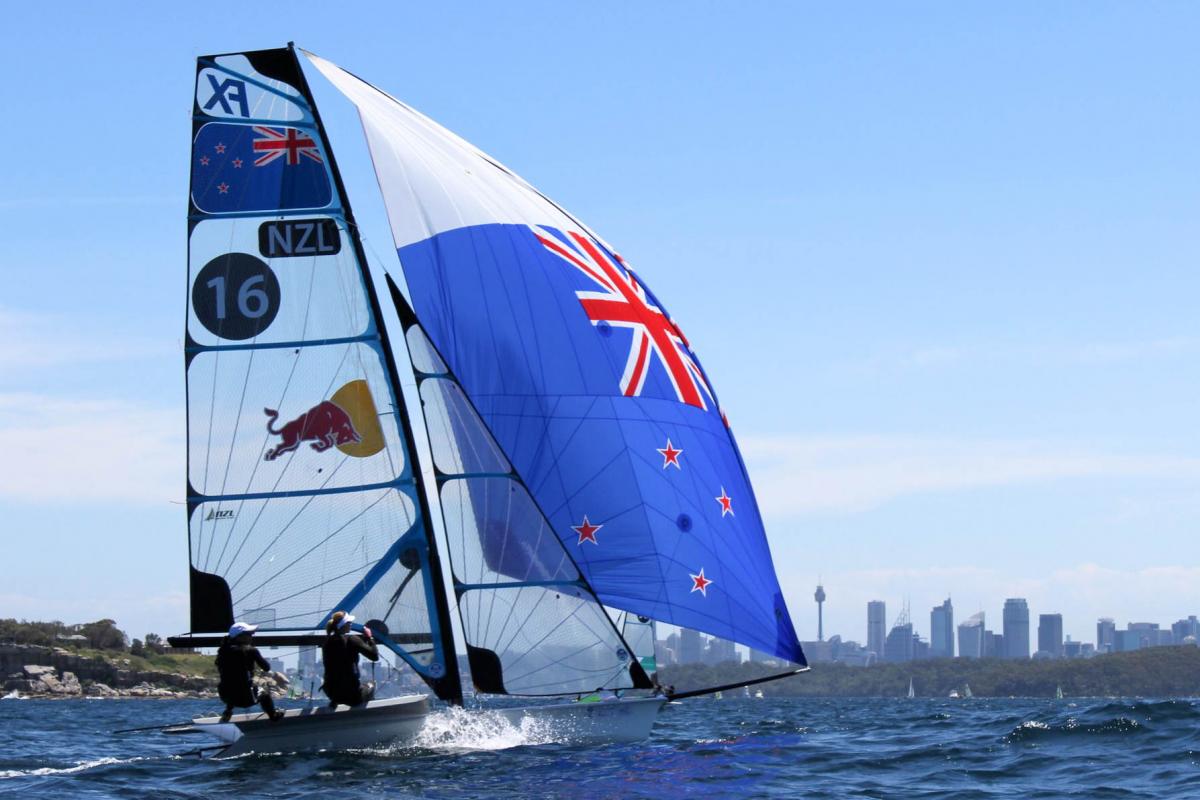 The pair have won five of the six races in the small fleet, with their only blemish a second today behind the other Kiwi combination of Erica Dawson and Kate Stewart.
Maloney and Meech have opened up an eight-point gap on Australia's Amelia Stabback and Ella Clark in second halfway through the four-day regatta, with Dawson and Stewart a further three points adrift in fourth.
"It was another glamour day for sailing on Sydney harbour with 12-14 knots," Maloney said. "We had a pretty good day. The second race was exciting, ending in a photo finish with the other Kiwi girls. It's really fun when it's that close going to a reach finish in a skiff.
"Molly and I are working well together. We're just keeping things simple, avoiding ferries and having fun. We are getting off the line well and feel like we have good speed in these conditions so we can control our tactics and sail our own race. 
"The plan from here is to keep pushing the start line. And laugh a lot."
Josh Porebski and Trent Rippey were the big movers of the trio of Kiwi boats in the 49er, moving up to second on the back of a third and two seconds. They're now only one point behind Australia's Joel Turner and David Gilmour.
Isaac McHardie and William McKenzie, who led after the first day, are still in contention only six points off the lead in fourth overall.
"We're pretty happy with how things are going," Porebski said. "Hopefully we're still within touch of the top of the podium at the end of the week.
"It's been pretty challenging. It's been super shifty and the main thing is trying to stay in phase with the shifts and pressure because there are some big holes out there."
The 49ers have also had their issues with the Manly ferry.
"The race committee postponed the start a couple of times," Porebski said, "and yesterday one ferry came right through the course and we had to gybe out of the way. It's classic Sydney."
Sam Meech lost his lead in the Laser, dropping to fifth overall, but can expect to jump back into contention when the discard for the worst result kicks in. The Olympic silver medallist was one of a number of competitors to be black flagged for being over the start line in the first race of the day (fellow Kiwis Andrew McKenzie and George Gautrey and Olympic champion Tom Burton were also deemed over) but backed it up with his third second placing of the regatta in the day's final race.
Tom Saunders is the best placed of the Kiwis in second after recording a first and fourth in his two races. He's only two points adrift of Australia's Matthew Wearn in first.
Similar weather is expected in Sydney tomorrow.
Results and standings after the second day of Sail Sydney today:
49erFX (6 boats)
1st Alex Maloney / Molly Meech (NZL) 1 1 1 1 (2) 1 - 5 points  
2nd: Amelia Stabback / Ella Clark (AUS) (5) 3 2 2 3 3 - 13 pts  
3rd: Tess Lloyd / Harry Mighell (AUS) 2 2 (5) 5 4 2 - 15 pts  
4th Erica Dawson / Kate Stewart (NZL) 4 (5) 3 4 1 4 - 16 pts
49er (19 boats)
1st: Joel Turner / David Gilmour (AUS) (6) 3 4 1 3 1 - 12 pts   
2nd: Josh Porebski / Trent Rippey (NZL) (8) 4 2 3 2 2 - 13 pts  
3rd: Will Phillips / Sam Phillips (AUS) 2 1 5 (7) 5 3 - 16 pts  
4th: Isaac McHardie / William McKenzie (NZL) 3 2 1 (9) 7 5 - 18 pts  
6th Logan Dunning Beck / Oscar Gunn (NZL) 1 8 (20 DSQ) 2 6 4 - 21 pts
Laser (24 boats)
1st: Matthew Wearn (AUS) 1 6 3 1 - 11 pts
2nd: Tom Saunders (NZL) 4 4 1 4 - 13 pts
3rd: Luke Elliott (AUS) 5 1 2 7 - 15 pts
5th: Sam Meech (NZL) 2 2 25BFD 2 - 31 pts
10th: Andrew McKenzie (NZL) 10 5 25BFD 3 - 43 pts
15th: George Gautrey (NZL) 11 10 25BFD 14 - 60 pts
16th: Matthew Kempkers (NZL) 19 13 10 18 - 60 pts
Full results can be found here.