Kiwi crews claimed bragging rights after the first day of Sail Sydney, with New Zealanders sitting on top of the leaderboard in all three classes they are competing in.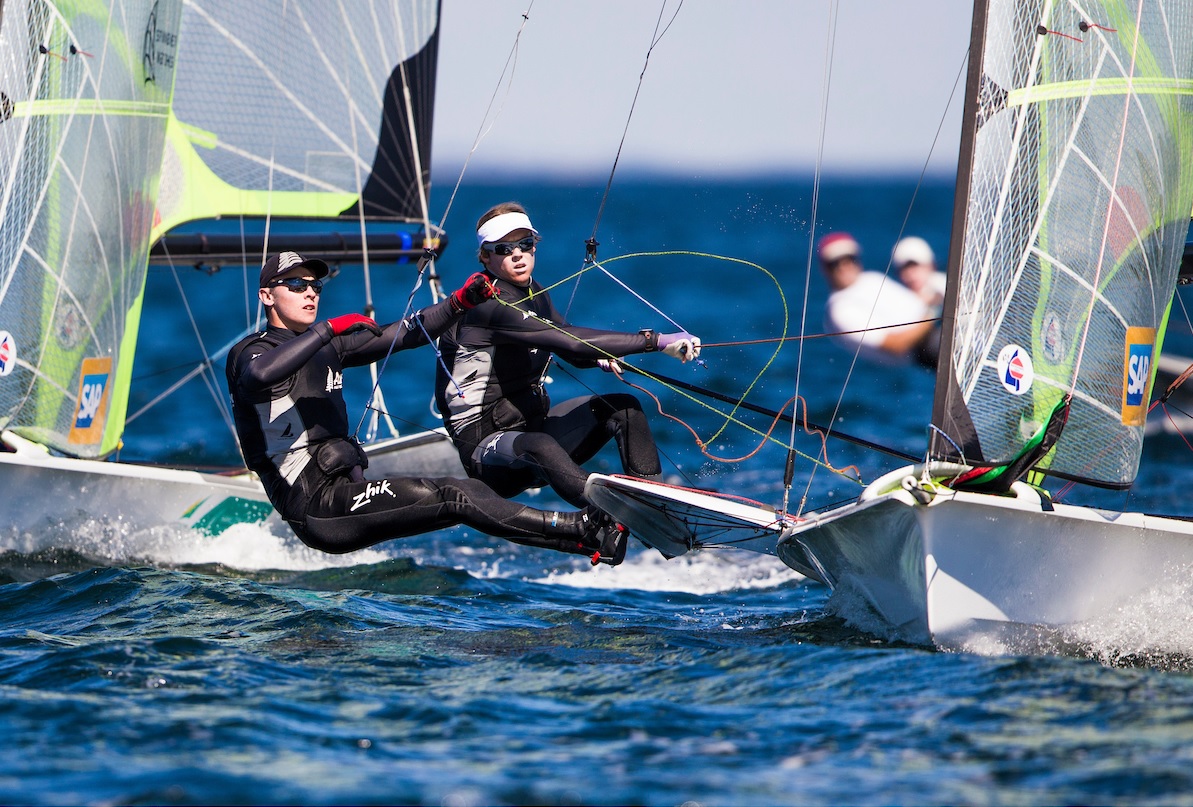 Alex Maloney and Molly Meech started off in perfect fashion, winning all three races in the 49erFX, and Isaac McHardie and William McKenzie are also in the lead of the 49er after posting three good scores.
Sam Meech leads the highly-competitive Laser fleet after two second placings, sitting two points ahead of Luke Elliott and Olympic champion Tom Burton both of Australia. 
Sail Sydney is the second leg of the Tasman Series and New Zealand is well represented in the Laser, 49er and 49erFX. Beautiful weather and a nice breeze of 10-15 knots greeted the sailors but it was also very shifty with big gains and losses.
McHardie and McKenzie won the last race of the day but a feature of their racing was their consistency as they also posted a third and second to leave them on six points, two ahead of Australia's Will and Sam Phillips.
"Will and I did the right things," McHardie said. "We put our boat in the right places and managed to get on the right side of the puffs because it was snakes and ladders out there.
"We are a newer, inexperienced crew so we are really trying to get our heads out of the boat a little bit more. It worked well for us today. It's only the first day so there's still a long way to go but we are happy to be on top for now."
Josh Porebski and Trent Rippey are eight points behind in fourth and Logan Dunning Beck and Oscar Gunn, who won the first race of the day, are one point further back in fifth.
Porebski and Rippey opened with an eighth but recovered well to be fourth and second in the remaining two races.
"We were a bit up and down today but our last two weren't too bad," Rippey said. "The first day is really about being in contention so we did our job but we still have plenty of room for improvement."
All three 49er crews as well as Maloney and Meech had a disrupted buildup to the regatta, getting their hands on their boats as last as Friday because of their late arrival from the Enoshima Olympic Week in Japan.
It didn't seem to effect Maloney and Meech, who dominated the small 49erFX fleet with three bullets. The pair are looking to improve in larger swells as they eye up the 2020 Tokyo Olympics.
"We had a really good day," Meech said. "It was awesome conditions with a 12-16 knots seabreeze and a bit of a confused swell coming into the entrance on our course.
"From this regatta we are looking to get some race practice also some time in waves under our belt, and today was a great combination of both."
The excellent sailing conditions should continue, with 10-20 knots forecast for the rest of the week.
"It should be pretty pristine racing," Rippey said.
Results and standings after the first day of Sail Sydney today:
49er (19 boats)
1st: Isaac McHardie / William McKenzie (NZL) 3 2 1 - 6 points  
2nd: Will Phillips / Sam Phillips (AUS) 2 1 5 - 8 pts  
3rd Joel Turner / David Gilmour (AUS) 6 3 4 - 13 pts   
4th Josh Porebski / Trent Rippey (NZL) 8 4 2 - 14 pts  
5th Logan Dunning Beck / Oscar Gunn (NZL) 1 8 6 - 15 pts
49erFX (6 boats)
1st Alex Maloney / Molly Meech (NZL) 1 1 1 - 3 pts  
2nd: Tess Lloyd / Harry Mighell (AUS) 2 2 5 - 9 pts  
3rd: Amelia Stabback / Ella Clark (AUS) 5 3 2 - 10 pts  
4th Erica Dawson / Kate Stewart (NZL) 4 5 3 - 12 pts
Laser (24 boats)
1st: Sam Meech (NZL) 2 2 - 4 pts
2nd: Luke Elliott (AUS) 5 1 - 6 pts
3rd: Tom Burton (AUS) 3 3 - 6 pts 
5th: Tom Saunders (NZL) 4 4 - 8 pts
6th: Andrew McKenzie (NZL) 10 5 - 15 pts
12th: George Gautrey (NZL) 11 10 - 21 pts