The eastern Coromandel islands have such significant biodiversity that they are referred to as the 'jewel in the crown' of all our offshore islands. That is because two of the islands, Green and Middle (Atiu) have always been pest free.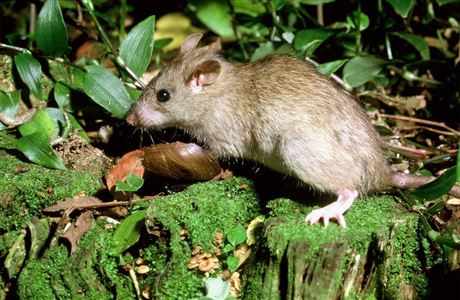 Now all the islands are pest free after the largest, and privately owned Great Mercury Island (Ahuahu) undertook an eradication programme of Kiore, ship rats and feral cats in 2014.
The islands provide sanctuaries for species that are extinct on the mainland like the giant tusk weta, and are home to native geckos, tuatara, kaka, kakariki, New Zealand dotterel, Pycroft petrels, grey faced petrels and many other species of seabirds. There are more than 50 species of native land snails on Great Mercury Island.
Being islands, they are defendable from the pressures of pests. The islands are constantly monitored by DOC staff and specially-trained dogs assist with the monitoring, however, in March this year a very large Norway rat was found on Ohinau Island, the closest of the Mercury Island group to the mainland.
The rat weighed 604g, much bigger than the average of 300g-340g. Unfortunately, he had been on a diet of lizards, insects, eggs and chicks, all off the native variety. We don't know how he got there, maybe on a log, swimming from the mainland or from a passing boat but the devastation he has caused must be huge.
By now boaties should know to check their boats and gear for stowaways. This makes sense, with most insurers not covering damage from rodents. But we also need your help by checking for cats, rainbow skinks, Argentine ants and seeds that may be in your gear. Pests compete with our native flora and fauna and often win as our native species are still evolving to combat the competition.
The eastern Coromandel is just one area in New Zealand that can be harmed by pests.
Tips to help keep your boat free of pests
Keep your boat tidy and clean.
Before departure, inspect your boat for signs of rats and mice, eg chewed wiring or holes in gear or bags, and for insects (especially ants).
Owners of larger vessels are encouraged to maintain pest control on board. Use glue boards for insects and traps or bait stations for rodents.
Load your boats in daylight hours. Most pests are active at night and will come aboard then.
Vessels should stay anchored offshore. Please do not run lines to the shore.
If you are going ashore at Great Mercury Island (the only island you can land on) please inspect your tender before leaving your vessel.
By helping keep our islands pest free, you to will enjoy being woken by the kaka screeching, the kakariki chattering and the awesome satisfaction that you did your bit to preserve these beautiful and fascinating Islands.
Pay the Te Whanganui-A-Hahei marine reserve a visit while in the area but remember the no-take, no-harvest rules.
For more information, please contact:
Ann Ward (Island and Marine Reserve Advocate)
Whitianga
(07) 869 5637
coromandelenquiries@doc.govt.nz