Blair Tuke has a racing stripe on the top of his head these days.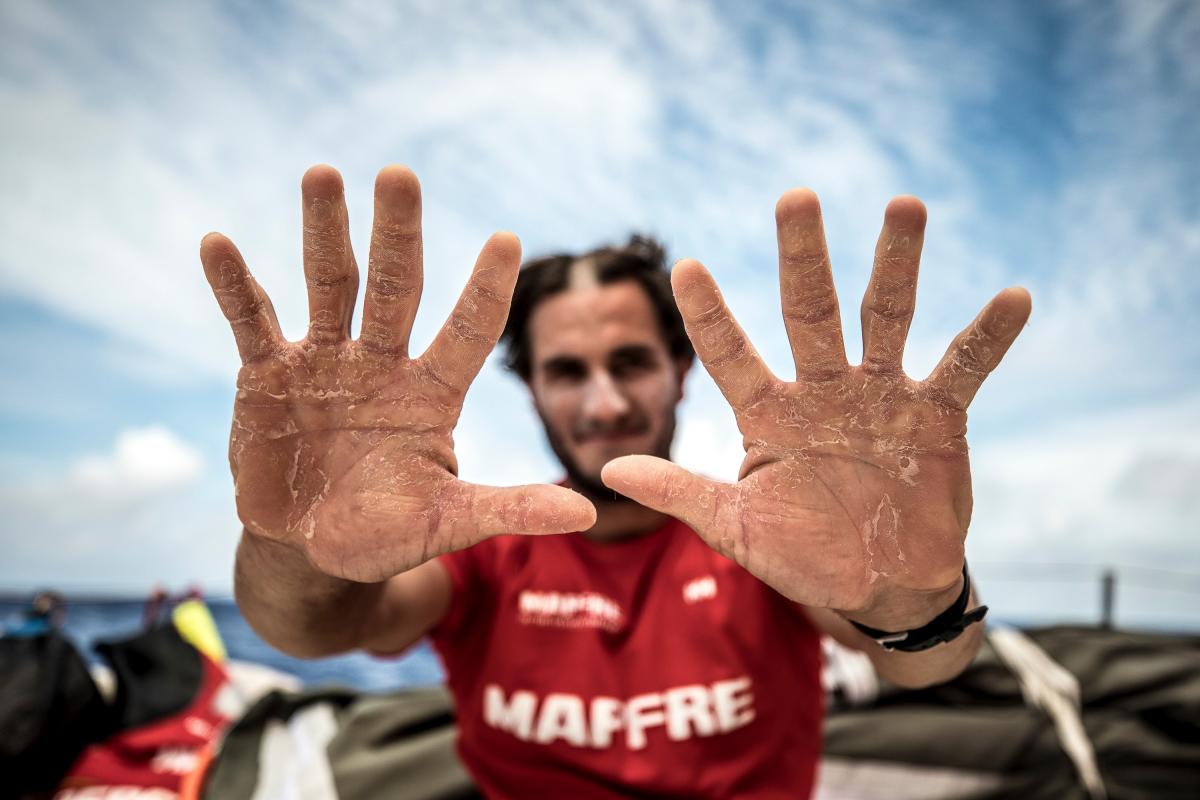 It didn't give Mapfre any extra speed, not that the Spanish boat struggled in the second leg of the Volvo Ocean Race.
Mapfre arrived at Cape Town early this morning, finishing three hours ahead of Dongfeng Race Team after what was an incredibly close leg of racing over 19 days and 7500 nautical miles.
The reason for Tuke's racing stripe was King Neptune, who performs an initiation ceremony on any sailor crossing the equator for the first time. It's a tradition that started with the navy more than 400 years ago and often involves 'truth serum', being smeared with a disgusting concoction, fish necklaces and hair loss – something Tuke experienced first-hand.
"It's all part of it and it's nice to get my first equator crossing under my belt," he told the audience at Friday night's Volvo Yachting Excellence Awards in Auckland from on board Mapfre before they landed in Cape Town.
"Not much speed [out of it], just a bit of sunburn to start with."
Staying dry is actually one of the biggest challenges, and every sailor knows to expect multiple drenchings in each four-hour shift on deck. It was particularly wild out of Lisbon as the fleet enjoyed some fast downwind sailing and it was similar on their reach across the Southern Ocean, where cold is an added enemy.
The demanding nature of the race is one of the main reasons why Tuke enlisted. It was something he always wanted to do, even before contemplating the America's Cup, and it hasn't disappointed.
"There have been so many different parts to it and I am loving every minute of it," he said.
"The last few days sailing across in front of this [weather] front in pretty good breeze has been awesome fun. It has been a good experience and hopefully we can hold on and be the first into Cape Town."
They were and it saw Mapfre jump to the top of the overall leaderboard, after they were second behind Vestas 11th Hour Racing in the short first leg from Alicante to Lisbon. The Spanish team are clearly one of the strongest and took advantage earlier this week when Dongfeng, who led the leg for the first fortnight, gybed a couple of hours later than the other front runners and got stuck in less pressure.
The close nature of the racing means there's little chance to ease up and sleep deprivation is as much a constant as sore bodies and freeze dried food.
"It hasn't been too bad for us. The first couple of days out of Lisbon were probably the hardest when there were lots of gybes and breeze," Tuke said in reference to the fact all crew members help with a tack or gybe to move unused sails across to the other side of the boat regardless of whether they are on a break or not.
"At other times through the Doldrums there were quite a few sail changes which was a bit tough but the last week or so has been pretty good in terms of a routine. A couple of times I have certainly been a bit tired and sleep deprived but it's all part of it. It's only going to get a lot worse when we head into the Southern Ocean [in the next leg to Melbourne]."
The Southern Ocean is what most Volvo Ocean Race sailors look forward to and dread the most and they will head there another two times on the next leg to Australia and leg seven from Auckland to Itajai, Brazil.
Kiwi Brad Jackson, who has won the round the world race three times in six attempts and who originally planned to do a seventh edition with Team AkzoNobel, has a love-hate relationship with the Southern Ocean.
It can be scary, with waves as high as 45m high, winds up to 70 knots and icebergs the size of buildings, but it can also provide unrivalled downwind sailing.
"It's one of those places that's like going to the dentist," he said earlier this year. "You don't want to go but you have to. When you are down there it's awesome, sometimes it's heinous. When you turn the corner, coming around Cape Horn, and been through it, if you get through it, it's a pretty good feeling."
Not everyone gets through safely and Dongfeng had to abandon the leg last time after their mast snapped 240 nautical miles west of Cape Horn.
Tuke doesn't really know what to expect, which can be an advantage, and his overwhelming feeling is excitement about getting down there.
It's on every offshore sailor's list to tick off a rounding of Cape Horn on their way to Itajai. Tuke and the rest of the fleet weren't too far away from the Brazilian coast recently as the boats tried to dive south-west to avoid a high-pressure system in the middle of the south Atlantic and it prompted a time of reflection for the 28-year-old.
"We were literally only 200 miles off there and so much has happened since Pete [Burling] and I won the gold medal," Tuke said. "It was such an awesome time there and then to do the [America's] Cup with Team New Zealand. It has been an awesome 18 months and to sail straight past Rio was cool."
Tuke has still found time to keep up to date with Emirates Team New Zealand's plans for the next America's Cup – he already knew what they were planning around the type of boat – and read the team's press release during the week.
He's bound to catch up further when he's in Cape Town but what Tuke was looking forward to the most about getting into port was a cold beer, warm burger, a comfortable bed and some surfing. And a haircut.