There might be 15 boats in the 29er fleet at the Yachting New Zealand youth trials but the battle at the top means it has almost turned into a match race between the top two crews.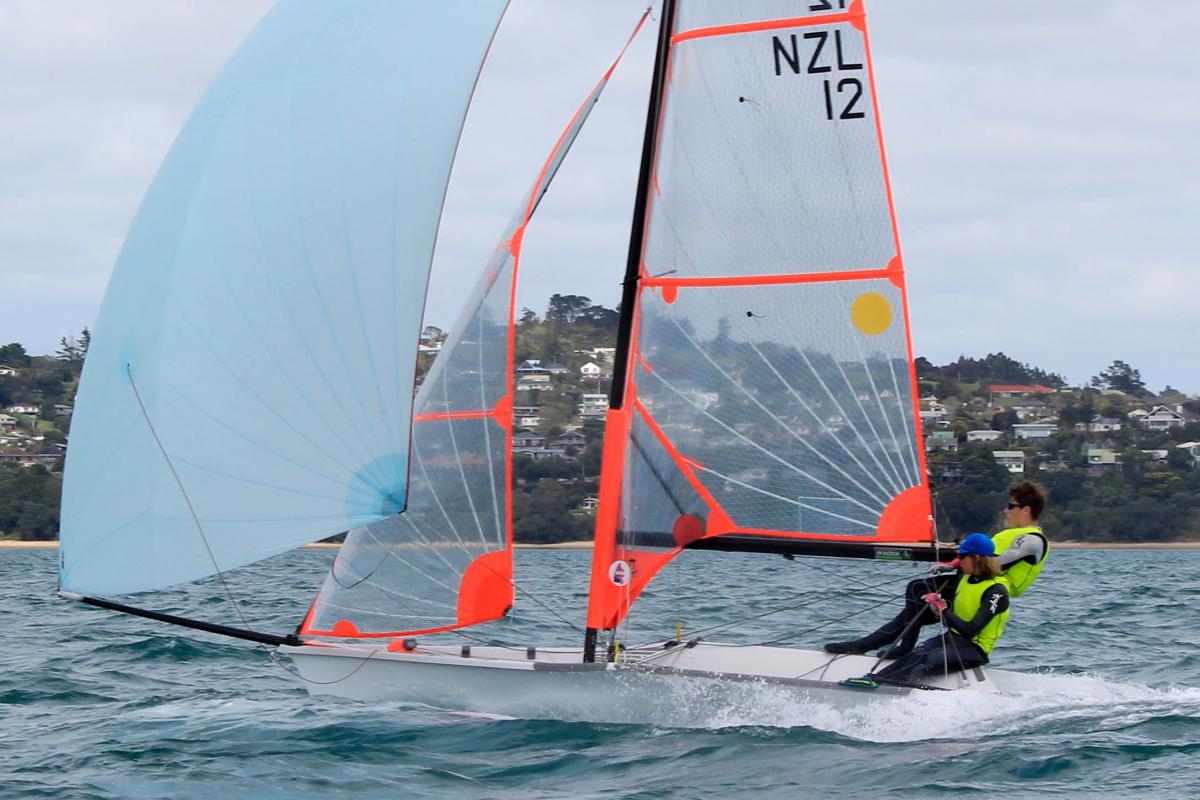 Sebastian Lardies and Scott McKenzie (Kohimarama) hold a two-point lead over Fran Kayrouz and Kackson Keon (Murrays Bay / Wakatere) after seven races with a 12-point gap back to Josh Berry and Tom Fyfe (Murrays Bay) in third.
They finished first and second in all four races today, sailed in perfect conditions of 12-18 knots off Manly Sailing Club, and admit they will be keeping a close eye on each other this weekend. There's a lot at stake, with the winners earning nomination for December's youth sailing world championships in Sanya, China.
Kayrouz, who is only 14, competed last year with Oscar Gunn in the 29er and Lardies and Menzies were New Zealand's top combination at this year's 29er world championships in the US when they finished fifth, so they know each other well.
"It's almost like a match race, but you still have to take into account where the other boats are going because you still want to have a good result," Kayrouz said. "We are staying close to them so we have a chance of getting the spot. It's all about consistency and sailing the shifts right."
Lardies and McKenzie read them the best today, collecting three wins in the four races, and they're desperate to get to China after missing out on last year's youth worlds.
"The youth worlds is another big and exciting event to go to," Lardies said.
The battle for the 29er spot is expected to be one of the tightest at the Yachting New Zealand youth trials. 
There's also very little between the frontrunners in the boy's 420, with Seb Menzies and Blake McGlashan (Murrays Bay) holding a slender one-point advantage over James Barnett and Sam Street (TYPBC / WBC / MBSC).
There's also only one point separating Olivia Christie (Worser Bay) and Annabelle Rennie-Younger (Murrays Bay) in the girl's Laser Radial.
It's a different story in the Nacra 15, with Greta Stewart (Murrays Bay) and Henry Haslett (Wakatere) having won all seven races to date in a fleet of only three boats.
They still need to prove to the selectors they are worthy of being in the NZL Sailing Foundation youth team that heads to China, but both have youth world championships experience. Stewart won bronze with her sister Kate in the girl's 29er at the last two youth worlds and Haslett competed in the boy's 420 with Josh Berry.
Lighter winds are forecast tomorrow, with the Laser Radial and 420 scheduled to complete three races and the Nacra, 29er and RS:X scheduled for four.
Results and standing after the second day of the Yachting New Zealand youth trials at Manly Sailing Club today:
Nacra 15
1st: Greta Stewart / Henry Haslett (Murrays Bay Sailing Club / Waketere Boating Club) (1) 1 1 1 1 1 - 6 points
2nd: Helena Sanderson / Jack Honey (Bay of Islands Yacht Club 2 3 (4 DNF) 2 3 2 2 - 14 pts
3rd: Hamish McLaren / Rebecca Morgan (Royal Akarana Yacht Club) 3 2 2 3 2 3 (4 DNF) - 15 pts
Boy's Laser Radial
1st: Josh Armit (MBSC) 1 1 1 1 (2) - 4 pts
2nd: Alastair Gifford (Queen Charlotte Yacht Club) 2 (21 DSQ) 2 2 1 - 7 pts
3rd: Albert Stanley (Worser Bay Boating Club) (6) 4 3 5 4 - 16 pts 
Girl's Laser Radial
1st: Olivia Christie (Worser Bay) 3 2 4 4 (5) - 13 pts
2nd: Annabelle Rennie-Younger (MBSC) (5) 3 5 3 3 - 14 pts
3rd: Samantha Stock (MBSC) 15 16 16 (17) 16 - 63 pts
Boy's 420
1st: Seb Menzies / Blake McGlashan (MBSC) (4) 3 1 1 1 - 6 pts
2nd: James Barnett / Sam Street (Tauranga Yacht & Power Boat Club / WBC / MBSC) 1 (2) 2 2 2 - 7 pts
2nd: Robbie McCutcheon / Jono Weston (Wakatere) 3 1 (4) 4 3 - 11 pts
Girl's 420
1st: Xanthe Copeland / Annabel Cave (WBC) 2 (4) 3 3 4 - 12 pts
2nd: Ella Gladwell / Alice Haslett (WBC) 5 5 5 (9 RET) 7 -22 pts
Boy's 29er
1st: Sebastian Lardies / Scott McKenzie (Kohimarama Yacht Club) 1 2 (4) 2 1 1 1 - 8 pts
2nd: Francesco Kayrouz / Jackson Keon (Wakatere / MBSC) (2) 1 2 1 2 2 2 - 10 pts
3rd: Josh Berry / Tom Fyfe (MBSC) 3 3 1 4 3 8 (12) - 22 pts
Girl's 29er
1st: Crystal Sun / Olivia Hobbs (KYC) 7 6 (11) 5 9 3 8 - 38 pts
2nd: Emma French / Zelda Ladefoged (MBSC) 6 8 8 6 (11) 7 6 - 41 pts
3rd: Kerensa Jennings / Safron Nixon (MBSC) 9 7 7 (12) 6 5 10 - 44 pts
Boy's RS:X 8.5
1st: Max van der Zalm (TYPBC) (2) 1 1 1 1 1 - 5 pts
2nd: Dillon Browne (Manly Sailing Club) 3 2 2 4 (5) 5 - 16 pts
3rd: Lloyd Perratt (MBSC) (4) 4 4 3 3 3 - 17 pts
Girl's RS:X 8.5
1st: Veerle ten Have (TYPBC) 1 3 3 (5) 2 4 - 13 pts