Andy Maloney went from one form of extreme racing to another in winning the Royal New Zealand Yacht Squadron's Yachting Developments New Zealand match racing championships in Auckland over the weekend.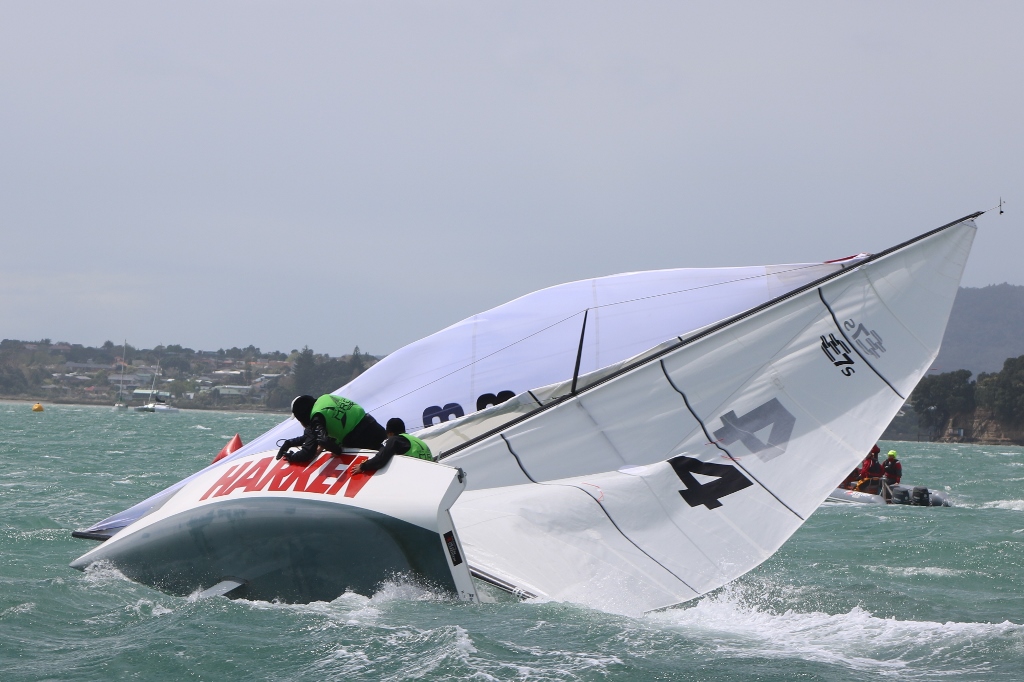 Maloney, who was a member of Emirates Team New Zealand who won this year's America's Cup, beat Graeme Sutherland 3-1 in Sunday's final which was sailed in blustery conditions as squalls in excess of 35 knots blew through. It meant mistakes were very costly and easy to make, but it also made it extremely entertaining for spectators.
Maloney was joined on the Elliott 7 by Olympic bronze medallist Sam Meech and RNZYS youth training programme graduates Shaun Mason and Harry Thurston.
"We were getting some really big 30-35 knot gusts in that final so it was all about trying to get off the start line and around the course cleanly, and not make any massive mistakes," Maloney said. "The boats were really fun - they lit up downwind - so it was good racing."
Maloney, who topped qualifying in the fleet racing, has limited match racing experience on helm and the conditions tested everyone. On cue, the rain pelted down and wind picked up even more on the eve of the final but Maloney jumped out to take the first two races.
Sutherland, looking to avenge his loss to Chris Steele in last year's final, wasn't going to give up that easily and came back to take the third race which featured a couple of bad gybes from both teams.
"It was really fresh against Andy in those races," Sutherland said. "We were really on the edge of surviving and trying to do some match racing at the same time."
Maloney held his nerve and comfortably won the fourth race to take the New Zealand match racing championships.
Earlier he had to come back from a race down to beat Dave Hazard 2-1 in the semifinals and Sutherland beat Leonard Takahashi 2-0 in his semifinal. Takahashi beat Hazard in the petit final to claim third.
Final placings
1. Andy MALONEY
2. Graeme SUTHERLAND
3. Leonard TAKAHASHI
4. David HAZARD
5. James WILSON
6. George ANYON
7. Matthew HUGHES
8. Arnau FARRAS-KNOWLES
9. Sam BARNETT
10. Frankie DAIR
11. Samantha OSBORNE
12. Nick EGNOT-JOHNSON
13. Patrick HARRIS
14. Alistair GIFFORD
15. Lachlan GRIMWADE
16. Colman O'ROIDEN
17. Nick ROZENAUERS
18. James JENNINGS
19. Jono BARNETT