Another typhoon is starting to gather momentum and so are Alex Maloney and Molly Meech at the Enoshima Olympic Week regatta in Japan.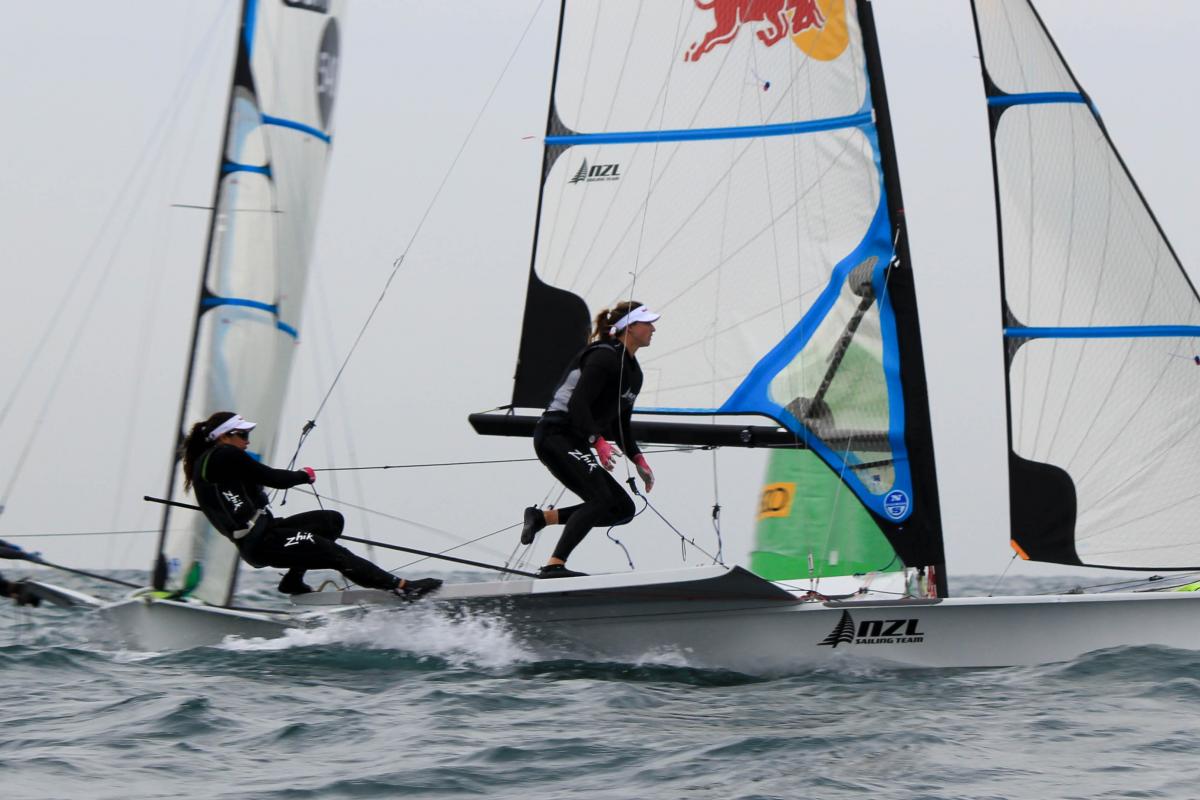 The 49erFX Rio silver medallists had a poor first day by their standards but roared back with three bullets and a second place in today's four races to jump from seventh to first, level on points with the German pair of Victoria Jurczok and Anika Lorenz.
New Zealand's Erica Dawson and Kate Stewart round out the top three after another solid day but Maloney and Meech were in ominous form today in the building breeze of 12-17 knots.
"We had a pretty average start to the regatta yesterday but it was also really good learning," Meech said. "It was quite tricky, light winds at the Olympic venue [yesterday]. It was cool to suss it out and try to get a feel for what it's going to be like but it was really nice to go out and have a solid day today."
Maloney likened it to sailing on Auckland's North Shore, with a fresh breeze and reasonably flat water today at the venue for the 2020 Tokyo Olympics.
"It was good to have a few low scores today," Maloney said. "The points are still close [with Germany] so we're going to have to go out and smash three good races tomorrow."
Paul Snow Hansen and Dan Willcox also made a big move up the leaderboard of the men's 470. They started the day in 16th but three top-five finishes, including a win in the first race of the day, propelled them up to fifth and only three points off a podium spot.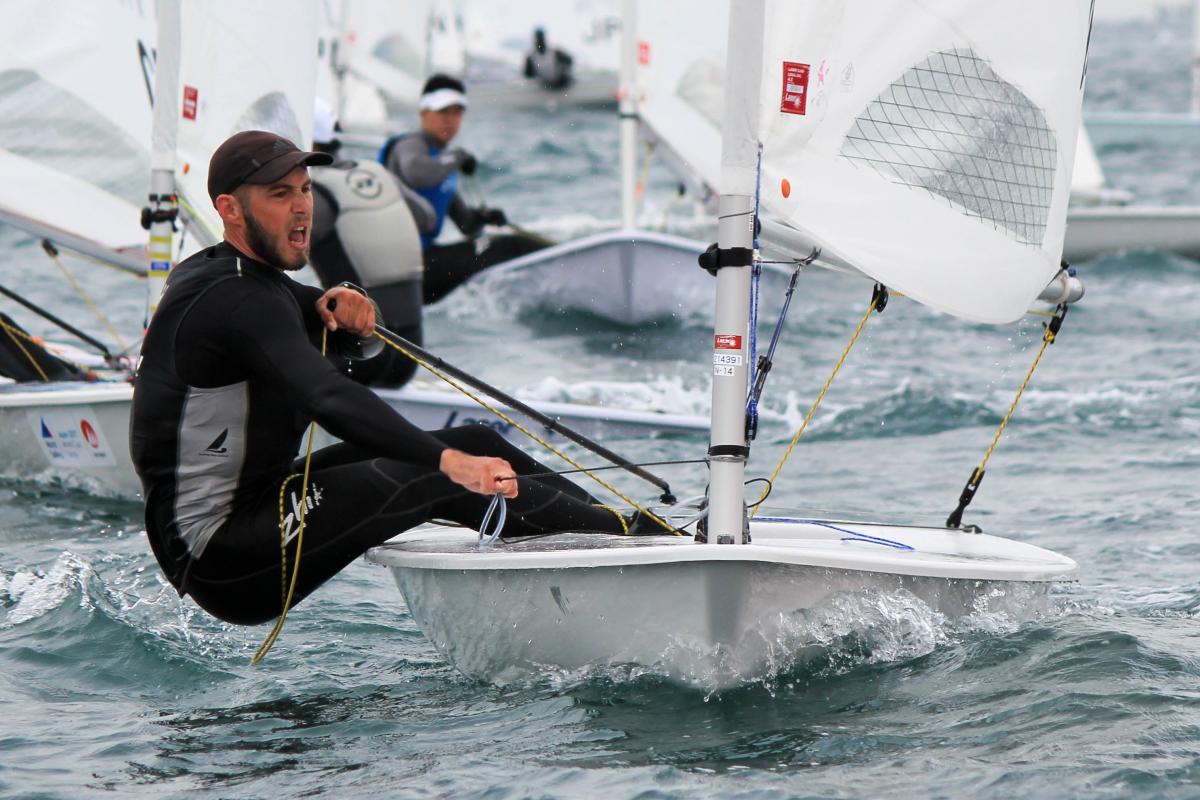 The picture also looks promising in both the 49er and Laser.
The world champion British pair of Dylan Fletcher and Stuart Bithell dominated the day with four wins in the 49er fleet but Logan Dunning Beck and Oscar Gunn banked three top-five scores and are level on points with James Peters and Fynn Sterritt of Great Britain in second. Josh Porebski and Trent Rippey are only three points further behind in fourth.
Tom Sanders scored his second win of the regatta and is third overall in the Laser fleet, only seven points off leader Lorenzo Brando Chiavarini of Great Britain. Sam Meech is fourth, although he wasn't happy with how he sailed.
"It wasn't the best day for me," the Olympic bronze medallist said. "I had two reasonable races and the last one I was going OK but I really messed up. Kind of a day to forget.
"I will need to get some better races if I want to pull up overall. Hopefully it works well tomorrow."
A lot could depend on the weather, with the 22nd typhoon to hit Japan this year due to make landfall late on Sunday. It's not expected to be as powerful as last weekend's Typhoon Lan that caused considerable damage to Enoshima but it could disrupt sailing tomorrow and is supposed to bring heavy rain.
The New Zealand sailors will feel comfortable in stronger breezes, which are forecast to be around 18-22 knots in the afternoon but strengthen considerably into the evening.
"It should be sweet-as in the morning but the afternoon might be a bit gnarly so I'm not sure what the race committee will do," Porebski said. "It might be tricky to get much racing in because it's going to pick up pretty fast. We had one last week and we saw what it can do so it's definitely something to look out for.
"If it's sailable, we're pretty happy out there in big breeze and big waves. We have had plenty of it this year. [Last week in] Gamagori was the first light regatta of the year so we are used to it."
Susannah Pyatt is 14th in the Laser Radial and her day was highlighted by a fourth in the second race of the day.
Results and standings after the second day of Enoshima Olympic Week regatta in Enoshima, Japan, today:
Laser (54 boats)
1st: Lorenzo Brando Chiavarini (GBR) 2 2 8 10 2 (32) - 24 points
2nd: Matthew Wearn (AUS) 3 4 14 1 (26) 4 - 26 pts
3rd: Tom Saunders (NZL) 7 9 1 13 (25) 1 - 31 pts
4th: Sam Meech (NZL) 10 6 11 12 8 (25) - 47 pts
14th: Andrew McKenzie (NZL) 28 7 20 3 (32) 17 - 75 pts
Laser Radial (51 boats)
1st: Erika Reineke (USA) 3 3 1 (DNF) 1 3 - 11 pts
2nd: Vasileia Karachaliou (GRE) 4 (UFD) 2 8 3 10 - 27 pts
3rd: Tatiana Drozdovskaya (BLR) (22) 9 6 4 2 8 - 29 pts
14th: Susannah Pyatt (NZL) 27 1 (32) 25 4 15 - 72 pts
49er (19 boats)
1st: Dylan Fletcher / Stuart Bithell (GBR) 2 (9) 1 1 1 1 - 6 pts
2nd: James Peters / Fynn Sterritt (GBR) (7) 6 3 6 2 2 - 19 pts
3rd: Logan Dunning Beck / Oscar Gunn (NZL) 5 2 2 5 (8) 5 - 19 pts
4th: Josh Porebski / Trent Rippey (NZL) (11) 5 7 2 4 4 - 22 pts
8th: Isaac McHardie / William McKenzie (NZL) 6 (16) 10 7 3 13 - 39 pts
49erFX (12 boats)
1st: Alex Maloney / Molly Meech (NZL) (9) 4 1 1 2 1 - 9 pts
2nd: Victoria Jurczok / Anika Lorenz (GER) (8) 1 2 3 1 2 - 9 pts
3rd: Erica Dawson / Kate Stewart (NZL) 2 5 6 4 4 3 - 18 pts
Men's 470
1st: Luke Patience / Chris Grube (GBR) (21) 1 14 3 1 1 - 20 pts
2nd: Daichi Takayama / Kimihiko Imamura (JPN) (9) 6 3 5 3 5 - 22 pts
3rd:  David Bargehr / David Bargehr (AUT) (18) 15 4 4 2 2 - 27 pts
5th: Paul Snow-Hansen / Daniel Willcox (NZL) 5 (19) 16 1 5 3 - 30 pts