Jo Aleh will enter the fulltime workforce in November but the two-time Olympic medallist has no intention of retiring from sailing.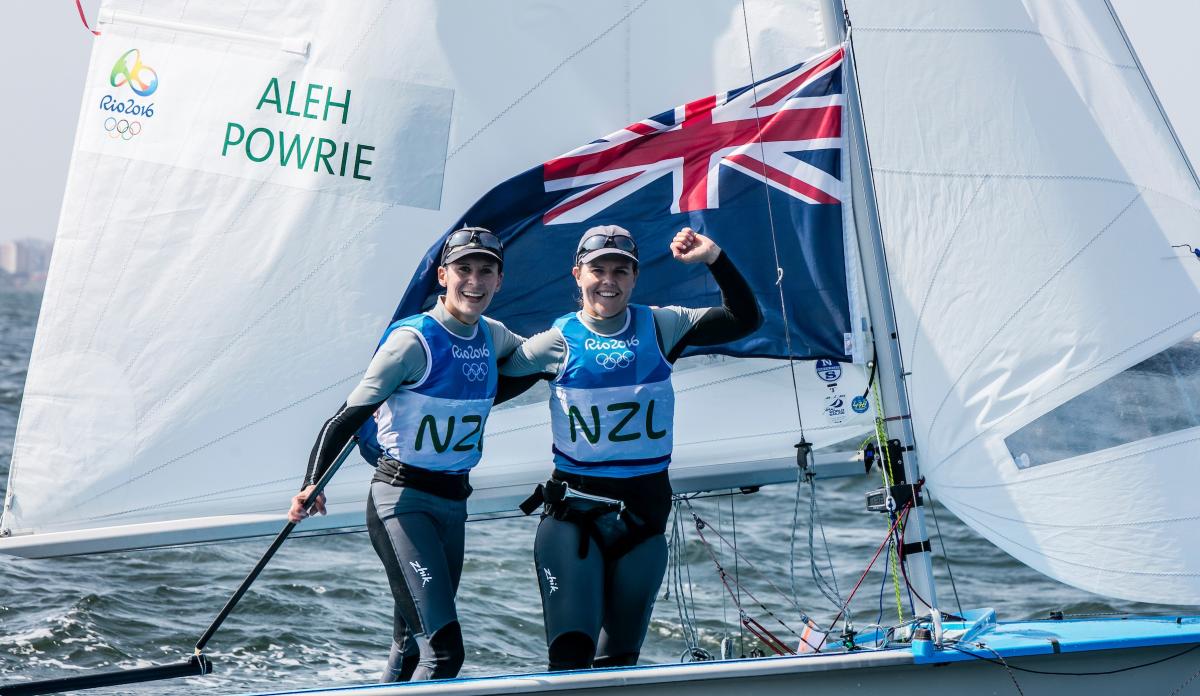 The 31-year-old, who won silver with Polly Powrie at last year's Rio Olympics, decided to take a year off from the women's 470 to explore different sailing options. Her main target was earning a ticket for the upcoming Volvo Ocean Race but she just missed out on joining Team Brunel after an extensive trial period.
Contributing to the uncertainty for Aleh was the fact Powrie retired from Olympic sailing at the start of this year. The pair had first teamed up in 2009, forging a hugely successful partnership that delivered Olympic gold in London in 2012 and the 2013 world title. They placed in the top four in every event after London, culminating in their silver at last year's Rio Olympics after a very tough regatta.
Aleh will start with the Auckland office of Ernst & Young in mid-November, working in advisory and the performance improvement subline. The opportunity came about a result of Ernst & Young's global campaign to help athletes transition into the workforce and she hopes to end up in some form of consultancy eventually. 
"My mind is made up, my contract signed, in mid-November I will be starting something completely different to anything I have ever done before," Aleh said.
"This unknown-ness is ultimately what led me to the decision to go in this direction. I always believe that I don't really know something until I try it. During this last year - all this searching for things to do, sailing different boats, being in different areas of sailing than I have been before - I have not found anything yet that completely excited me as much as my Olympic sailing did, or that really uses all the skills I have that I enjoy using.
"So rather than chasing myself back in circles doing things I already know, I am taking a leap in a new direction. When this opportunity to work at EY came up, it really couldn't have fitted more perfectly." 
With the direction of one large part of her life solved, her future in sailing remains unclear but Aleh is sure about one thing.
"I have no intention of actually retiring just yet, as I have no idea what the future holds," said Aleh, who is a member of the 2017 NZL Sailing Team. "I just know that, for now, I am going to try this direction and see where it takes me. I still plan on being involved on the side with various sailing activities - some coaching, mentoring and hopefully escaping work for an event here and there.
"For now, sailing takes a back seat and trying to build another side of myself takes priority. Now that I have made the decision, it is just so clear that what really excites me is learning, challenge, really growing myself in skills and capabilities. This step provides a whole new range of possibilities, of unknowns – starting from knowing nothing again and a whole new arena to conquer.
"After this year of uncertainty, I am really looking forward to the challenge, to being out of my depth once again, to meeting a whole new set of people, to using my mind, to pushing myself again. I am also plenty freaked out and nervous as well."
Yachting New Zealand acting high performance director Ian Neely wished Aleh well with her new job and said the opportunity to campaign for a fourth Olympics would always be there for her if she chose to return to Olympic sailing.
"Jo has dedicated the last 14 years of her life to sailing fulltime in Olympic campaigns," Neely said. "It has been an amazingly successful time for her and we fully support her as she explores the next step at this time.
"We will keep the door open for her if she wishes to come back to campaigning in this cycle but also offer her our support in whatever direction she chooses."