Josh Armit still can't quite believe he's a world champion and he's now aiming to do it again in December.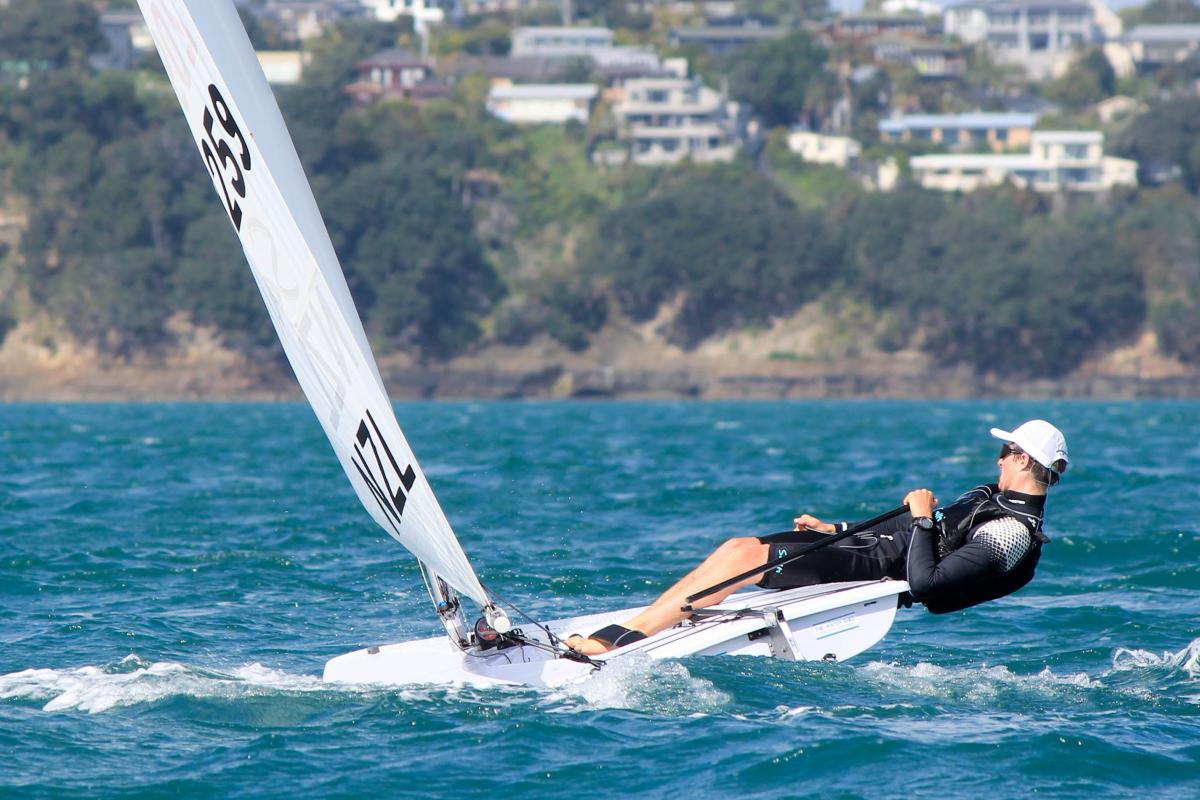 The 15-year-old Murrays Bay sailor won August's under-17 Laser Radial world title in the Netherlands, winning his class by a mammoth 41 points and just missing out on a medal in the under-19 division on countback - he was fourth overall but finished on the same points as the second and third-placed getters.
This week's he's gunning for selection for the NZL Sailing Foundation youth team heading to December's youth sailing world championships in China. That event is the world's pinnacle regatta for youth sailors and was hosted by Torbay Sailing Club last December.
Armit will go some way to convincing the selectors by winning this week's Yachting New Zealand youth trials at Manly Sailing Club and made the perfect start by winning both of his races today.
The second came after Alastair Gifford (Queen Charlotte Yacht Club) was disqualified for a port-starboard infringement.
Gifford had crossed the line first but was later ruled to have been in the wrong and disqualified. He is likely to get back into contention when the sailors can discard their worst result after five races but it puts the pressure on him to not slip up again.
It means Armit has a seven-point lead over Joshua Bull (Murrays Bay Sailing Club) in the boy's Laser Radial fleet.
"I'm pretty happy with that," he admitted. "There were some close battles out there. It was nice and shifty with a bit of breeze. Good conditions."
The 77 sailors across the five youth classes - RS:X 8.5, 420, 29er, Laser Radial and Nacra 15 - started in about 10 knots but the breeze increased to around 18 knots and proved very challenging for some. 
The girl's Laser Radial is expected to be a battle between Olivia Christie (Worser Bay Boating Club) and Annabelle Rennie-Younger (MBSC), with Christie establishing a narrow three-point lead after the first day.
The boy's 29er is likely to be one of the most hotly contested and only two points separated the top three crews after three races. Francesco Kayrouz and Jackson Keon (Wakatere / MBSC) had their noses in front of both Sebastian Lardies and Scott McKenzie (Kohimarama Yacht Club) and Josh Berry and Tom Fyfe (MBSC).
Greta Stewart and Henry Haslett (MBSC) showed their class in the Nacra 15, winning all three races to establish a handy lead over Hamish McLaren and Rebecca Morgan (Royal Akarana Yacht Club).
Stewart and Haslett are a new combination - Stewart won New Zealand's only medal (bronze) with her sister Kate in the 29er at last year's 2016 Aon youth sailing world championships - and will be gunning for China. 
It's exactly what where Armit wants to be in December.
"It's one of our key events for the year and is a stepping stone to one of my goals for the future," he said.
"They key for me this week is to go out and treat it the same as every other regatta. That means sailing as well as I can and keep it clean."
Yachting New Zealand youth co-ordinator Stu Thomas was a happy man after the first day of racing, given the amount of work that has gone into preparing for the event.
"I'm really happy," he said. "We had some really good sailing conditions out there and everything went really smoothly. I'm looking forward to seeing how the results unfold because there should be some really tight racing."
Conditions are expected to be lighter when racing gets underway at 10am tomorrow. The Radial and 420 fleet are scheduled to have three races and the Nacra, 29er and RS:X four.
Results and standing after the first day of the Yachting New Zealand youth trials at Manly Sailing Club today:
Nacra 15
1st: Greta Stewart / Henry Haslett (Murrays Bay Sailing Club) 1 1 1 - 3 points
2nd: Hamish McLaren / Rebecca Morgan (RAYC) 3 2 2 - 7 pts
3rd: Helena Sanderson / Jack Honey (BOIYC) 2 3 4 DNF - 9 pts
Boy's Laser Radial
1st: Josh Armit (Murrays Bay Sailing Club) 1 1 - 2 pts
2nd: Joshua Bull (MBSC) 4 5 - 9 pts
3rd: Albert Stanley (Worser Bay Boating Club) 6 4 - 10 pts 
Girl's Laser Radial
1st: Olivia Christie (Worser Bay Boating Club) 3 2 - 5 pts
2nd: Annabelle Rennie-Younger (MBSC) 5 3 - 8 pts
3rd: Samantha Stock (MBSC) 15 16 - 31 pts
Boy's 420
1st: James Barnett / Sam Street (TYPBC / WBC / MBSC) 1 2 - 3 pts
2nd: Robbie McCutcheon / Jono Weston (Wakatere Boating Club) 3 1 - 4 pts
3rd: Seb Menzies Blake / McGlashan (Murrays Bay Sailing Club) 4 3 - 7 pts
Girl's 420
1st: Xanthe Copeland / Annabel Cave (WBC) 2 4 - 6 pts
2nd: Ella Gladwell / Alice Haslett (WBC) 5 5 -10 pts
Boy's 29er
1st: Francesco Kayrouz / Jackson Keon (Wakatere / MBSC) 2 1 2 - 5 pts
2nd: Sebastian Lardies / Scott McKenzie (Kohimarama Yacht Club) 1 2 4 - 7 pts
3rd: Josh Berry / Tom Fyfe (MBSC) 3 3 1 - 7 pts
Girl's 29er
1st: Emma French / Zelda Ladefoged (MBSC) 6 8 8 - 22 pts
2nd: Kerensa Jennings / Safron Nixon (MBSC) 9 7 7 - 23 pts
3rd: Crystal Sun / Olivia Hobbs (KYC) 7 6 11 - 24 pts
Boys RS:X 8.5
1st: Max van der Zalm (TYPBC) 2 1 1 - 4
2nd: Dillon Browne (Manly Sailing Club) 3 2 2 - 7 pts
3rd: Lloyd Perratt (MBSC) 4 4 4 - 12 pts
Grils RS:X 8.5
1st: Veerle ten Have (TYPBC) 1 3 3 - 7 pts