The sight of 30 keelboat spinnakers hadn't been seen for a while on Wellington Harbour so it was a notable feature recently.
It was the by-product of three Wellington clubs committing to racing on their respective opening days - Evans Bay Yacht & Motor Boat Club, Lowry Bay Yacht Club and Royal Port Nicholson Yacht Club - and saw 30 spinnaker and seven non-spinnaker keelboats race in the Evans Bay season opener recently.
"For Wellington Harbour, it's been a long time since we've seen that many boats in one place," Evans Bay general manager Ryan Leatham said. "It was really cool.
"If we have a really nice day in the middle of summer, and that's an absolutely magnificent day, we would have about 10 keelboats."
What made it even more significant was the fact the weather was terrible.
"It was diabolical," Leatham said. "We had torrential rain for the first hour."
The idea of combining racing on opening day was borne out of a meeting called by Port Nicholson commodore Pedro Morgan. He asked to meet with both Lowry Bay and Evans Bay when they had a brainstorm session to come up with ideas to reinvigorate the local sailing scene.
Each club committed to sending keelboats to races over three consecutive weekends (each club's opening day) as well as three other races before the end of November. Port Nicholson also announced the six races would count towards their club championships.
"It's really encouraged the guys to get involved because everyone loves a trophy and they now had a really good temptation to chase it," Leatham said. "We will try to make it a feature for the next few years around opening days.
"The only thing we would look to do differently is spread the additional three races over the season more. Asking people to travel for six weeks in a row is tricky. It's only across the harbour but it turns it into a full day."
Evans Bay have been looking at a lot of things they can do differently, particularly around their junior programme. This was virtually non-existent five years ago and Leatham said the club was effectively dying.
"I was the youngest member, and I'm in my early-thirties, and the next youngest would have been in their fifties," Leatham said. "We were in trouble because there was no one new coming through."
A greater focus on juniors followed the appointment of Chris Hargreaves as commodore and Leatham as general manager. They bought six O'pen Bics and developed a junior pathway from Optimists to Paper Tigers and Waszps via O'pen Bics, RS Fevas, Hobie Waves and 420s.
They're also in talks to have a closer relationship with Scots College who ran a successful sailing academy out of the club but who otherwise operated in isolation.
Their efforts have borne fruit, with 23 children turning up to opening day last weekend. This has grown from about 15 a year ago, five the previous year and none for the 10 years before that.
"We are pretty stoked with how our junior programme is going," Leatham said. "The juniors are our future and we need to look after them."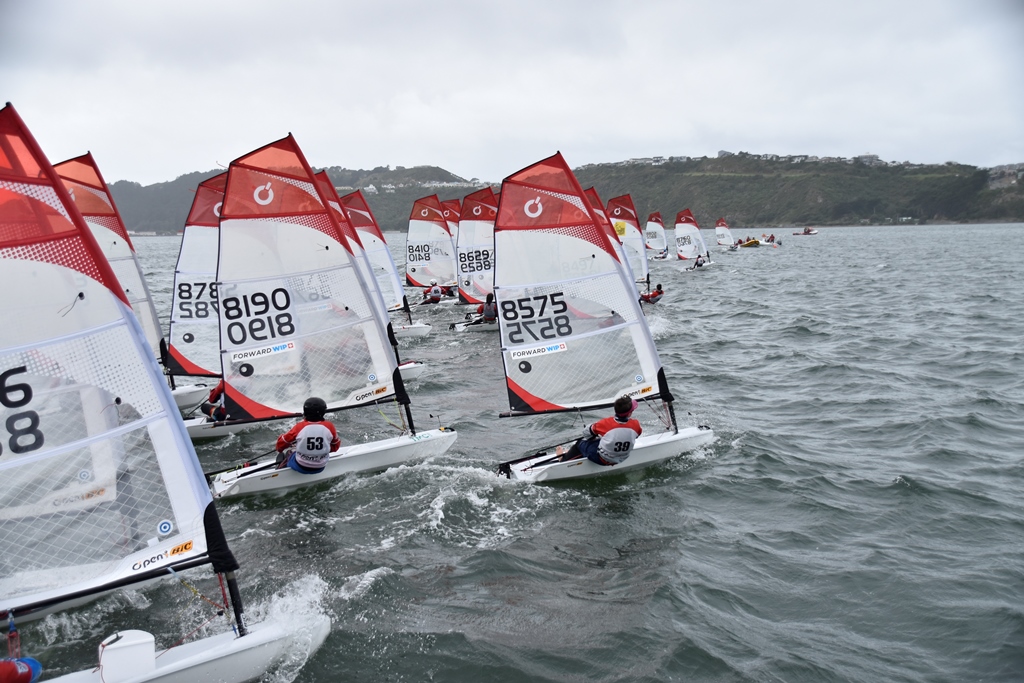 One significant feature has been the addition of the O'pen Bics and Leatham said the New Zealand O'pen Bic Association had been hugely supportive, even adding Evans Bay to their series last season attended by Sir Russell Coutts, Barry Thom and Barry McKay. 
"We ended up with 50 boats, which was the biggest regatta of their season. That gave the young kids doing learn to sail a real boost."
Evans Bay now have about 350 members, although only 100 of those are active. The rest have joined to take advantage of the trailer park or receive the 40 percent discount to use the slipway.
The club will celebrate their centenary next season and have a "hodge-podge" of boats, ranging from the junior and youth classes to keelboats and trailer yachts. Their strongest fleet is the Paper Tiger when they can have as many as 15 boats racing on a good day.
They're hopeful there will be more good days in the future.