Gemma Jones and Jason Saunders had a disappointing day at the Nacra 17 world championships in France overnight (NZ time) but a new Kiwi crew emerged as medal contenders.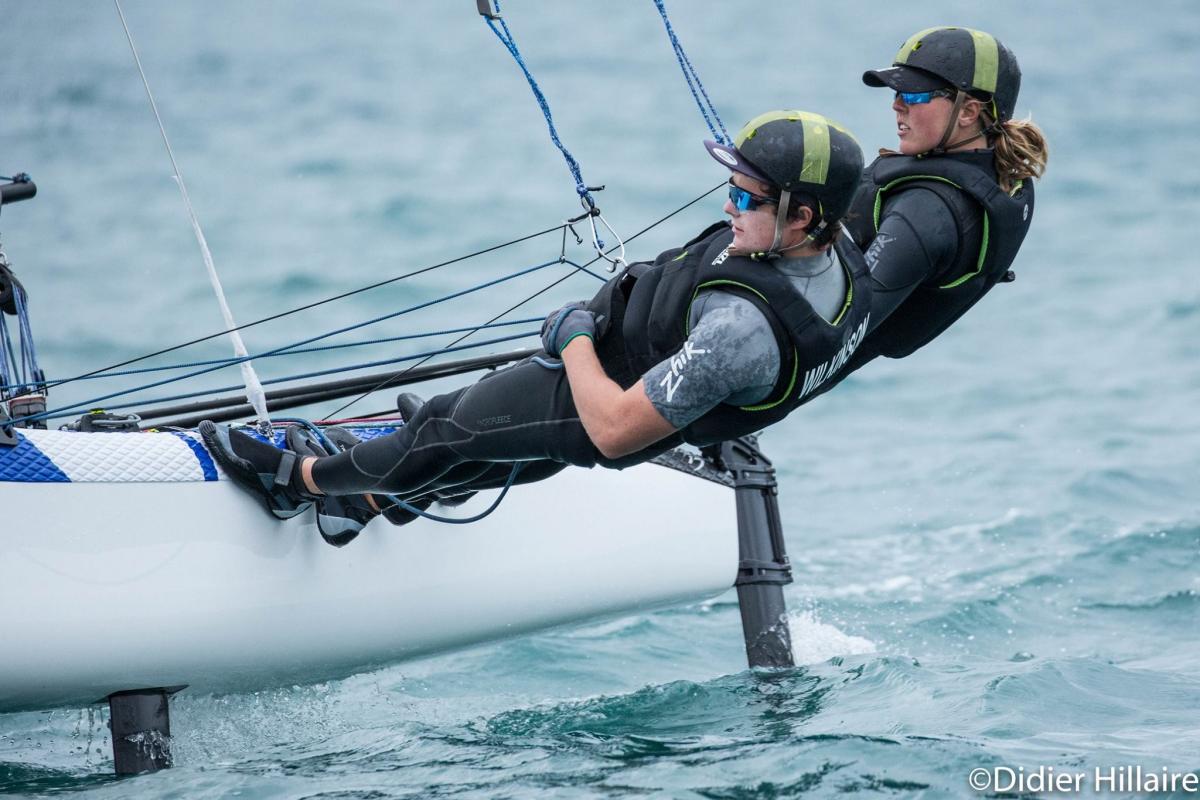 Jones and Saunders dropped from sixth to eighth overnight in the light conditions and will need to sail well on the final day of the regatta to push for a place on the podium after finishing 24th, 14th and seventh overnight. They are now 14 points off third but one thing that will encourage them is forecast winds of 15-20 knots, the strongest of the regatta so far.
In contrast, Olivia Mackay and Micah Wilkinson had a good day, climbing eight spots to sixth overall. The two 21-year-olds were sixth, third and fourth in the three races and were crucially able to discard yesterday's disqualification which meant they finished the day on less points than they started on.
They are only seven points adrift of John Gimson and Anna Burnet of Great Britain in third. Fellow Brits Ben Saxton and Katie Dabson lead the regatta but have a slim four-point lead over Spain's Fernando Echavarri and Tara Pacheco.
A feature of the day for Mackay and Wilkinson was their starting, and they won the pin end of the line on two occasions to set them up well for the rest of each race.
"It was a pretty good day for us," Wilkinson said. "With the breeze coming in tomorrow and three more races before the [double points] medal race we are basically going to go out there and send it. About 15-20 knots are forecast. We have never actually sailed in that much wind in this new boat so we will have a bit on but it's all about the learning. And it's going to be fun."
Mackay and Wilkinson have done plenty of learning over the past week. The pair didn't take possession of their new foiling Nacra until three days before the world championships so have constantly had to tweak things in the set up to try to get it right but have banked 10 top-10 finishes in the 15 races to date.
They came into the regatta conservatively targeting a top-20 finish and have shown they are fast learners as other crews try to get to grips with the new foiling Nacra that will be used at the 2020 Tokyo Olympics.
Mackay and Wilkinson have ambitions of winning gold in Tokyo and will look to put pressure on Jones and Saunders as the top Kiwi crew over the next three years.
Jones and Saunders were disappointed to slip off the pace overnight.
"It was a pretty tough day for Gemma and I, unfortunately," Saunders said. "It was quite light winds and we had a few speed issues, especially upwind, which made it tough and we obviously didn't sail our best as well which was frustrating. 
"We had a bit of a problem in the last race when our jib fell down during the race and that sort of summed up our day. We were just not getting things quite right and a few things didn't go our way but we are not making excuses. We can definitely pull our socks up tomorrow and still end with a good result so we are going to give it everything and fingers crossed for tomorrow.
"We are really happy to see the young Kiwis up there. They had an awesome day and have moved up a lot on general which is really cool. It's good for us to have someone pushing us the whole time and hopefully they can keep it up tomorrow.
"We were really happy up until now with how the week had gone but it's unfortunate that we let it slip today. We know we can sail a lot better than we did and we are hoping to go out there and rectify that tomorrow."
Mackay and Wilkinson have a simple gameplan.
"We're just going to give it some bloody jandal," Wilkinson said.
Results and standings after 15 races at the Nacra 17 world championships in La Grande Motte, France, overnight (NZ time):
1st: Ben Saxton / Katie Dabson (GBR) 6 4 2 6 5 2 (10) 1 5 4 (UFD) 12 2 2 16 - 67 points
2nd: Fernando Echavarri / Tara Pacheco (ESP) 5 2 7 13 6 4 11 7 (BFD) 5 2 3 1 (19) 5 - 71 pts
3rd: John Gimson / Anna Burnet (GBR) 3 4 2 (14) 6 7 7 13 8 11 12 (19) 3 4 1 - 81 pts
6th: Olivia Mackay / Micah Wilkinson (NZL) 7 11 (16) 2 14 10 8 2 6 (UFD) 10 5 6 3 4 - 88 pts
8th: Gemma Jones / Jason Saunders (NZL) 3 5 4 (14) 3 7 5 11 2 2 8 (24) 24 14 7 - 95 pts