Cartwheels, capsizes and cancellations were the order of the day at the 49er and 49erFX world championships in Porto but Alex Maloney and Molly Meech are still in sight of their second world title.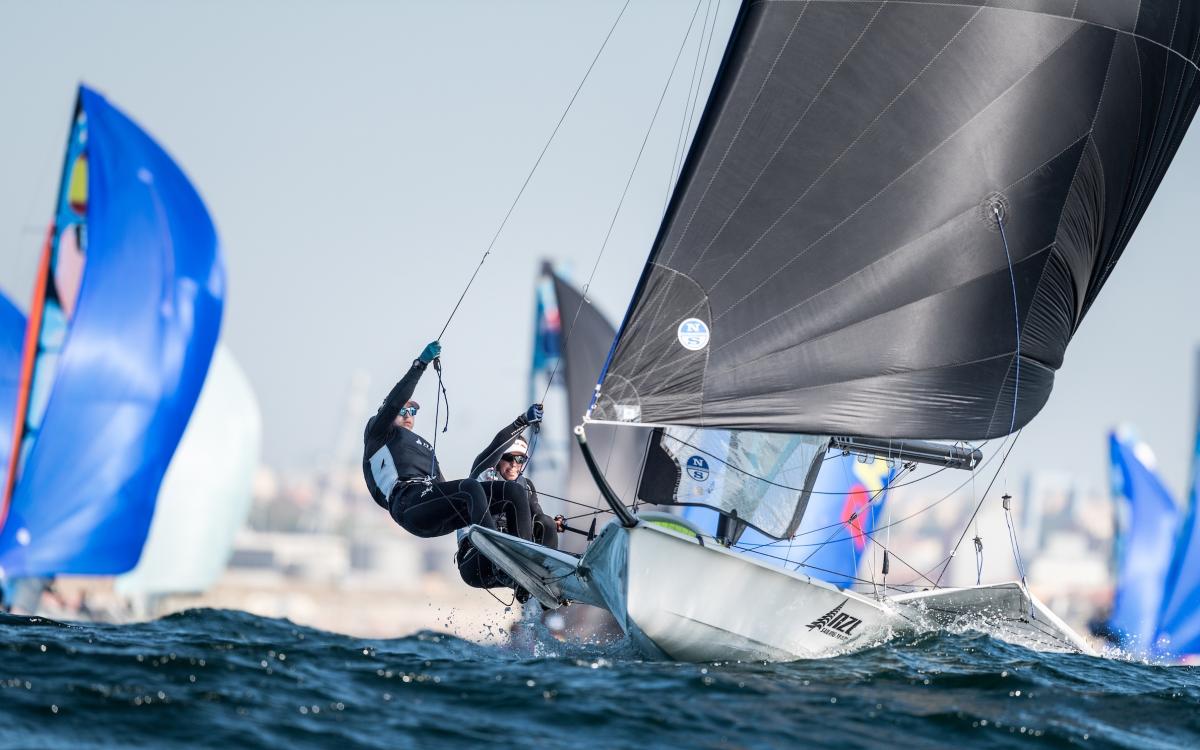 No racing was possible in the 49er fleets as winds in excess of 30 knots and huge swells hit the coast off Porto but the 49erFX gold fleet managed four races before the conditions became too dangerous.
Maloney and Meech slipped to second overall but did extremely well to limit the damage given they copped a penalty turn in one race for an infringement off the start line and then capsized on the final downwind leg of race four. They posted scores of second, fourth, seventh and 11th.
Fellow Kiwis Erica Dawson and Kate Stewart are still well placed for a top finish, sitting in 11th in their first world championships together.
It was significant Jena Hansen and Katja Iversen were the only top women's team to avoid a capsize and the Danish pair hold a five-point advantage over Maloney and Meech with two more gold fleet races scheduled for tonight (NZ time) before three medal races. Olympic champions Martine Grael and Kahena Kunze of Brazil are two points adrift of the Kiwi combination.
Maloney and Meech, who won the 2013 world title, came a cropper in the final race overnight as the Portuguese tradewinds tipped over 30 knots and finished in 11th - their worst result of the week.
"The breeze really came in for that fourth race and the waves were really big," coach Nathan Handley said. "It was just about survival for the sailors. Molly and Alex had a great race. They were fourth coming into the last downwind leg and had a cartwheel, so that was a bit painful for them. But there were a lot of crews out there doing similar stuff.
"The girls are hanging in there and are still in touch with the leaders. Tomorrow is looking a little bit lighter and from a different direction to what it will be in the afternoon so it looks like it could be quite and interesting day. It's a lot of fun watching these sailors in these conditions and I'm bound to see plenty more action tomorrow."
The 49er fleet were due to race at the conclusion of the 49erFX races but were soon sent back to port. They will attempt four gold fleet races tonight before the medal race later in the day.
Josh Porebski and Trent Rippey are 14th and need a series of good scores to get back into contention.
"We need to be aggressive and get some god scores on the board," Porebski said. "There are still plenty of points available with the top 20 in the same fleet so there's lots of racing to go.
"It's been a pretty frustrating regatta but we can't do anything about the wind."
No racing was possible on the first two-and-a-half days because of fog and light winds.
Results and standings from the 49er world championships in Porto overnight (NZ time):
49erFX (56 boats)
1st: Jena Mai Hansen / Katja Salskov-Iversen (DEN) 1 5 1 (6) 1 2 (11) 1 2 1 - 14 points 
2nd: Alex Maloney / Molly Meech (NZL) (3) 1 1 2 1 1 2 4 7 (11) - 19 pts
3rd Martine Grael / Kahena Kunze (BRA) (6) 1 4 2 4 3 1 3 3 (10) - 21 pts
11th: Erica Dawson / Kate Stewart (NZL) 4 (26) 7 5 5 5 14 13 15 (DNF) - 68 pts
49er (81 boats)
1st: Dylan Fletcher-Scott / Stuart Bithell (GBR) 1 5 (16) 1 1 1 - 9 points
2nd: Diego Botinle Chever / Iago Lopez Marra (ESP) 1 (UFD) 2 2 3 5 - 13 pts
3rd: Justus Schmidt / Max Boehme (GER) 4 3 2 2 (6) 2 - 13 pts
14th: Josh Porebski / Trent Rippey (NZL) 8 3 4 (13) 5 10 - 30 pts
24th: Isaac McHardie / William McKenzie 8 4 11 8 (14) 10 - 41 pts