Cold, changeable and challenging would sum up the NZ Windows Yachting Championship at the Anchor Aims Games in Tauranga over the last three days but it was still a "fantastic" regatta according yachting co-cordinator and Yachting New Zealand regional support officer Hamish Hey.
As many as 94 intermediate-age sailors contested the sailing at the Aims Games, an event that attracts more competitors than the Commonwealth Games. Most struggled to stay dry, with countless capsizes, and a good bailing technique proved as handy as someone's hiking ability.
"When it was really windy, I was bailing up to three times in the upwind legs," said Amelia Angus, who won the year eight girls' category and first girl overall. 
The Remuera Intermediate student was one of the standout performers over the three days, although she had one nervous moment when she discovered race officials had made an error by recording she had failed to start a race she had, in fact, won. 
Angus was the best placed girl overall, finishing fifth, with year seven girls winner Lizzie Shapland the next best female in 12th.
George Rush of Kristin School took both overall and year eight boys' honours by the narrowest of margins, beating Takapuna Normal Intermediate's Mason Mulcahy on countback. Robbie Wooldridge of Takapuna Normal Intermediate won the year seven boys' section ahead of Helensville Primary School's George Pilkington and was third overall.
"For it to come down to the wire in the last race for the overall title is a sign that it's been a big battle," Hey said. "It was also really pleasing to see how close to the top of the fleet the girls were."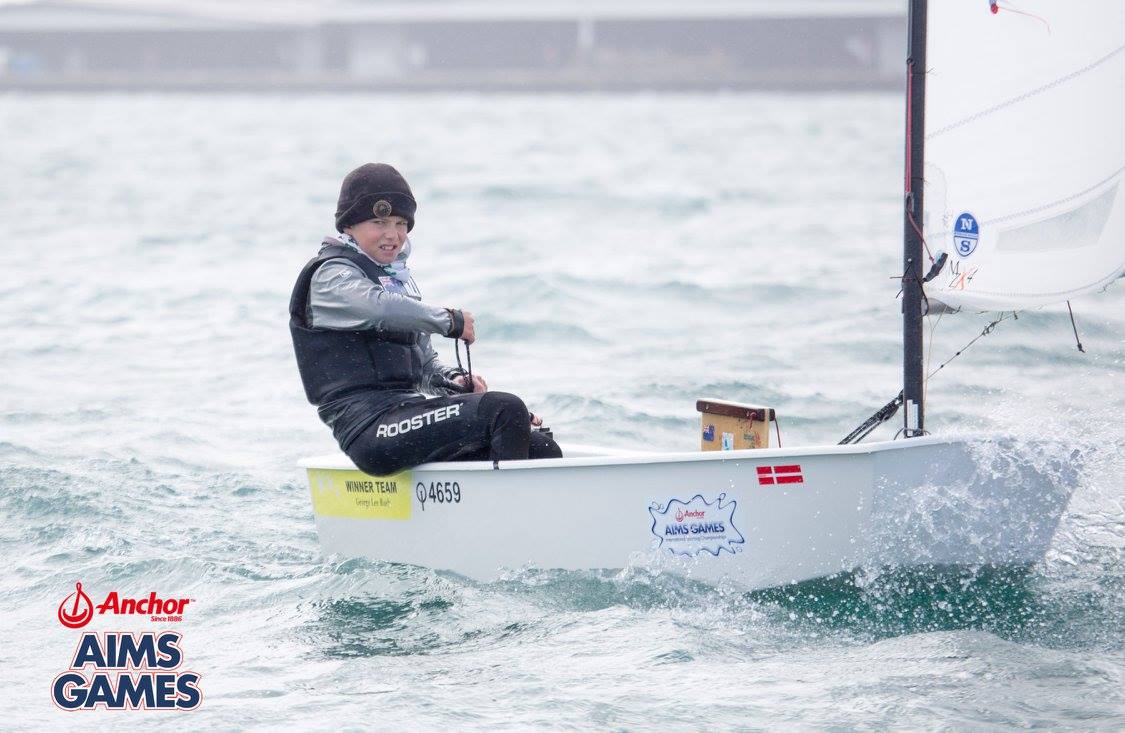 Rush and Mulcahy both finished on 12 points, which was an impressive return given the challenging conditions. They often had to contend with squalls of about 30 knots as strong westerly winds blew into Tauranga harbour but they were also becalmed at times as the wind died completely.
"When it got breezy, it was pretty tough and even when it was light, it was painful waiting for the breeze," Rush said.
Only one race was cancelled over the course of the three days as race officials decided it was too cold as another squall blew through late in the day.
"It was a fantastic event overall, as it always is," Hey said. "There was some really good sailing out there because it was really resting for the kids. At times we had floods of kids coming back on shore after they had capsized or freaked out but after the conditions improved or they got some food into their system they usually went out for the next race. It was good to see."
Hey was also impressed by the level of sportsmanship and seamanship displayed throughout the fleet, which was no better exemplified by Dylan Forsyth of Waiheke College.
Forsyth twice went to the aid of fellow competitors, sacrificing his own position in the race.
On the first day he checked on a girl who had capsized rounding a mark and was calling for help, ensuring she wasn't tangled in ropes and staying with her until he knew a support boat was on its way before rejoining the race, and on the last leg of the final race, he helped a competitor whose rig had fallen over in the strong winds. 
"The pair of them rafted the boats together and, as a result of that, they managed to get the rig back on the boat and put it back in place before both carried on. 
"The kids get it. At the initial race briefing before the regatta started I explained that rule No 1 is to help someone in trouble. As well as trying to win, they were out there to look after each other. It was fantastic to see."
Sailing is in only its third year at the Aims Games and has grown significantly in that time. It's likely more than 100 entries will be received next year, although most will be hoping for better conditions next time around.
Results from the sailing at the Aims Games:
Overall
1st: George Rush (Kristin School) - 12 points
2nd: Mason Mulcahy (Takapuna Normal Intermediate) - 12 pts
3rd: Robbie Wooldridge (Takapuna Normal Intermediate) - 24 pts
Year 7 Girls
1st: Lizzie Shapland (Auckland Diocesan School for Girls) - 62 pts
2nd: Naomi Ferrissey (Murrays Bay Intermediate) - 105 pts
3rd: Hermione Aris (Kristin School) - 150 pts
Year 8 Girls
1st: Ameilia Angus (Remuera Intermediate) - 35 pts
2nd: Lucy Leith (Murrays Bay Intermediate) - 79 pts
3rd: Stella Bilger (Baradene College) - 89 pts
Year 7 Boys
1st: Robbie Wooldridge (Takapuna Normal Intermediate) - 24 pts
2nd: George Pilkington (Helensville Primary School) - 38 pts
3rd: Lucas Day (Murrays Bay Intermediate) - 62 pts
Year 8 Boys
1st: George Rush (Kristin School) - 12 pts
2nd: Mason Mulcahy (Takapuna Normal Intermediate) - 12 pts
3rd: Harry Edwards (Queen Charlotte College) - 24 pts
School Overall
1st: Takapuna Normal Intermediate - 5 pts
2nd: Remuera Intermediate - 11 pts
3rd: Murrays Bay Intermediate - 24 pts
Medal Table (gold silver bronze)
Takapuna Normal Intermediate 2 gold 2 silver 1 bronze
Kristin School 2G 1B
Remuera Intermedia 1G 1S
Murrays Bay Intermediate 2S 2B
Helensville Primary School 1S
Queens Charlotte College 1B
Baradene College 1B
Fair Play Awards
Dylan Forsyth – Waiheke College
Charlie Morton – Remuera Intermediate
Luca Roper – Sancta Maria College
Amelia Angus – Remuera Intermediate
Sophie Eaton – St Heliers School