The real racing will begin tonight (NZ time) at the Nacra 17 world championships in France with the start of gold fleet racing and Gemma Jones and Jason Saunders are well placed to push for a podium finish.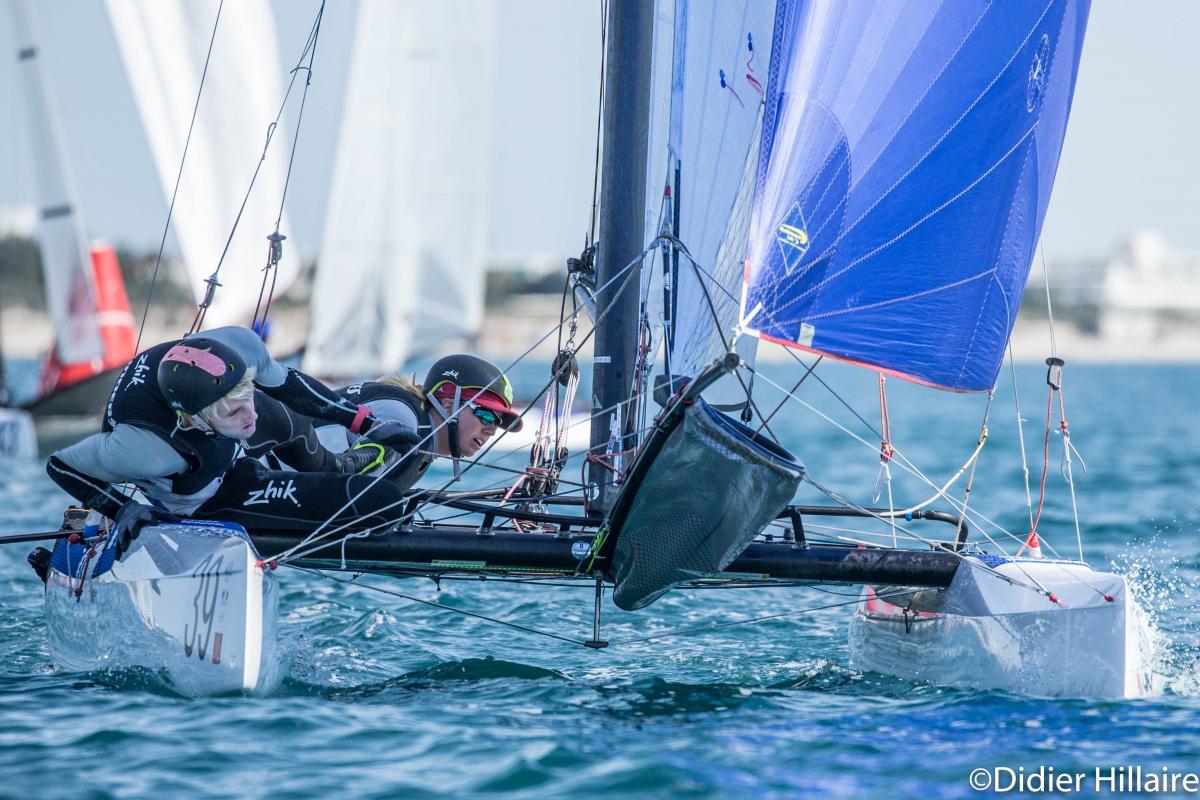 The New Zealand combination are fourth after three days of qualifying, only 11 points behind the leaders Lin Ea Cenholt Christiansen and Christian Peter Lubeck of Denmark as the top 24 crews move through to gold fleet.
Fellow Kiwis Olivia Mackay and Micah Wilkinson also comfortably qualified for gold fleet, continuing their climb up the leaderboard into 16th with three solid scores of eighth, second and sixth overnight.
Light and shifty conditions continued to challenge the sailors in La Grande Motte when big gains or losses could be made. The Danes, for instance, were 19th in the first race of the day - their discard - and bounced back with two seconds.
Interestingly, none of the Rio Olympic medallists are in the top five as all crews try to get to grips with the new foiling Nacras that will be used at the 2020 Tokyo Olympics.
"It was a bit of an up-and-down day for Gemma and I," Saunders said. "It was a pretty tough day with really light winds but we managed to get through it OK and we're pretty happy to be in a good position going into gold fleet. It's going to be a good fleet. We are doing some really well. We are starting well and I think that's going to be important in gold fleet racing especially. 
"The first objective was to be in the gold fleet and not to do anything stupid. Now the serious racing starts tomorrow. We are in the match but the intensity goes up and up from here. 
"I think we are due to have another light day tomorrow so more of the same. We just have to make sure we get off the line well and try to limit some of our mistakes. All in all, we are pretty happy. Our speed is good enough and we know we can get up there and win a few races."
Mackay and Wilkinson came close to winning their first race of the regatta overnight. The pair picked the right side of a windshift, along with Great Britain's Ben Saxton and Katie Dabson, and established a lead of about four minutes on the rest of the fleet. The Kiwi combination finished second and also banked an eighth and a sixth to climb two places to 16th overall.
It is a decent return for Mackay and Wilkinson, considering they took possession of their new foiling catamaran only three days before the world championships started and they have been tinkering with the setup continuously.
In their final race of the day they made up considerable ground downwind after picking the wrong side of a windshift going to the top mark. 
"The strategy was to go left and we went right and going around the top mark we were in about 12th or 13th," Mackay said. "But we managed to get foiling when no one else was in the light sea breeze so we managed to foil our way through the fleet on the first downwind and rounded the mark in about eighth. We kept picking away at boats and came away with a sixth, which we were really happy with."
Wilkinson added: "We've secured our place in gold fleet now and we're really looking forward to racing all the good guys over the next three days. We are only halfway [through the regatta] so it's all on for the next few days."
Results and standings at the Nacra 17 world championships in La Grande Motte, France, overnight (NZ time):
1st: Lin Ea Cenholt Christiansen / Christian Peter Lubeck (DEN) 12 1 1 3 4 4 19 2 2 - 29 points
2nd: Ben Saxton / Katie Dabson (GBR) 6 4 2 6 5 2 (10) 1 5 - 31 pts
3rd: Iker Martinez / Olga Maslivets (ESP) 1 (11) 9 4 7 1 4 1 11 - 38 pts
4th: Gemma Jones / Jason Saunders (NZL) 3 5 4 (14) 3 7 5 11 2 - 40 pts
16th: Olivia Mackay / Micah Wilkinson (NZL) 7 11 (16) 2 14 10 8 2 6 - 60 pts