Tom Saunders is aiming for a strong finish on the final day of the Laser world championships in Croatia tonight (NZ time) and hopes he can sneak onto the podium.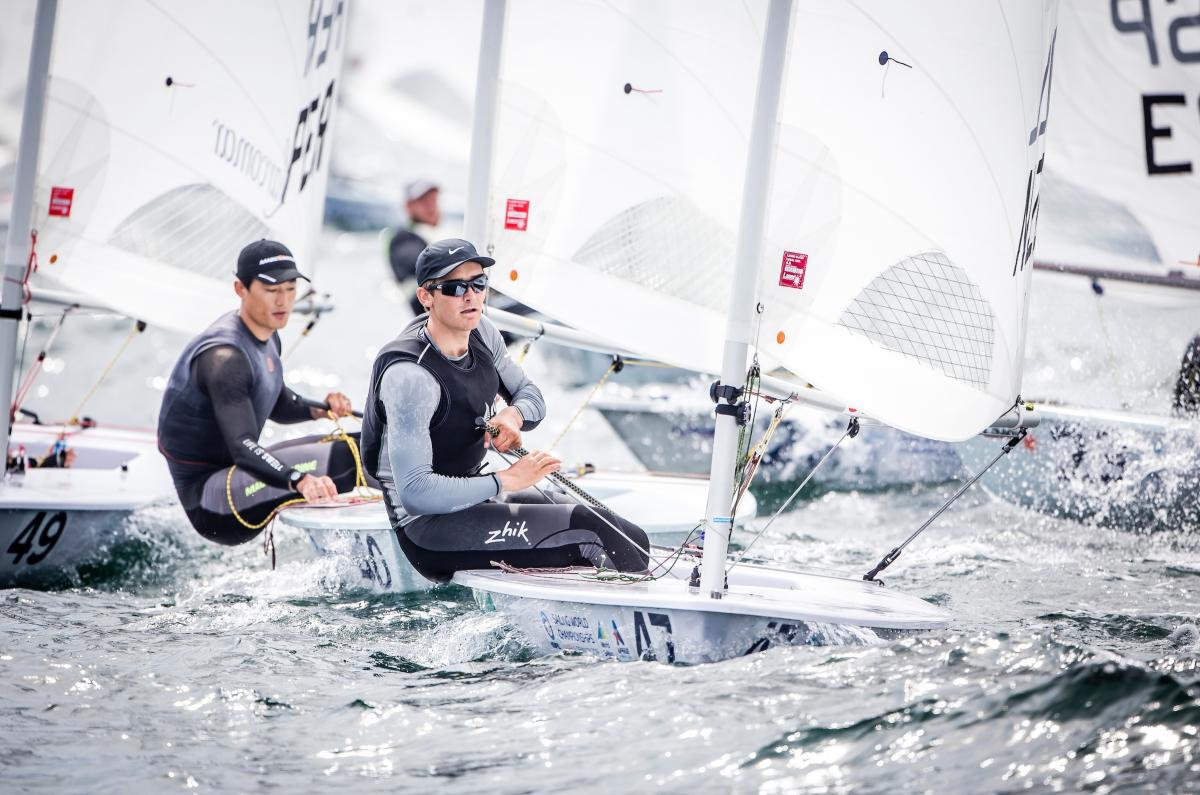 The 25-year-old is eighth with two races remaining but knows big changes can happen in Laser sailing, especially with 49 boats in gold fleet. Saunders was fifth, eighth and 19th in the three races overnight and sits on 51 points, 20 behind Australia's Matthew Wearn in third.
Sam Meech had a disappointing day, finishing 12th, 40th and 12th and is 12th overall on 71 points. The Olympic bronze medallist came through qualifying in great shape but has endured a couple of frustrating days and knows his chances of a medal are slim.
"I wasn't feeling amazing and didn't really fire in any of the races today even though I was in pretty good positions halfway up the first beat in every race," he said. "I just didn't quite go the right way and wasn't going particularly fast.
"We still have two more races tomorrow so I'm hoping to go out and get some good races and finish off [on a high] but it's not looking great, unfortunately."
The conditions didn't look all that promising earlier in the day and there was a long wait on shore for the breeze to fill in but it built to 10-14 knots and delivered some of the best conditions of the week. 
Cypriot Pavlos Kontides reclaimed the lead after three top-five results and holds a 15-point buffer over Olympic champion Tom Burton, who is one point ahead of fellow Australian Wearn. Saunders is one of a number of sailors waiting to pounce if the top three slip up.
"I had two good races and one not so good race," Saunders said. "The points are still close. I think if I have a couple of really good races tomorrow the podium is still realistic. But nothing changes. I need to keep doing what I'm doing and see what happens.
"I think I'm sailing really well. I've just missed out on a few opportunities, but so has everyone. Gold fleet racing is always so close and one mistake costs you 10 boats. We saw today the Frenchman [Jean-Baptiste Bernaz] was winning and collected 72 points today so anything can happen. That's Laser sailing."
Another front is expected to pass through Split tonight which could throw up some tricky conditions. 
Andrew McKenzie won the final race of the day in silver fleet and is second overall, only three points behind Canadian Robert Davis, with George Gautrey 11th.
Results and standings after the fifth day of the Laser world championships in Split, Croatia, overnight (NZ time):
Gold fleet
1st: Pavlos Kontides (CYP) 1 1 1 3 1 (dnf) (26) 2 1 5 - 15 points
2nd: Tom Burton (AUS) (18) 2 6 7 1 1 5 4 4 (23) - 30 pts
3rd: Matthew Wearn (AUS) (9) 3 1 1 2 2 11 (24) 5 6 - 31 pts
8th: Tom Saunders (NZL) (15) 3 7 2 4 3 (23) 5 8 19 - 51 pts
12th: Sam Meech (NZL) 1 (4) 2 2 2 2 39 12 (40) 12 - 72 pts
Silver fleet
2nd: Andrew McKenzie (NZL) 46 5 2 11 13 (DSQ) 16 1 - 94 pts
11th: George Gautrey (NZL) 18 28 27 19 16 14 (bfd) 12 - 134 pts