In a day of snakes and ladders, Gemma Jones and Jason Saunders briefly led the Nacra 17 world championships in France overnight (NZ time) before suffering a capsize and ending the day in sixth overall.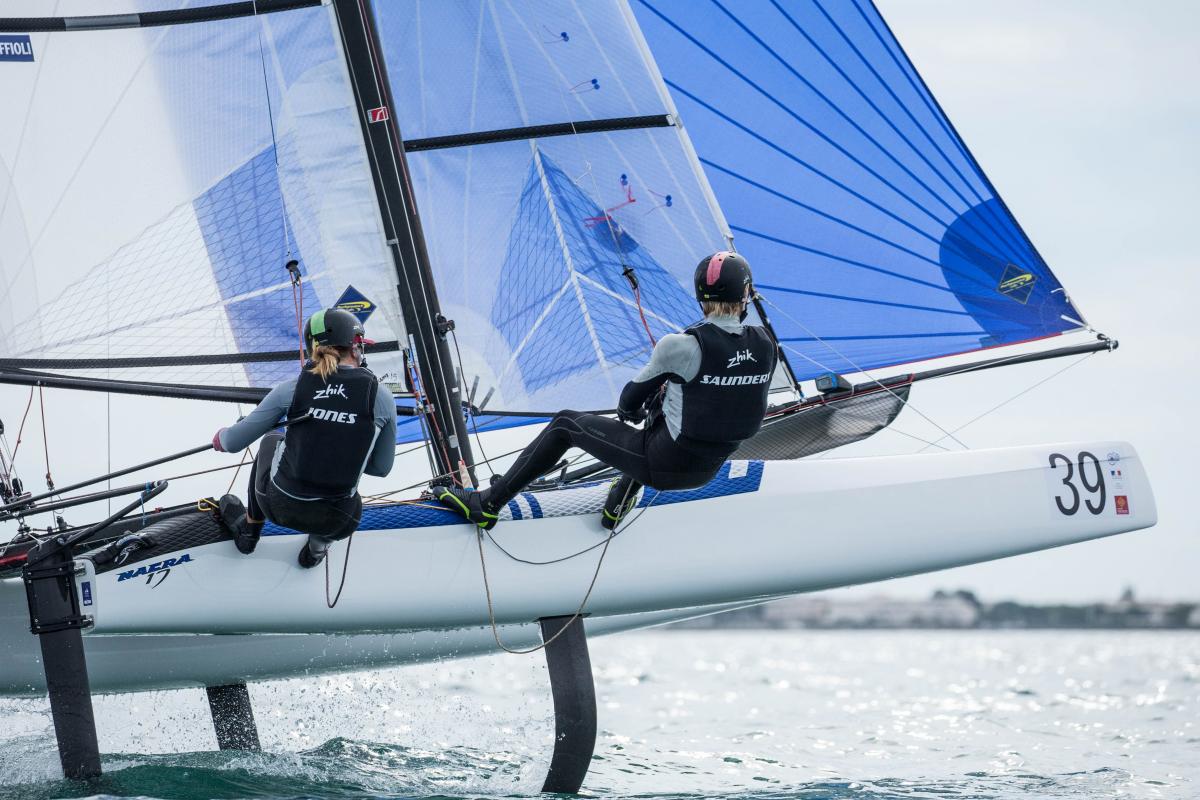 The damage wasn't too significant, with many of the top teams struggling on the fourth day of racing in the light but choppy conditions, and Jones and Saunders are only 11 points behind leaders Ruggero Tita and Caterina Banti of Italy.
The championship is wide open with six races before Monday morning's double points medal race remaining, with just 11 points between the first seven crews.
Olivia Mackay and Micah Wilkinson continued their steady progress up the leaderboard, moving up two more places to 14th overall, but they were disqualified from the first race of the day when they were over the start line prematurely. They were 10th and fifth in the other two races.
Jones and Saunders jumped to the top of the leaderboard after two races overnight on the back of a second and eighth but disaster struck in the final race.
"Our goal today was to get three top 10s. We weren't going very well in the third race and then I slipped out of the boat on a gybe and we capsized, which made us get a DFL which wasn't that fun," Jones said. "Hopefully we will be able to get more racing in and we will be able to drop it [as one of our discards].
"A lot of teams who were high up the scoreboard had shockers so we weren't the only ones. It's still really close on points so we are still in the game."
Danish duo Lin Ea Cenholt and Christian Peter Lübeck dropped from first to fourth after finishing going 16,13,13 in the three races and Britain's Ben Saxton and Katie Dabson suffered a U flag disqualification which, after a 15th in the third race, dropped them from second to fifth. 
Things looked rosier for Jones and Saunders earlier in the day. The left-hand side was heavily favoured throughout most of the day and the New Zealanders fought hard to establish a good position in the first race, coming through to finish second.
They lost their lane in the second race, having to tack away soon after the start, but fought back well to finish eighth to take the overall lead.
Conditions have so far been tricky for the sailors at La Grande Motte on the south coast of France and they could play a big factor over the remaining days. 
"The forecast doesn't look great for tomorrow but we have our fingers and toes crossed," Jones said.
Results and standings after nine races at the Nacra 17 world championships in La Grande Motte, France, overnight (NZ time):
1st: Ruggero Tita / Caterina Banti (ITA) 12 2 10 6 1 2 3 (18) 10 15 1 1 - 63 points
2nd: Fernando Echavarri / Tara Pacheco (ESP) 5 2 7 13 6 4 11 7 (BFD) 5 2 3 - 65 pts
3rd: Iker Martinez / Olga Maslivets (ESP) 1 (11) 9 4 7 1 4 1 11 14 5 9 - 66pts
6th: Gemma Jones / Jason Saunders (NZL) 3 5 4 (14) 3 7 5 11 2 2 8 24 - 74 pts
14th: Olivia Mackay / Micah Wilkinson (NZL) 7 11 (16) 2 14 10 8 2 6 UFD 10 5 - 100 pts