A dying breeze turned racing at the Laser world championships in Croatia overnight (NZ time) into a bit of a lottery and neither Sam Meech nor Tom Saunders had the winning ticket.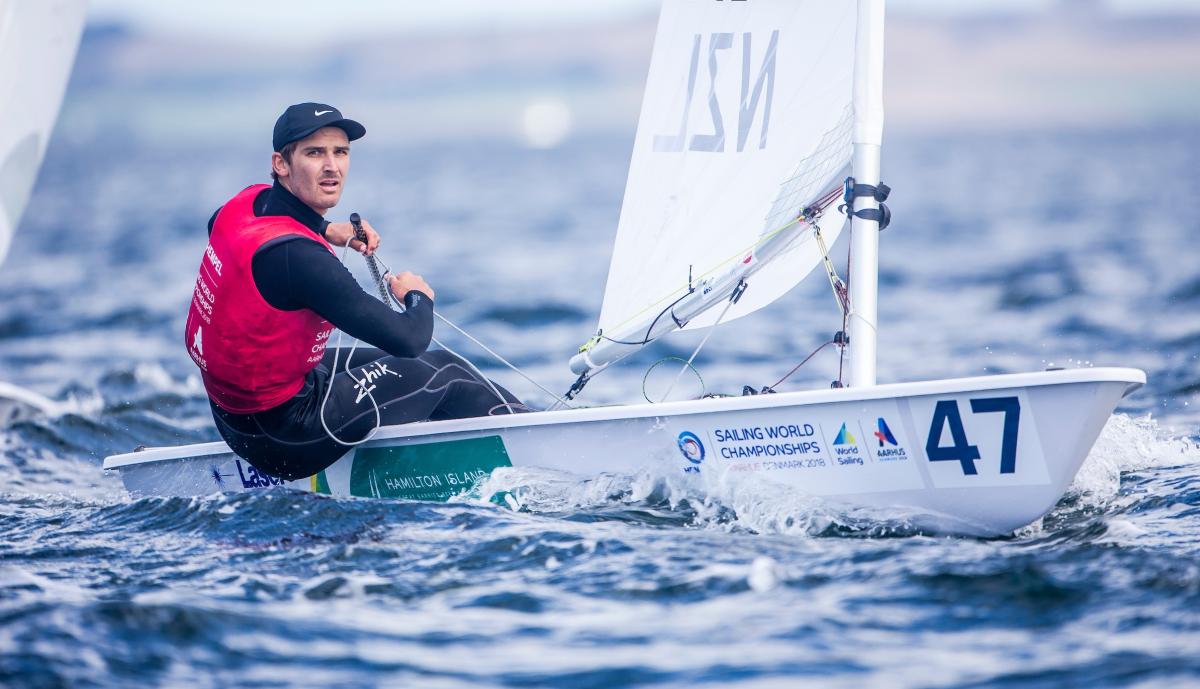 Meech finished 38th out of 49 boats in the only race possible on the first day of gold fleet racing and Saunders was 23rd, meaning the pair both slipped out of the top 10. Meech, who had been fourth at the start of the day and only two points off the lead, is now 13th and Saunders 11th.
Both will hope today's race will be their discard from the gold fleet racing, which would improve their overall points tally significantly, but it puts pressure on the pair to bank good results for the rest of the regatta and the forecast for the two remaining days is less than promising.
"Hopefully we get some wind tomorrow," Meech said. "It's not really looking good for the rest of the regatta so I'm really praying I get another chance to make up for today."
Saunders is feeling the same way.
"We had a big storm roll through this morning with hail the size of golf balls and about 30 knots," he said. "The wind slowly died out after that.
"The wind was coming from all directions, of anywhere between 0 and 15 knots. The race should probably should have been abandoned. I think you would have been better off sailing with your eyes closed. You win some, you lose some."
There were plenty of winners and losers. Cypriot Pavlos Kontides, who had won four of his six races in qualifying, was 26th and dropped six places to seventh.
The lead is now held by France's Jean-Baptiste Bernaz, who was 10th overnight, with Australians Matthew Wearn and Tom Burton rounding out the top three.
It won't have given Meech much comfort to see other contenders struggling with the conditions.
"I just didn't really have any wind when I tried to get off the line and couldn't get the boat going," he explained. "I managed to catch up quite a bit and was about 15th around the reach mark but then I had an absolute nightmare on the run and got caught up in a really big pile-up at the bottom mark.
"We had pretty much the whole fleet coming into the bottom mark at the same time and I didn't really have any rights to go around either mark, unfortunately. I didn't really catch up after that so it was a really tough race for me."
Three races are scheduled for racing on the penultimate day of the regatta, with a light sea breeze forecast before more rain is predicted to move in on the final day. 
The silver fleet race, featuring Andrew McKenzie and George Gautrey, was abandoned.
Results and standings after the fourth day of the Laser world championships in Split, Croatia, overnight (NZ time):
Gold fleet
1st: Jean-Baptiste Bernaz (FRA) 2 2 (7) 1 2 1 10 - 18 points
2nd: Matthew Wearn (AUS) (9) 3 1 1 2 2 11 - 20 pts
3rd: Tom Burton (AUS) (18) 2 6 7 1 1 5 - 22 pts
11th: Tom Saunders (NZL) (15) 3 7 2 4 3 23 - 42 pts
13th: Sam Meech (NZL) 1 (4) 2 2 2 2 38 - 47 pts
Silver fleet
51st: Andrew McKenzie (NZL) 46 5 2 11 13 (DSQ) - 77 pts
57th: George Gautrey (NZL) 18 (28) 27 19 16 15 - 95 pts