Sam Meech couldn't have had a much worse start to the sailing world championships test event in Aarhus but walked away this morning with a bronze medal.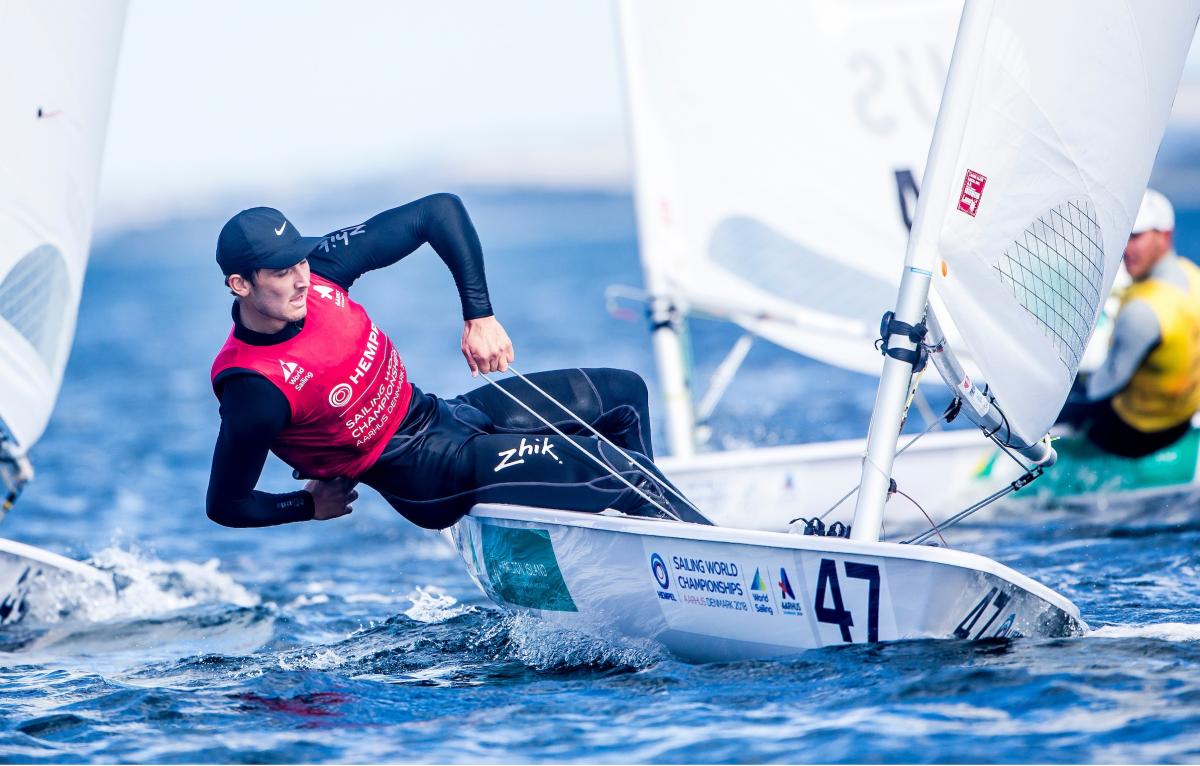 It was the same colour as the one he won at last year's Rio Olympics but probably felt like a victory considering he was in 43rd of the 62 boats in the Laser fleet after the first day. He finished fourth in the double points medal race overnight, pipping fellow Kiwi and training partner Tom Saunders for third by two points. Saunders was eighth in the top-10 medal race. 
Matthew Wearn won gold with fellow Australian and Olympic champion Tom Burton in second.
Meech's regatta started poorly, when he was 19th in the first race and followed it up with a black flag disqualification for being over the start line in the second. He was able to discard that result as his worst of the regatta but it put pressure on him to sail well for the rest of the week.
He steadily worked his way back up the fleet and two wins on the penultimate day put him into medal contention. 
"It's really nice to catch up after such a terrible start," he said. "It's nice to have been able to chip away but I really don't want to be in the position of needing to do that again if I can help it." 
Meech's bronze comes on the back of the silver picked up by Gemma Jones and Jason Saunders in the Nacra 17.
Today's result was bittersweet for Saunders, who had been in bronze medal contention at the start of the medal race. He was disappointed to miss out on a podium spot but said it felt better it went to Meech. 
Saunders had sailed consistently well all week, featuring in the top three of the standings from the outset in a quality field. He started well in the medal race, rounding the first top mark in good shape and sitting fourth heading into the final lap but picked up a penalty for body pumping and was forced to complete a penalty turn.
"It gave Sam an opportunity which he took advantage of," Saunders said. "He had a great week of sailing and well deserved a medal.
"It's probably the best regatta I've had at this level. It was a great week, especially as all the top guys were here. If you said I would have a shot at winning gold going into the medal race at the start of the week I definitely would have taken it. It just stings a bit as I was in the medals all week.
"I feel like I'm tracking well. I'm happy with where I am at and I can take great confidence leading into our world championships [in Croatia in September]."
Aarhus will host next year's combined sailing world championships, when all the Olympic classes compete.
Results and final standings from the sailing world championships test event in Aarhus overnight (NZ time):
Nacra 17 (14 boats)
1st: Lin Cenholt / Christian Lubeck (DEN) (5) 5 3 2 3 3 4 2 3 - 30 points
2nd: Gemma Jones / Jason Saunders (NZL) 2 1 3 (9) 8 4 7 2 4 2 - 33 pts
3rd: Anette Viborg/ Mathias Borreskov (DEN) 4 4 7 2 6 (15 UFD) 1 9 3 1 - 37 pts
Laser (62 boats)
1st: Matthew Wearn (AUS) 2 3 3 3 (33) 6 7 13 9 10 - 56 pts
2nd: Tom Burton (AUS) 3 2 8 1 26 4 3 12 (54) 6 - 65 pts
3rd: Sam Meech (NZL) 19 (63 BFD) 14 4 4 9 1 1 16 8 - 76 pts
4th: Tom Saunders (NZL) 6 4 20 2 10 1 14 5 (23) 16 - 78 pts
Laser Radial (27 boats)
11th: Susannah Pyatt (NZL) 12 18 (19) 7 9 9 9 2 10 - 76 pts
RS:X (46 boards)
34th: Antonio Cozzolino (NZL) 19 34 27 (39) 25 27 22 32 30 - 216 pts