Gemma Jones and Jason Saunders are doing a good job of taming the new foiling Nacra 17 cats, sitting in second after three days of the sailing world championships test event in Aarhus.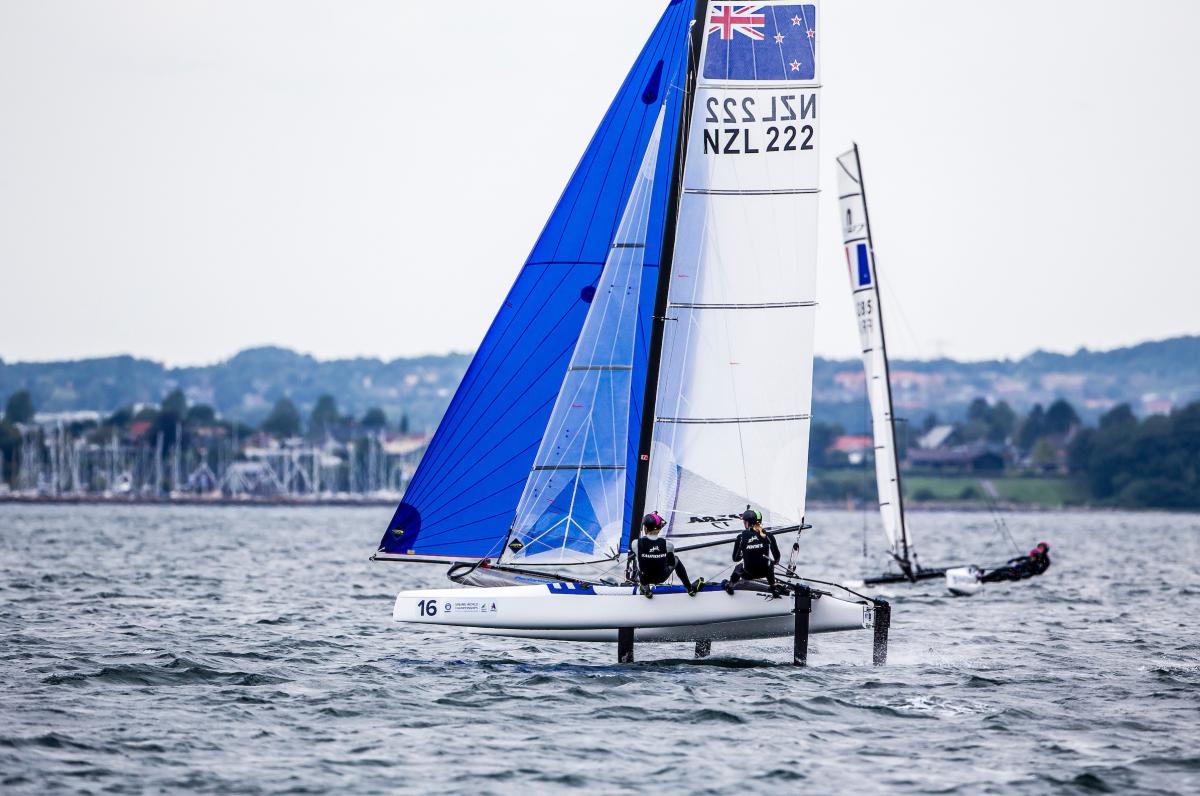 The pair, who finished fourth at last year's Olympics, are only four points behind Denmark's Lin Cenholt and Christian Lubeck after collecting a seventh, second and fourth overnight (NZ time).
Fellow Kiwi Tom Saunders remained third in the Laser, picking up a win and a 10th place in the two races overnight, and Olympic bronze medallist Sam Meech continued his climb up the leaderboard to now sit in seventh - he was 43rd after receiving a black flag disqualification on the first day.
All of the crews are trying to get to grips with the new foiling Nacras that will be used at the 2020 Tokyo Olympics - they were non-foiling in Rio - and complicating things for Jones and Saunders is the fact they teamed up again only last weekend for their first regatta together since last year's Olympics.
It is a small fleet of only 14 boats in Aarhus, largely because other Nacra sailors haven't yet taken possession of the new boats. New Zealand's other top Nacra crew, Liv Mackay and Micah Wilkinson, receive their new boat only a week out from next month's Nacra world championships.
"Jason and I are still learning about the boat and getting back after not sailing together for a year," Jones said. "This is a learning regatta. We are trying stuff and not really taking it too seriously, although we still want to do well.
"Today we learned about the setup and how the boat works in the lower-strength wind conditions so we can take a lot from today. The first race we were pretty slow but in the next we were a lot faster so we are learning every day.
"Tomorrow I'm sure it will be shifty, like Aarhus usually is, so it will be about staying in the game, not taking too many risks and trying to be consistent."
One who has achieved that in the Laser fleet is Tom Saunders, who is looking to put pressure on Meech for the Laser berth in the Tokyo Olympic cycle.
He's had only one result outside the top 10 in the 62-boat fleet and is within reach of Australians Matthew Wearns and Tom Burton, who both had their struggles overnight.
Aarhus will be the site for next year's combined world championships and it is throwing up its challenges. The Laser fleet sailed on a course close to shore overnight, with very shifty and tricky conditions, but Saunders maintained his good run of results winning the second race of the day.
"I'm really happy with the way I'm sailing and it's starting to show in the results," he said. "I just need to focus on one race at a time and hopefully I'll be in medal contention come the medal race [on Sunday].
"Today was 8-15 knots and very shifty; a game of snakes and ladders. It was important to have options off the start line and then backing yourself with what you saw. I just tried to keep a level head with the highs and lows and managed to consolidate a couple of good results. Hopefully more of the same tomorrow."
Meech had his best day on the water so far in Aarhus after a disastrous start to the regatta, picking up a fourth and a ninth overnight. 
"I managed to get a couple of reasonable results so it was nice to move up the leaderboard a little bit," Meech said. "I'm still going to need quite a bit to salvage a good result here but I'm really enjoying the racing."
Susannah Pyatt collected two top-10 results in the Laser Radial to climb to 13th overall and Antonio Cozzilino is 34th in the men's RS:X.
Results and standings from the sailing world championships test event in Aarhus overnight (NZ time):
Nacra 17 (14 boats)
1st: Lin Cenholt / Christian Lubeck (DEN) (5) 5 3 2 3 3 4 2 - 27 points
2nd: Gemma Jones / Jason Saunders (NZL) 2 1 3 (9) 8 4 7 2 4 - 31 pts
3rd: Ruggero Tita / Caterina Marianna Banti (ITA) 1 2 1 (15 DNF) 1 6 9 13 1 - 34 pts 
Laser (62 boats)
1st: Matthew Wearn (AUS) 2 3 3 3 (33) 6 - 17 pts
2nd: Tom Burton (AUS) 3 2 8 1 (26) 4 - 18 pts
3rd: Tom Saunders (NZL) 6 4 (20) 2 10 1 - 23 pts
7th: Sam Meech (NZL) 19 (63 BFD) 14 4 4 9 - 50 pts
Laser Radial (27 boats)
13th: Susannah Pyatt (NZL) 12 18 (19) 7 9 9 - 55 pts
RS:X (46 boards)
34th: Antonio Cozzolino (NZL) 19 34 27 (39) 25 27 22 32 30 - 216 pts