Paul Snow-Hansen and Dan Willcox wrapped up their 470 world championships in Greece with a fourth in the double-points medal race overnight (NZ time) to finish ninth overall.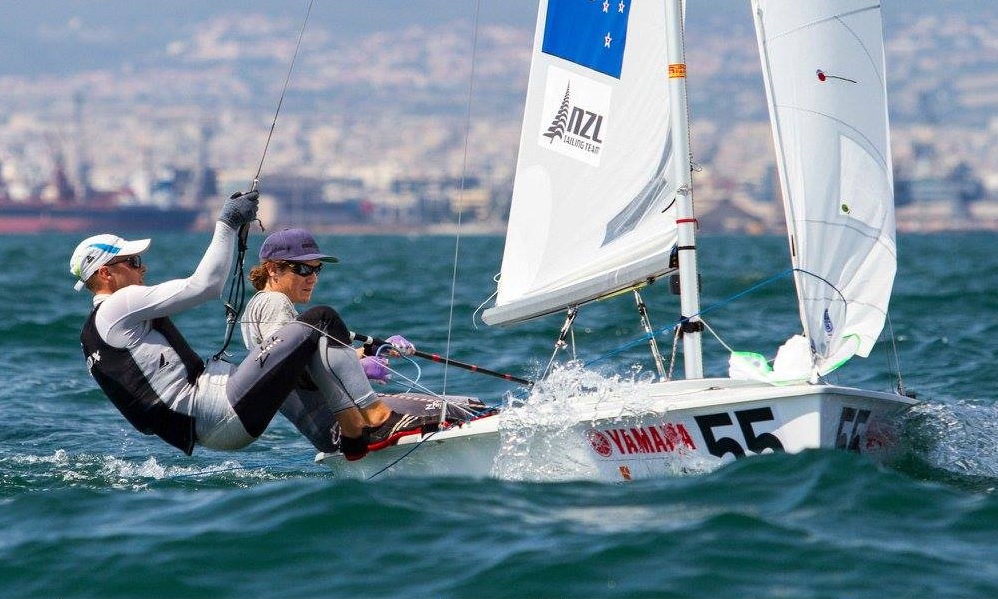 It was an encouraging result for the Kiwi pair who were competing in their first major regatta since last year's Rio Olympics. They were one of the more consistent crews in the fleet, with nine top-10 scores in the 12 races, and were fourth heading into the penultimate day.
But their overall total took a hit when they finished 27th in race 11, a result they couldn't afford after being disqualified for being over the startline earlier in the regatta when they were trapped between two boats.
"The UFD hurt us in points in the end but, other than that, there are lots of positives we can take out of this regatta," Willcox said. "Our boat speed was good.
"We will need to sharpen up on a few racing aspects to be on the podium next time."
There was drama in the top-10 men's medal race. The gold would go to whoever crossed first between Australians Mat Belcher and Will Ryan and the Swedish pair of Anton Dahlberg and Fredrik Bergstrom, who had led for virtually the entire regatta.
Dahlberg and Bergstrom thought they were over the line at the start so re-crossed only to discover after the race the individual recall was not for them. They worked their way through the fleet to finish sixth but Belcher and Ryan won the medal race and the world title.
It was Belcher's seventh world title and fourth with Ryan.
"I think it is down to our unique partnership and personalities," Belcher said. "We go to each of the events trying to be the best we can and we often find ourselves in tough positions and we try to find any opportunity we can.  I am really proud of Will as the conditions here have been tough and really physical.
"We found a small opportunity yesterday," he said in reference to their 7, 1, 4 scorecard which got them to within one point of the Swedes. "Full credit to the Swedish pair as their performance all week has been amazing."
Austria's David Bargehr and Lukas Mark claimed the bronze medal.
Agnieszka Skrzypulec and Irmina Mrózek Gliszczynska were assured gold or silver in the women's competition heading into the medal race and did enough to win Poliand's first title at a 470 world championship by finishing seventh.
The British pair of Hannah Mills and Eilidh McIntyre claimed silver and Slovenia's Tina Mrak and Veronika Macarol won bronze. 
"I am world champion, I am so happy," Gliszczynska said. "I cannot describe my feelings. I can't believe we are the best team in the world."
There were no Kiwis in the women's fleet with Jo Aleh taking a year out from the 470 and Polly Powrie having retired from Olympic sailing.
Results after the final day of the 470 world championships in Thessaloniki, Greece, overnight (NZT)
Men
1. Mathew Belcher / Will Ryan (AUS) 4 4 1 1 3 9 1 (10) 7 1 4 2 - 38 points
2. Anton Dahlberg / Fredrik Bergstrom (SWE) 1 2 1 1 2 2 3 18 4 (21) 1 12 - 47 pts
3. David Bargehr / Lukas Mähr (AUT) 3 3 4 1 3 (25) 2 4 17 4 19 18 - 78 pts
9. Paul Snow-Hansen / Daniel Willcox (NZL) 3 7 6 9 3 8 (UFD) 7 13 10 27 8 - 101 pts
Women
1. Agnieszka Skrzypulec / Irmina Mrozek Gliszczynska (POL) 3 3 3 2 2 2 3 3 (19) 3 4 14 - 42 pts
2. Hannah Mills / Eilidh McIntyre (GBR) 1 1 1 5 3 (14) 9 11 1 6 6 4 - 48 pts
3. Tina Mrak / Veronika Macarol (SLO) 3 1 1 3 14 (16) 7 5 6 1 9 16 - 66 pts
Paul Snow-Hansen and Dan Willcox were fourth in the medal race at the 470 world championships. Photo: Nikos Alevromytis / World Sailing.