The Extreme Sailing Series is labelled extreme for a number of reasons and last night, according to Kiwi helm Adam Minoprio, it was "extremely stressful".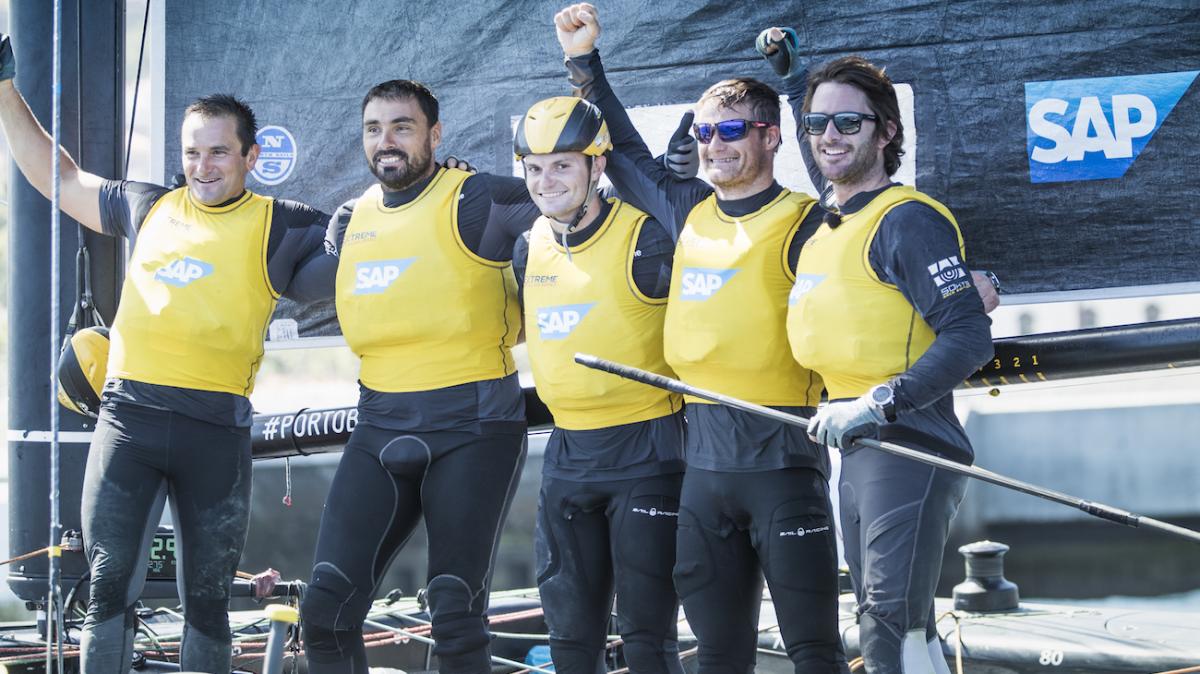 Minoprio and his SAP Extreme Sailing Team clung onto the lead they held from the opening day to win Act 3 of the series in Madeira, finishing three points ahead of Alinghi. The overall result hinged on the final double-points race but Alinghi could do no better than third, which wasn't enough to close the gap.
"It was extremely stressful out there," said Minoprio, who was one of four New Zealand helms among the seven competing teams. "The wind was shiftier than the first two days. At one point we were last at the first mark and then we managed to be first at the bottom. Then in the last race, the opposite.
"It was incredibly stressful for us sailing and I'm sure it was stressful for everyone watching, but I'm very, very pleased to come away with a win."
Alinghi fought back from a slow start to the act to take second from Oman Air, helmed by another Kiwi in Phil Robertson. 
Starting the day in third, Alinghi posted a string of good results, including two wins and two seconds, but was not able to put enough boats between itself and the leader to make a difference in the final race.
While that means two act wins for SAP Extreme Sailing Team this season to Alinghi's single act victory, the Swiss team remain ahead on points on the overall leaderboard.
Things had looked promising for Oman Air coming into the finale, however Robertson and his crew struggled in the six races, managing only three podiums.
"The three of us - SAP Extreme Sailing Team, Alinghi - and our team were very, very tight, and were exchanging blows left, right and centre, and sometimes it wasn't paying off," said Pete Greenhalgh, mainsail trimmer for the Omani squad. "You're trying to slow someone down a little bit and hurt them and end up really hurting yourself, so we didn't quite get it right on a few occasions.
"We definitely wanted to win the event and finishing third is a disappointment, but the reality is that we weren't good enough to win. The fact that we were nicely in the mix we are happy with. I feel like our game has moved on but we've still got a bit to go."
Red Bull Sailing Team had a strong comeback from yesterday's dramatic capsize, winning two races, including the final double-pointer.
The Austrian-flagged syndicate moved up to take fourth from NZ Extreme Sailing Team, who struggled to match their form of the first half of the regatta and finished fifth.
"We're having a close battle right now with Red Bull Sailing Team," said NZ Extreme Sailing Team co-skipper Graeme Sutherland. "They're the next ones in our sights but I think the top three are sailing very consistently. They're hard guys to beat regularly but we do know we can do it and I think our time will come."
Aon Fast Track member Liv Mackay helmed the wildcard entry, Team Extreme. They often struggled for pace, which is a common scenario for the wildcard entry, but showed their potential with a second and third in two of the races.  
Olympian Jason Saunders and his teammate Thomas Zajac, who finished one place ahead of Saunders in third in the Nacra at last year's Rio Olympics, easily won the Flying Phantom Series, which is a new feature on the Extreme Sailing Series.
The pair finished 36 points ahead of their nearest rival in the two-handed foiling catamarans after 18 races.  
Act 4 of the 2017 Extreme Sailing Series will take place in Barcelona on July 20-23.
Standings after the final day of racing at the Extreme Sailing Series in Madeira overnight (NZT):
Position / Team / Points 
1st SAP Extreme Sailing Team (DEN) Rasmus Køstner, Adam Minoprio, Mads Emil Stephensen, Pierluigi de Felice, Nicolas Heintz 228 points. 
2nd Alinghi (SUI) Arnaud Psarofaghis, Nicolas Charbonnier, Timothé Lapauw, Nils Frei, Yves Detrey 225 points. 
3rd Oman Air (OMA) Phil Robertson, Pete Greenhalgh, James Wierzbowski, Ed Smyth, Nasser Al Mashari 220 points. 
4th Red Bull Sailing Team (AUT) Roman Hagara, Stewart Dodson, Shane Diviney, Sam Meech, Will Tiller 199 points.
5th NZ Extreme Sailing Team (NZL) Chris Steele, Graeme Sutherland, Harry Hull, Sam Meech, Josh Salthouse 195 points. 
6th Land Rover BAR Academy (GBR) Rob Bunce, Owen Bowerman, Oli Greber, Will Alloway, Matt Brushwood 169 points.
7th Team Extreme (POR) Mariana Lobato, Olivia Mackay, Owen Siese, Peter Dill, Micah Wilkinson, Francesca Clapcich 150 points.
Extreme Sailing Series™ 2017 overall standings
Position / Team / Points 
1st Alinghi (SUI) 34 points. 
2nd SAP Extreme Sailing Team (DEN) 33 points. 
3rd Oman Air (OMA) 30 points. 
4th Red Bull Sailing Team (AUT) 26 points. 
5th Land Rover BAR Academy (GBR) 25 points. 
6th NZ Extreme Sailing Team (NZL) 23 points.
Flying Phantom Series Madeira Islands standings after 18 races
Position/Team/Points
1st Red Bull Sailing Team (AUT) 365 points
2nd Culture Foil (FRA) 329 points
3rd ZEPHIR by Idrewa (FRA) 316 points
4th Cup Legend (FRA) 312 points
5th Lupe Tortilla (USA) 296 points
6th Oman Sail (OMA) 276 points
7th Solidaires en Peloton (FRA) 267 points
8th EVO Visian ICL (GER) 241 points
9th UON (POR) 234 points
10th Back to Basics (FRA) 227 points
11th Masterlan (CZE) 225 points
12th Red Bill II (FRA) 182 points