Tonight's racing will be critical for Paul Snow-Hansen and Dan Willcox if they are to work their way into medal contention at the 470 world championships in Greece.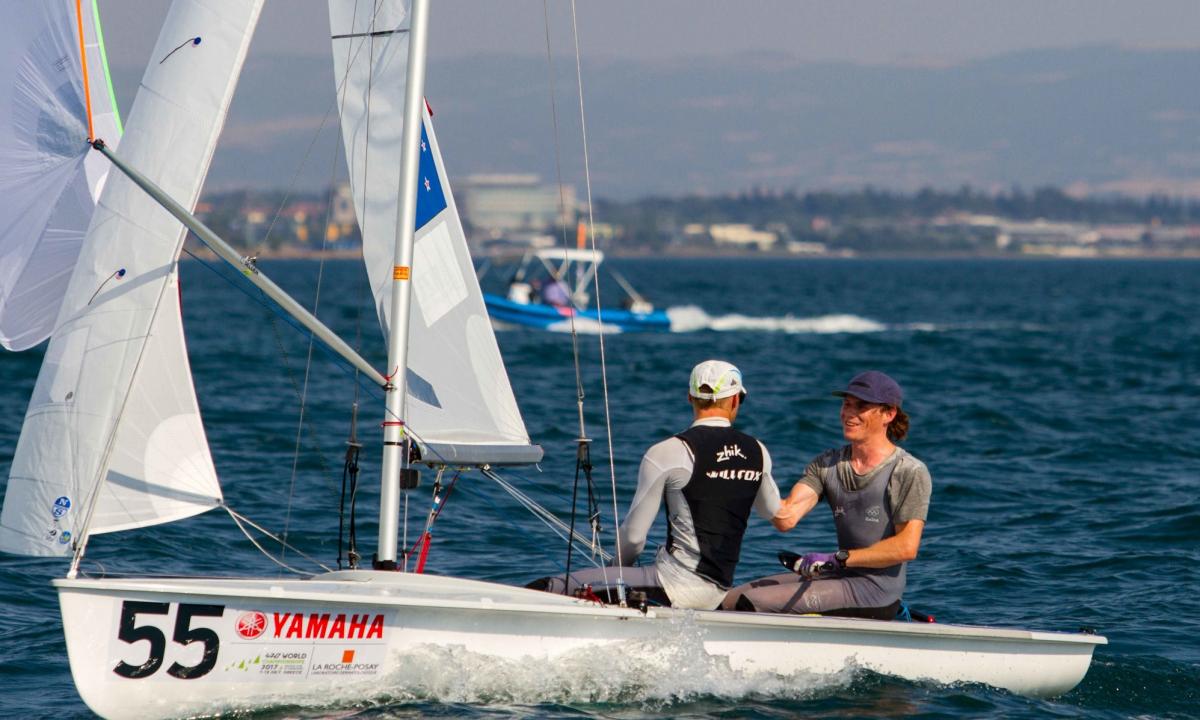 The Kiwi pair climbed two places to fourth overnight (NZ time) on the back of a seventh-placed finish in the only race possible due to light winds. It maintained their consistent run at the regatta which has seen them finish inside the top 10 in all eight races except for yesterday's disqualification for being over the startline.
Three races are scheduled tonight and Snow-Hansen and Willcox, who were second at last year's world championships, will need another three low scores to be in contention for a podium finish heading into Saturday night's double-points top-10 medal race. 
They are presently 19 points behind the third-placed Australian crew of Mathew Belcher and Will Ryan. It's a lot of ground to make up but Snow-Hansen and Willcox will know a couple of bad races from any of the top three teams will change the complexion of the leaderboard.
They need look little further than Sweden's Anton Dahlberg and Fredrik Bergstrom, who carded an 18th today as they struggled in the light winds - they had previously not finished outside the top three in the first seven races. The Swedes still lead the regatta by eight points over Austria's David Bargehr and Lukas Mähr but can't afford many more big scores.
"It was a long day in the sun waiting for wind," Willcox said. "We got only one race completed today due to the light and tricky conditions. It was the most patchy day we've had with the breeze but we raced well and scored ourselves another keeper.
"We are now in fourth overall and in a good position to move forward again tomorrow with three races on the schedule. Our goal is to move into the medal race with a chance of finishing on the podium. Points are tight and tomorrow will be a great battle, which we are excited about."
Racing was postponed until late afternoon as the sailors waited for the breeze to fill in, meaning the gold fleet had time for only one race. It's expected to be hot again but the breeze is forecast to build in the afternoon off Thessaloniki.
Agnieszka Skrzypulec and Irmina Mrózek extended their lead in the women's competition as they continued their run of top-three finishes, meaning they still have a discard race in hand should they post a big score in any of the three races tonight.
They extended their lead to 13 points over the British pair of Hannah Mills and Eilidh McIntyre but enjoyed some good fortune overnight when they were over the starting line in the first attempt to start race 8 but, as the race was abandoned, the penalty was cleared and they went on to finish third.
Results after the fourth day of the 470 world championships in Thessaloniki, Greece, overnight (NZT)
Men
1. Anton Dahlberg / Fredrik Bergstrom (SWE) 1 2 1 1 2 2 3 (18) - 12 points
2. David Bargehr / Lukas Mähr (AUT) 3 3 4 1 3 (25) 2 4 - 20 pts
3. Mathew Belcher / Will Ryan (AUS) 4 4 1 1 3 9 1 (10) - 24 pts
6. Paul Snow-Hansen / Daniel Willcox (NZL) 3 7 6 9 3 8 (UFD) 7 - 43 pts
Women
1. Agnieszka Skrzypulec / Irmina Mrozek Gliszczynska (POL) 3 3 3 2 2 2 (3) 3 - 18 pts
2. Hannah Mills / Eilidh McIntyre (GBR) 1 1 1 5 3 (14) 9 11 - 31 pts
3. Tina Mrak / Veronika Macarol (SLO) 3 1 1 3 14 (16) 7 5 - 34 pts