Paul Snow-Hansen and Dan Willcox will look to win tonight's medal race to finish the 470 world championships in Greece on a good note after they dropped out of medal contention overnight (NZ time).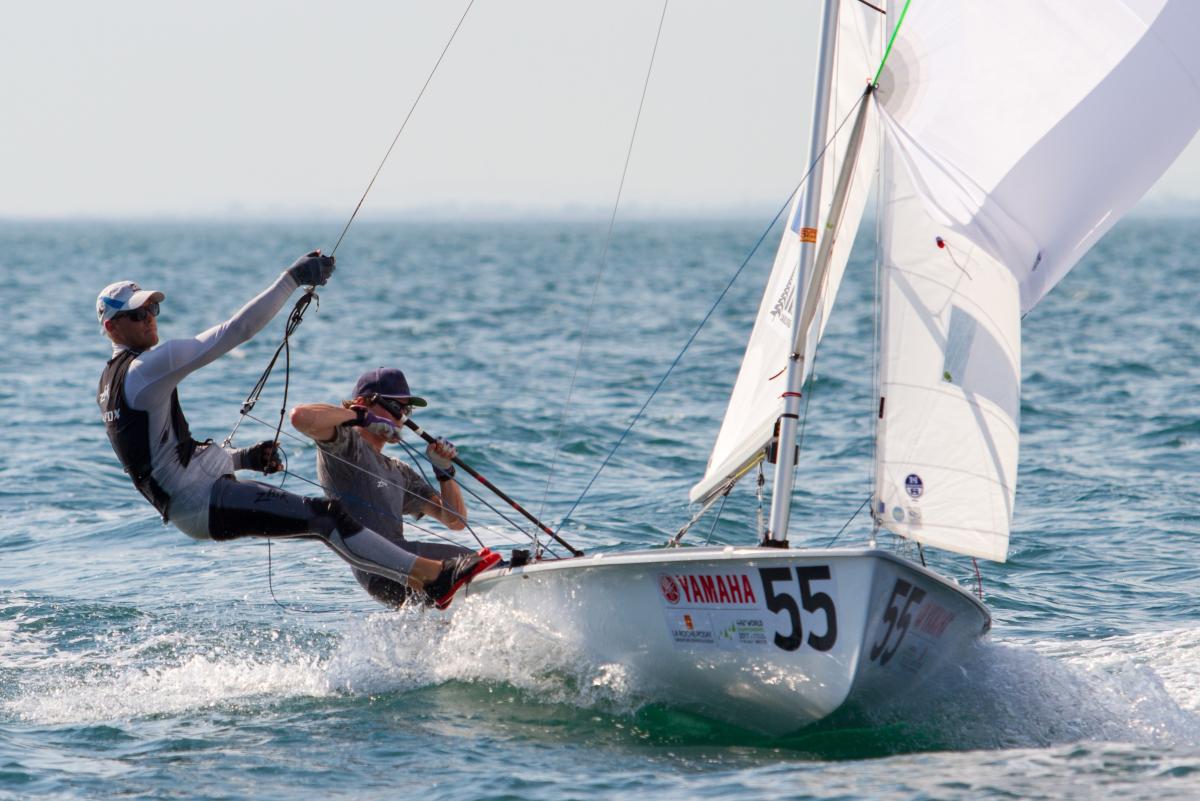 The Kiwi pair went into the penultimate day in fourth but a 27th on the third and final race overnight saw them drop to ninth and out of medal contention.
It was an unfortunate result for last year's world championship silver medallists who had otherwise sailed a consistent regatta with eight top-10 scores. But they were left rueing a disqualification from one race when they were trapped between two boats and caught over the startline, meaning every other score counted because they had used up their discard.
They were 10th and 13th in the days other races.
"In the first two races we executed pretty well and scored two keepers but got our tactics wrong in the third race and couldn't find a way to catch up," Willcox said. "Unfortunately, we didn't end the way we wanted to today and we have dropped back to ninth.
"Our main goal tomorrow is to go out and win the medal race and end up on a good note and see how much we can bump up the leaderboard, so all go tomorrow."
It was a day of big gains and losses throughout the rest of the competition as teams scrapped at the top of the leaderboard and others battled to make the medal race. The winds off Thessaloniki blew between 8-14 knots but the overcast conditions meant it was quite shifty.
The lead changed hands for the first time in the men's fleet when the Swedish pair of Anton Dahlberg and Fredrik Bergstrom were 21st in the second race but they bounced back to win the last race of the day to hold a one-point advantage over Australians Mat Belcher and Will Ryan.
it means whichever team finishes in front tonight will win the world title. Austria's David Bargehr and Lukas Mähr are in a strong position to claim bronze.
Poland's Agnieszka Skrzypulec and Irmina Mrózek Gliszczynska have guaranteed themselves either gold or silver in the women's fleet with a 16-point advantage over Great Britain's Hannah Mills and Eilidh McIntyre. They could afford one slip-up overnight having finished in the top three of every race in the first four days so no damage was done when they finished 19th in one race overnight. 
There are no Kiwi crews in the women's fleet with Jo Aleh taking a year out from the 470 and Polly Powrie having retired from Olympic sailing.
Results after the fifth day of the 470 world championships in Thessaloniki, Greece, overnight (NZT)
Men
1. Anton Dahlberg / Fredrik Bergstrom (SWE) 1 2 1 1 2 2 3 18 4 (21) 1 - 35 points
2. Mathew Belcher / Will Ryan (AUS) 4 4 1 1 3 9 1 (10) 7 1 4 - 36 pts
3. David Bargehr / Lukas Mähr (AUT) 3 3 4 1 3 (25) 2 4 17 4 19 - 60 pts
9. Paul Snow-Hansen / Daniel Willcox (NZL) 3 7 6 9 3 8 (UFD) 7 13 10 27 - 93 pts
Women
1. Agnieszka Skrzypulec / Irmina Mrozek Gliszczynska (POL) 3 3 3 2 2 2 3 3 (19) 3 4 - 28 pts
2. Hannah Mills / Eilidh McIntyre (GBR) 1 1 1 5 3 (14) 9 11 1 6 6 - 44 pts
3. Tina Mrak / Veronika Macarol (SLO) 3 1 1 3 14 (16) 7 5 6 1 9 - 50 pts