New Zealand has a new world champion with Phil Robertson and his China One Ningbo team taking out the inaugural M32 world championships in Sweden overnight (NZ time).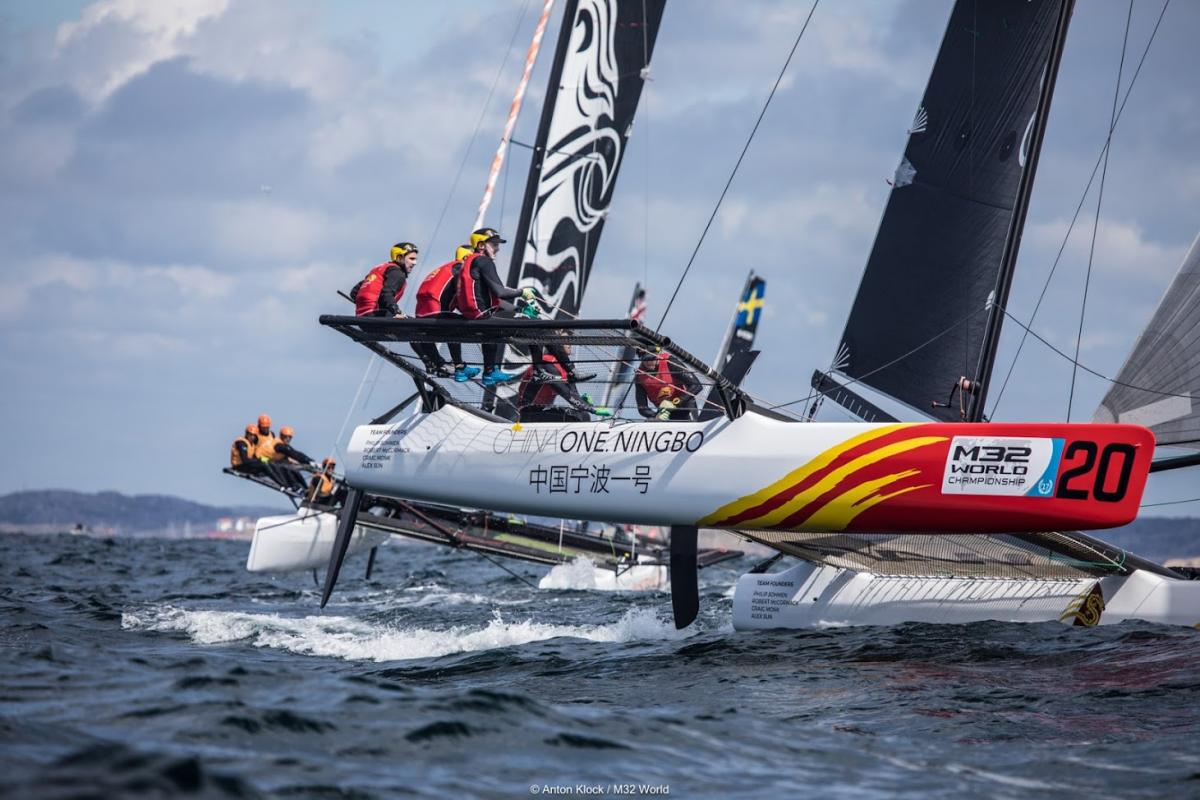 Racing wasn't possible on the fourth and final day as rain squalls and winds gusts of up to 40 knots lashed Marstrand, ensuring Robertson won the first ever world championship for the lightweight 32-foot catamaran class. He finished with a nine-point lead over Jonas Warrer, with New Zealand's Chris Steele and his CFA Sport Racing team in third another three points back. 
Robertson battled illness earlier in the regatta, with his mother even telling him not to go sailing at one point, but his team's consistency shone through over the 13 races. 
"It's part of sailing," he said of the cancellation of the final day's racing. "You're dictated to by nature, and I think that's the beauty of the sport. You've got to take whatever comes and, unfortunately, it's ended like this. It would have been nice to go out there and seal the deal on the race course, but I guess Mother Nature did it for us."
The driving rain was in stark contrast to the previous three days which produced ideal conditions in Marstrand.
"The racing here has been incredible," Robertson said. "A fleet of 15 M32s racing on one course is spectacular and it's also very challenging. Reaching starts are very tough to get into the right position with that many boats. It's very easy to be swallowed up by the pack. You're fighting for every inch you can grab and every boat you can pass."
Robertson is currently the second-ranked match racing sailor in the world behind Australia's Sam Gilmour and has enjoyed some good results of late. 
He leads the standings on the World Match Racing Tour, having extended his lead after last weekend's latest round also in Marstrand, and is also third on the Extreme Sailing Series, which is sailed on foiling GC32 catamarans.
Robertson has a strong Kiwi contingent in his team and had regular team members Will Tiller and Stewart Dodson, who was part of the NZL Sailing Team who finished second at the recent Red Bull Youth America's Cup, on board. The team is also run by 1992 Olympic bronze medallist and former America's Cup sailor Craig Monk.
Steele, who also races on the World Match Racing Tour and Extreme Sailing Series, is eighth in the world match racing rankings.
There was a third Kiwi helm in the 15-strong field at the M32 world championships with Aon Fast Track member Liv Mackay, who is aiming to represent New Zealand at the 2020 Tokyo Olympics in the Nacra 17 class, steering for the Magenta Robline team.
Final standings at the M32 world championships in Marstrand, Sweden.
1. ChinaOne NINGBO (NZL) – Phil Robertson – 53 pts
2. WARRER RACING (DEN) – Jonas Warrer – 62 pts
3. CFA SPORT RACING (NZL) – Chris Steele – 65 pts
4. CONVEXITY (USA) – Don Wilson – 67 pts
5. KSSS (SWE) – Rasmus Rosengren – 99 pts 
6. SAILING TEAM NL (NED) – Pieter-Jan Postma – 100 pts
7. ESSIQ RACING TEAM (SWE) – Nicklas Dackhammar – 100 pts 
8. SECTION 16 (SUI) – Richard Davies – 104 pts
9. REDLINE RACING (AUS) – Matt Jerwood – 104 pts
10. GRAVE DIGGER (USA) – James Prendergast – 108 pts
11. GAZPROM TEAM RUSSIA (RUS) – Victor Serezhkin – 112 pts
12. GAC PINDAR – (GBR) – Ian Williams – 118 pts
13. FLUX TEAM (SWE) – Johnie Berntsson – 132 pts
14. CAPE CROW VIKINGS (SWE) – Håkan Svensson – 162 pts
15. MAGENTA ROBLINE (GBR) – Olivia Mackay – 169 pts