Tom Saunders made too many mistakes on the final two days of racing at the Delta Lloyd Regatta in the Netherlands, slipping from fourth to miss the medal race by one point.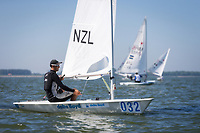 (Tom Saunders. Photo: Klaas Wiersma Media / Delta Lloyd Regatta)
With a DNC (51st) hanging over his head as his discard, the Olympic development squad Laser sailor couldn't afford to slip up and a 22nd, 26th and 11th saw him drop down the leaderboard. He finised the regatta in 11th, one point out of the medal race.
Saunders had shown good form earlier in the event, with four top-five results including a first in race six.
Fellow Kiwi Andrew McKenzie also had a disappointing finish to his regatta, ending in 14th overall in the 100-boat fleet. 
"I gave myself a great shot at making the medal race, having a strong first race (8) [on Saturday] but race two let me down in some marginal conditions (37)," McKenzie said. "Unfortunately this left me just a few points short."
Great Britain's Elliot Hanson sailed consistently well to win from Charlie Buckingham (USA) and Matthew Wearn (AUS).
Susannah Pyatt was the best placed of the trio of Kiwis in the Laser Radial fleet, finishing 20th overall. Youth sailors Olivia Christie and Annabelle Rennie-Younger, who were competing to gain valuable experience ahead of August's Laser Radial world championships, were down the field but Rennie-Younger had one notable result with a third in the penultimate race.
Antonio Cozzolino was 24th in the men's RS:X.
The next Kiwis in action will be Olympic 49erFX silver medallists Alex Maloney and Molly Meech and 49er combination Josh Porebski and Trent Rippey at the Sailing World Cup final in Santander, Spain from June 4-11.
NZ results and standings after day three of the Delta Lloyd regatta in the Netherlands overnight (NZT)
Laser (100 boats)
11th - Tom Saunders: (51) DNC, 3, 7, 2, 1, 5, 22, 26, 11 (77 points)
14th - Andrew McKenzie: 7, 11, 1, 14, 20, 7, 8, (37), 25 (93 points)
Laser Radial (68 boats)
20th - Susannah Pyatt: 19, 18, (24), 4, 19, 5, 12, 8, 19 (104 points)
58th - Olivia Christie: 26, 14, 27, 19, (30), 25, 25, 29, 8 (173)
61st - Annabelle Rennie- Younger: 25, 20, (32), 30, 24, 27, 23, 3, 28 (180 points)
RS:X (32 in fleet)
24th - Antonio Cozzolino: 17, 16, 13, 19, 20, 22, 22, 17, 19, (33 UFD), 23, 28, 12 (228 points)