A series of on-the-water penalties on the final day of racing at the second act of the Extreme Sailing Series cost NZ Extreme Sailing Team the chance of a podium finish.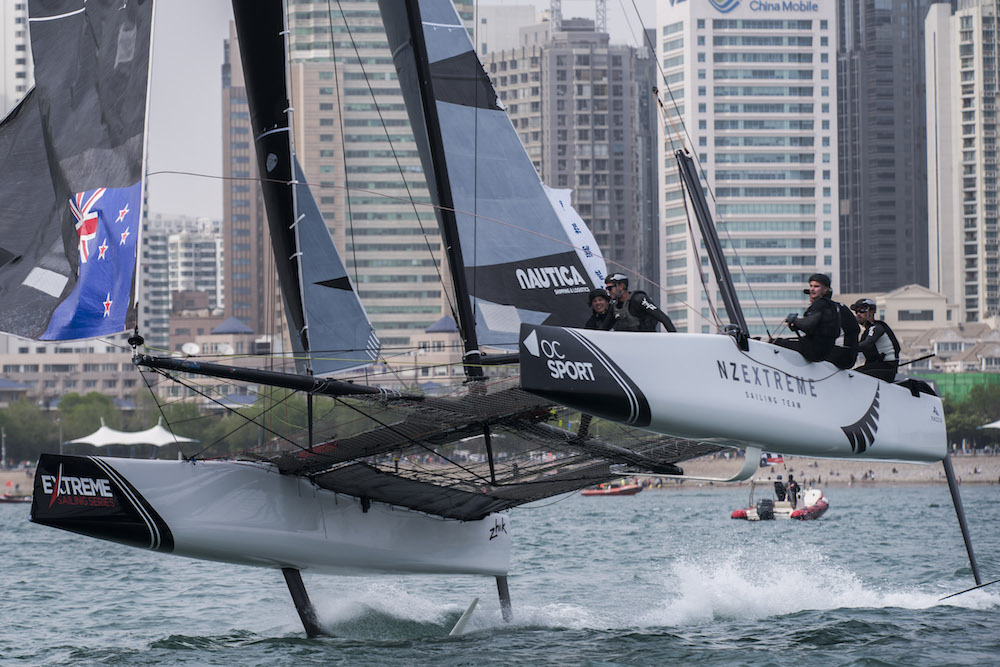 (The NZ Extreme Sailing Team. Photo: Extreme Sailing Series)
Chris Steele and his team were third heading into the final day but slipped to sixth after repeatedly falling foul of the on-the-water umpires. They also had a collision with Land Rover BAR Academy.
The NZ Extreme Sailing Team signed up as regulars for the 2017 Extreme Sailing Series and recently hired former America's Cup and Olympics coach Rod Davis as coach.
Led by talented co-skippers Steele and Graeme Sutherland, NZ Extreme Sailing Team made their first appearance on the global Stadium Racing tour as a wildcard at the 2016 season finale in Sydney under the name RNZYS Lautrec Racing.
Steele was no stranger to the Extreme Sailing Series having raced as part of Taylor Canfield's CHINA One syndicate in the early part of 2016, but this was the first time he had been thrown onto the helm of a super-fast GC32 catamaran.
Despite the team's inexperience, they came away with an impressive two race wins and two seconds – and in the process caught the attention of Royal New Zealand Yacht Squadron member and property tycoon Mike Mahoney.
With financial backing in place, Steele and Sutherland were able to commit to a full year with the Extreme Sailing Series, and again turned heads at the 2017 season opener in Muscat, Oman.
They were well placed in Qingdao but slipped down the leaderboard on the final day. Fellow Royal New Zealand Yacht Squadron youth training programme graduate Phil Robertson did the opposite, with his Oman Air team pulling off a sensational comeback with three race wins on the final day, including the vital final double-pointer, to jump from sixth overall to third. 
"I can't imagine a better result than that today," Robertson said. "We pulled the rabbit out of the hat.
"We're only a couple of points behind Alinghi overall now, and it's really just the start of the year. It's going to be a long, hard season against some good teams and everyone will be moving up and down the leaderboard. We're pretty happy right now."
Alinghi emerged as the most satisfied, winning act 2 and moving to the top of the series leaderboard ahead of act 1 winners SAP Extreme Sailing Team and Oman Air.
What was particularly notable was the performance of Land Rover BAR Academy, who completed their ascendancy from promising talent to serious threat taking the runners-up spot despite having to sit the last two races out due to boat damage.
The impressive result is the British outfit's best since they joined the Extreme Sailing Series at the start of 2016, and gives them a timely boost as they turn their attention to the Red Bull Youth America's Cup in Bermuda next month when they will take on the NZL Sailing Team.
The fleet now have an eight-week break before act 3 in Portugal's island archipelago of Madeira from June 29 to July 2.
- Additional reporting www.extremesailingseries.com
Standings after day 4 (17 races) of the Extreme Sailing Series in Qingdao, China, yesterday
1st Alinghi (SUI) Arnaud Psarofaghis, Nicolas Charbonnier, Timothé Lapauw, Bryan Mettraux, Yves Detrey - 184 points.
2nd Land Rover BAR Academy (GBR) Rob Bunce, Chris Taylor, Will Alloway, Adam Kay, Sam Batten - 173 points.
3rd Oman Air (OMA) Phil Robertson, Pete Greenhalgh, James Wierzbowski, Ed Smyth, Nasser Al Mashari - 168 points.
4th SAP Extreme Sailing Team (DEN) Jes Gram-Hansen, Rasmus Køstner, Mads Emil Stephensen, Pierluigi de Felice, Richard Mason - 168 points.
5th Red Bull Sailing Team (AUT) Roman Hagara, Hans Peter Steinacher, Stewart Dodson, Adam Piggott, Will Tiller - 166 points.
6th NZ Extreme Sailing Team (NZL) Chris Steele, Graeme Sutherland, Shane Diviney, Leonard Takahashi Fry, Josh Salthouse - 164 points.
7th Team Extreme (CHN) Liu Xue (Black), Bernardo Freitas, Martin Evans, Rob Partridge, Tom Buggy - 121 points.
Extreme Sailing Series 2017 overall standings
1st Alinghi (SUI) 23 points.
2nd SAP Extreme Sailing Team (DEN) 21 points.
3rd Oman Air (OMA) 20 points.
4th Land Rover BAR Academy (GBR) 18 points.
5th Red Bull Sailing Team (AUT) 17 points.
6th NZ Extreme Sailing Team (NZL) 15 points.