The Delegats plan to "hang up the wet-weather gear" with the sale of Sydney to Hobart winner Giacomo but it's unlikely to be the end of the family's association with ocean racing.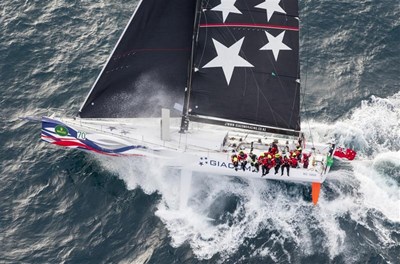 Giacomo finished second in line honours behind Perpetual LOYAL in last year's Sydney to Hobart race but won overall, ensuring a Kiwi boat claimed Australia's most prestigious offshore boating trophy, the Tattersall's Cup, for the first time since Sir Peter Blake on board Ceramco New Zealand in 1980. The campaign was a family affair with the Delegat's sons, Nikolas (19), and James — who at 18 was the race's youngest participant last year — being part of the crew.
The 70-foot boat, which won the 2011/12 Volvo Ocean Race as Groupama 4, is now on a hard stand in Sydney awaiting a buyer. The Delegat family bought the boat in 2013.
"We always had a four-year plan and we have now reached the end of that," Kate Delegat said. "It's now time to hang up the wet-weather gear.
"We worked very, very hard over those four years and the pinnacle of that campaign was the Sydney to Hobart. To win the Tattersall's Cup was the icing on the cake."
It wasn't their only success. The boat took line honours in the Flinders Islet, Newcastle Bass Island and Bird Island races, took monohull line honours and won overall the 2015 Coastal Classic, won line honours in the Gold Cup Passage Series and the Night Race to Kawau and won line, IRC and PHRF in the 2016 Sail Fiji Race when they broke a long-standing race record. 
"We have achieved more than everything we set out to do," Delegat said. "We would have to take her to the United States or Europe [if we wanted to carry on] but the logistics of that are very hard. She's a beast of a boat, probably the most technically advanced 70-footer in the world at the moment. We are sad to see her go but sometimes you just have draw a line in the sand.
"We're not sure [what we will do next]. Jim threatens to get a bigger boat but we're going to take time out. It's been four hectic years and it's a big campaign to run and we have done what we set out to achieve."
Some of their earlier Sydney to Hobart campaigns didn't always go so well. They finished sixth on line in 2013 and 23rd overall but dismasted off the Tasmanian coast in 2014 and took 2015 off to regroup. In finishing second on line last year they still beat the previous race record set by Wild Oats XI in 2012 as they took advantage of favourbale weather conditions.
Kate Delegat said their sons were passionate about ocean racing with James keen to earn a berth in the Volvo Ocean Race.
"It's time for our boys to crew on other boats."